Team Up: Expanding access to sport through partnerships grant
Status: Upcoming
Deadline: December 1, 2023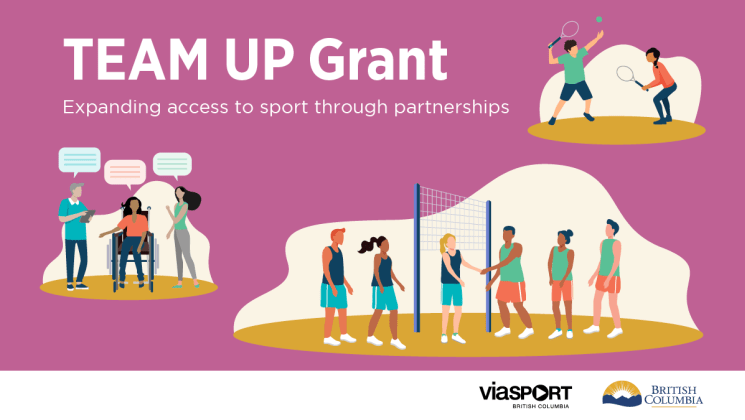 Team Up is a sport participation grant program supported by the Province of B.C. and administered through viaSport British Columbia. Through an application-based grant, Team Up aims to facilitate sustainable, mutually-beneficial partnerships between non-profit sport and social sector organizations that utilizes their collective expertise to create and incorporate mechanisms to reduce barriers to quality sport opportunities.
Team Up aims to connect non-profit organizations that support members of underserved groups with sport organizations to leverage expertise and multiply opportunities for youth to experience the benefits of sport participation.
Who can apply
Applications may be submitted in partnership by not-for-profit organizations representing at least one organization from both of the following categories. The application can be led by an organization from any of the groups listed below; however, they will be asked to provide a partnership agreement that describes the components of their partnership and plans for sustained cooperation.
Sport organizations:
Recognized, Accredited or Affiliated Provincial Sport Organizations (PSOs)
Recognized or Accredited Disability Sport Organizations (DSOs)
Multi-regional sport delivery organizations
Municipalities or Recreation Associations
Local sport organizations
Social sector organizations:
Non-profit or charitable organizations with a primary purpose of providing programs or services to one of the following under-represented populations: women and girls, persons with disabilities, LGBTQI2S community members, marginalized youth, Indigenous persons, socio-economically disadvantaged, and/or newcomers to Canada that do not offer sport as one of their core services.
Examples may include but are not limited to neighbourhood houses, immigration organizations, cultural centres, support service organizations etc.
How to apply
Successful applications will outline how two organizations (one from the sport sector and one from the social sector) plan to "team up" to offer sport programming to underserved youth.
The grant will be opening Fall 2023.
Questions? Email us at grants@viasport.ca
---
viaSport is switching to a new grant platform! To apply for a grant you will now be directed to our portal on https://viasportgrants.smapply.io/ where you will be asked to create an account. Once your account is created, you can log in at any time to manage your grant applications. Should you have any questions about our new grant platform, don't hesitate to email us at grants@viasport.ca.