2022 Coach of the Year winners selected
Jun 11, 2023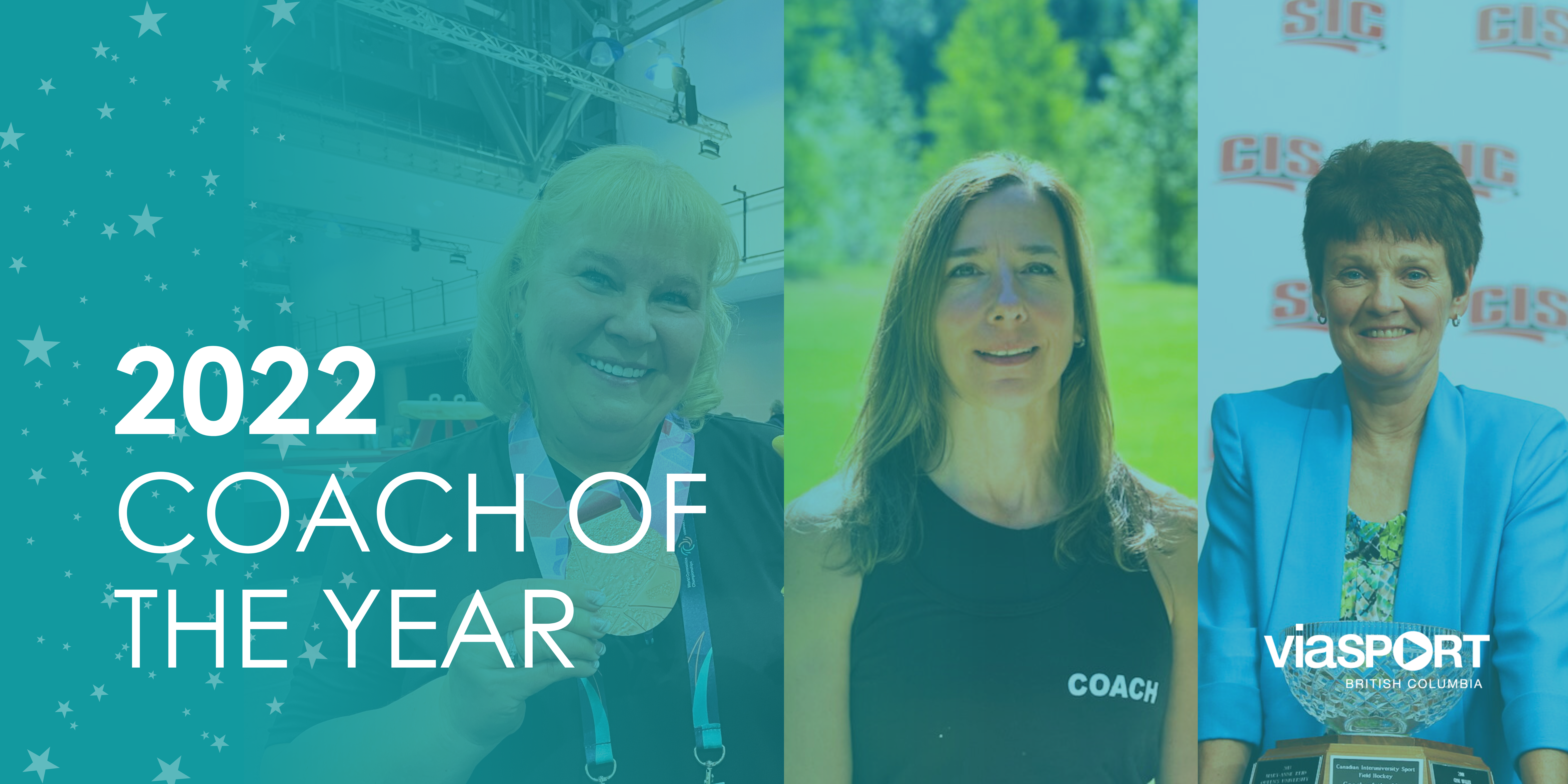 Vancouver, BC – viaSport British Columbia is excited to announce the winners of the 2022 Coach of the Year Awards, which recognize the outstanding achievements of coaches from all corners of the province. These coaches have truly dedicated themselves to coaching and demonstrated exceptional commitment to their athletes.
The recipients of the 2022 Coach of the Year Awards are as follows:
Barbara Fraser – High Performance Coach of the Year, Artistic Gymnastics – Langley
Barbara "Barb" Fraser is an accomplished coach with a passion for gymnastics who has helped many young athletes excel in their sport. Over the past 16 years, she has coached numerous athletes, ranging from five-year-olds to high school graduates, with many of them receiving scholarships and returning to train with her during their university years.
Barb's dedication to her athletes is unparalleled; her compassion, patience, and understanding have been instrumental to their success. She is not only a coach but also a performer, participating with her athletes in many World Gymnaestrada events, including the 2023 World Gymnaestrada in Amsterdam.
Barb's commitment to her sport has brought her many successes, including many international titles. In 2022, she was the team coach for the 2022 World Team, which has recently qualified for the 2024 Olympic Games in Paris.
With her boundless energy, enthusiasm, and dedication to gymnastics and her athletes, Barb is the perfect candidate for the High Performance Coach Award. Her achievements and contributions to the sport are a testament to her exceptional coaching skills. She is a token to the gymnastics community.
Lynne Beecroft – Competition Coach of the Year, Field Hockey – Victoria
Lynne Beecroft has been actively coaching in the sport of Field Hockey for over 39 years. Her by-the-numbers legacy includes 34 national medals (15 gold), nearly 40 national team athletes and a coaching record of 340 wins, 98 losses and 89 ties. Yet the lasting impact she left as a coach extends beyond the numbers and reaches her community, colleagues, and her sport as a whole.
Beecroft, affectionately known as "Buzz", has touched every corner of Field Hockey. Prior to her coaching career, she was a decorated athlete. Buzz competed for the University of Victoria from 1975-1979 and represented Canada in four World Cups before attending the 1984 Olympic Games. She has also mentored coaches in the National Coaching Institute, acted as an umpire at local competitions, and volunteered on numerous Field Hockey committees.
One of her well-known coaching strategies and legacies is spending time each year creating a team theme with shared values. The creation of these values helped create the strong field hockey community that exists in Victoria today. As proud as Buzz is to say she has amassed numerous medals and coached athletes of the year and Olympians, she is just as proud of how the program has helped build community contributors.
To the dismay of many, 2023 will be Coach Lynne's last year as the Head Coach for the University of Victoria Vikes. However, her impact and legacy have transformed her into a beacon for Field Hockey in the greater Victoria community.
Catou Tyler – Community Coach of the Year, Gymnastics – Pemberton
Catou Tyler is a highly regarded coach in the world of gymnastics, known for her instrumental role in the development of the sport in Whistler and Pemberton. Her passion for coaching began in 1997/1998 when she arrived in Whistler and began working with the Whistler Gymnastics Club.
Over the years, Catou has contributed significantly to the growth of gymnastics in the community, inspiring passion and enhancing the physical literacy of athletes. She has been instrumental in creating a dynamic and vibrant program at the Athletes Centre in Whistler, which has produced national-level athletes.
Catou's dedication to coaching is not limited to within the gymnasium. She has developed the life skills of young athletes and created contributing members of the community. Her coaching has not only produced excellent athletes, but it has also helped shape the lives of countless individuals.
Throughout her coaching career, Catou has remained committed to the sport and her athletes, making her one of the most deserving coaches in the field. Her contribution to the sport of gymnastics in Whistler and Pemberton is immeasurable, and her impact will be felt for years to come.
On behalf of viaSport, thank you!
viaSport would like to thank all of the coaches who were nominated for these awards. The quality of coaching in our province is truly outstanding, and we are fortunate to have so many dedicated and talented coaches working with our athletes.
All of the award winners have made long lasting contributions to the world of coaching, and their commitment to their athletes and their sport is an inspiration to us all.
Congratulations once again to the winners of the 2022 Coach of the Year Awards.