2022 Competition Coach of the Year, Lynne Beecroft
Jun 11, 2023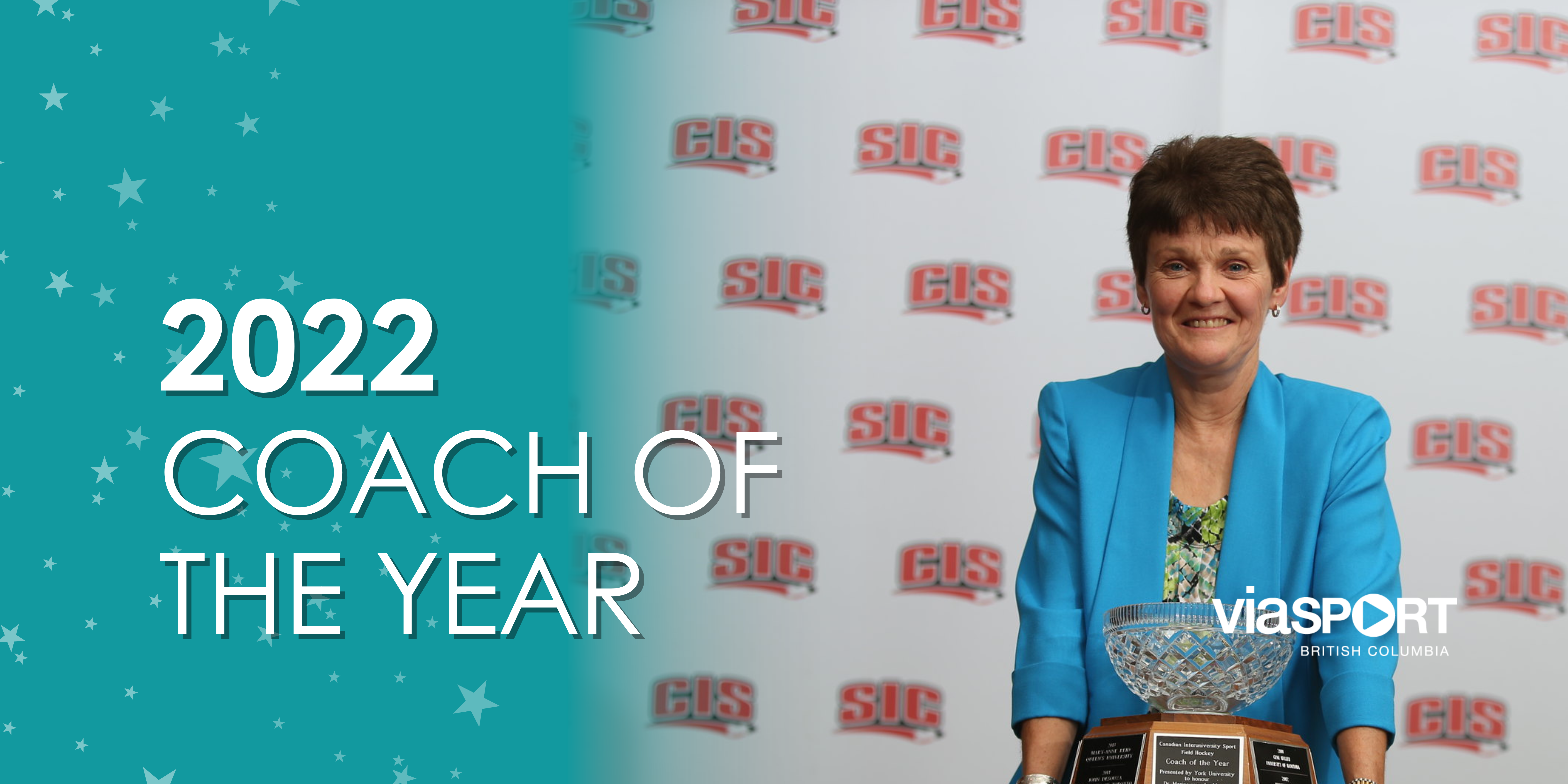 Although Lynne "Buzz" Beecroft has been University of Victoria's (UVic) Women's Field Hockey Coach for 39 years, she surprisingly did not always think she would be a coach.
Buzz has always enjoyed playing sports, but it wasn't until her teammate Nancy (Charlton) Mollenhauer from the 1984 Olympics asked her to coach for the UVic Field Hockey team that she considered playing a different role on the field. Buzz says that without her, she might not have given coaching another thought. "Thankfully I agreed!" Buzz exclaims. That decision has led to a lifelong passion and given her lots of stories to tell.
However, there is one particular moment in her extensive career that stands out to her.
In 1991, Buzz coached a young field hockey team comprised of mainly rookies. The experts had predicted Buzz's team to rank fifth out of the six teams in the Canadian Interuniversity Athletic Union (CIAU) championship. Yet, Buzz believed in her team. She just needed a way to convince them to believe in themselves.
The solution came to her with a quote: "Go for it! Take a chance! The experts aren't always right. According to them, bumblebees shouldn't be able to fly."
Using this quote as the team's motivation, Buzz provided her athletes with bumblebee stickers to put on their hockey sticks.
Buzz describes what happened next with pride. "The team won their first game, and then their second, which meant that the worse they could finish would be fourth," says Buzz. "Already they had proven the experts wrong!"
But the team's stellar performance did not stop there. Instead, they even managed to defeat their arch-rival, UBC, in the finals, taking first place out of the six teams.
Buzz recalls talking to her team after the championship match. "I found out that there had been no words spoken in their final huddle. They merely put their sticks together and started making the buzzing sound of bumblebees!" recalls Buzz. "This was a huge reminder that when we 'bee-lieve', anything is possible!"
This life lesson is not only applicable to Field Hockey, but life as a whole. Buzz says she is most proud to watch her athletes take what they have learned on the field to find the same level of success in their lives after sports. Many former athletes of hers have gone on a wide array of career paths, from becoming a doctor to becoming the Superintendent of the Victoria School District. Despite their differing careers, many of these former athletes give back to the sport of Field Hockey through Coaching or Umpiring.
In terms of what this Coach of the Year Award means to her, Buzz has a few acknowledgements to make:
"It is truly an honour to be chosen as the recipient of the viaSport Competition Coach of the Year. More importantly, answering this question allows me the opportunity to thank Krista Thompson, my Assistant Coach for the past 26 years, for all she has done to enhance the Vikes women's field hockey program and grow the sport of field hockey in our community — both in BC and the country! And it also gives me the space to thank the amazing young women who were responsible for winning back-to-back-to-back-to-back field hockey championships. Without Krista's extraordinary support and the dedication and commitment of these exceptional athletes, I know that I would not have received this award!"
Once again, congratulations Lynne "Buzz" Beecroft on being designated as the 2022 Competition Coach of the Year!