3 ways to make your sport environment more inclusive
Aug 10, 2017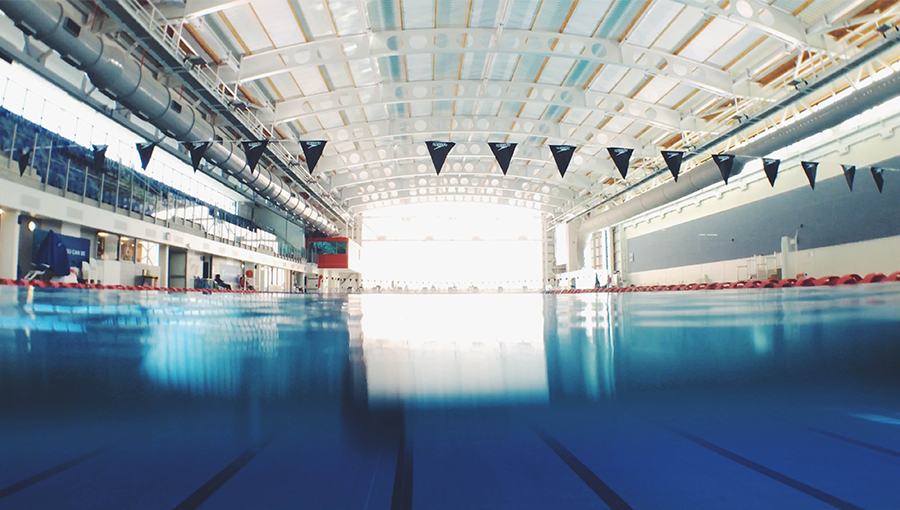 Whatever Pool Party creates a safe space for LGBTQI2S youth on the North Shore
The invigorating smell of chlorine, high chairs looming over a tiled deck and echoes of boisterous laughter can describe most drop-in sessions at the Aquatic Centre at the West Vancouver Community Centre. However, this past March 23 wasn't like any other day. This particular Thursday night marked the "Whatever Pool Party", an all-bodies swim for LGBTQI2S youth and allies.
Although many young people associate local community pools with fun, carefree play and time with friends, this isn't the case for all. The pool can be an intimidating place for LGBTQI2S youth and the Whatever Youth Committee at the West Vancouver Community Centre set out to change that. Comprised of youth ages 13-18, the committee advises the Community Center Youth Services team on Whatever, a weekly drop-in program to facilitate special events, community awareness and leadership development for LGBTQI2S youth across the North Shore. Drawing on their own lived experiences, members of the committee stressed that although the pool can be a fun place to visit, it wasn't a space where they felt truly accepted and safe to be themselves. 
Melanie Stewart, Program Coordinator for Youth Services was grateful to stumble upon viaSport's Community Sport Program Development Grant. The grant is intended to help make community sport more accessible to all, and West Vancouver's Whatever Pool Party was a perfect fit. While the Youth Services team is always keen to add programs and events that positively impact youth, this grant allowed them to turn the Whatever committee's idea into action.  
On the night of the event, the pool was full to the brim with youth who spanned multiple ages, gender identities and sexual orientations. As with other aquatic drop-in sessions, at the end of the evening youth had to be pried out of the pool. But something was different this night. It was the sense of belonging that lingered after the event — how attendees expressed interest in coming back for other social events, how regular drop in times seemed a lot more enticing, and how they started considering playing other sports at the facility. Melanie sums it up best with the one word she would use to describe the event.
"Empowered. Everyone feels empowered. The staff feel empowered. The kids feel empowered. A door has opened where they realize that they belong here, just as much as anyone else does."  
Without a doubt, meaningful inclusion can be empowering. That's why Melanie's team offers a few takeaways from their event and how they can be applied to other groups looking to make their sport environment a place where everyone feels safe:
1. Inclusion isn't as intimidating as it seems. 
The Youth Services team isn't comprised of inclusion experts, nor people who had run similar events in the past. However, they don't let their lack of expertise prevent them from moving ahead with ideas that might seem daunting and bold to others. Potential barriers are only seen as additional opportunities to connect with and learn from others that are more knowledgeable in this area. Having put on this event, the Youth Services team is more confident in what it means to embrace inclusion.
2. Involve the actual population you're hoping to target.
Because the Whatever committee is made up of LGBTQI2S youth and allies, the Youth Services team has a better understanding of how to effectively support them. From brainstorming event ideas to identifying potential barriers, it's youth who have the most valuable input for what youth programming should look like. Consider forming a youth led committee, or asking youth sit on your planning committee. It is this close interaction that will allow you to best understand the needs and preferences of those you are hoping to include.
3. Inclusion training empowers your staff.
Before the event, all 80 lifeguards at the Aquatic Centre were able to receive an hour of LGBTQI2S inclusion training. Many of them expressed joy and relief to have tools and knowledge they didn't have before, and the training helped demystify how to best serve members of the LGBTQI2S community. After the training, the lifeguards feel both empowered and well-equipped to promote welcoming, safe and inclusive experiences for all.  
Ensuring that sport and recreation is inclusive of all can be daunting. However, youth shouldn't be denied the opportunity to be physically active because they don't feel safe or accepted. After all, the opportunity to thrive through sport belongs to everyone.
Learn about our LGBTQI2S initiatives in B.C. by visiting the LGBTQI2S page.
Interested in receiving extra funding for your next event? Visit our Grants page for more info.