BC Adaptive Snowsports' Black Diamond Gala raises $108,000 towards snowsports programing for people with disabilities
Oct 05, 2015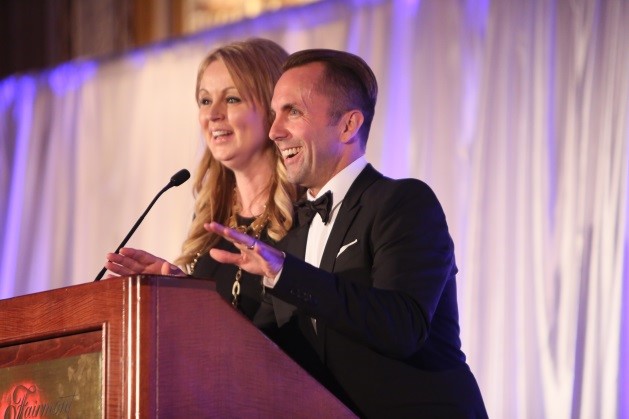 Vancouver (B.C) – On September 25th, guests gathered at the Fairmont Vancouver Hotel for the BC Adaptive Snowsports (BCAS) annual Black Diamond Gala. The fundraising event, now in its second year, aims to raise awareness and funds for snowsport programs for people with disabilities in British Columbia.
Hosted by Shaw's Fiona Forbes and long-time adaptive snowsport supporter Michael Eckford, the event showcased stories of BCAS members under the theme, "Transforming Views".  From Canadian Para-alpine ski team rookie Alex Cairns' story of triumph over the steepest chutes of Whistler and his ascend to reach his goal of competing for Canada, to the story of Shae Vance, who after taking lessons with the adaptive snowsport instructors at Silver Star was able to enjoy a day of skiing with her two brothers, mother and father for the first time. Finally Erik Beck, a dedicated volunteer who takes pure pride and joy in seeing his student Tom finally ski independently one beautiful Vancouver night on Grouse Mountain.
"The 2015 Black Diamond Gala event was an absolutely amazing success! Not only did we well exceed our expectations for the funds raised that evening, but also the atmosphere at the event was one of true caring and giving. I was personally touched by how many people, from all walks of life, conveyed their generosity for such a good cause. The astounding success of the gala will contribute to another successful year of the programming and equipment support, for children and adults with disabilities, provided by BC Adaptive Snowsports." Said Dr. Gurdeep Parhar, BC Adaptive Snowsports Director and Event Chair.
The evening concluded with an exciting live auction hosted by Howard Blank and dancing to the music of DJ Emilita from GirlonWax. Thank you to our wonderful MC's and auctioneer, committee members and volunteers who made the night possible. A special thanks to the following sponsors: Venue Sponsor, The Fairmont Hotel Vancouver; Media Sponsor: Shaw; Blue Run Sponsors, Murphy Battista LLP & Wishart Brain & Spine Law and Green Run Sponsors, Giusti Nairne, Personal Injury Lawyers, Rossignol, BCICE, Slater Vecchio LLP, The Sun Peaks Grand and Work Safe BC.
Pictures, courtesy of Kim Stallknecht are available on Flickr (bcadaptivesnowsports).
– 30 –
BC Adaptive Snowsports (formerly The Disabled Skiers Association of BC) has been delivering adaptive snowsports programs throughout BC since 1973. From first contact opportunities to the BC Para Alpine Ski Team, BC Adaptive Snowsports introduces individuals with physical and/or cognitive disabilities to the freedom and therapeutic benefits of skiing and snowboarding.
BC Adaptive Snowsports Media Contact:
Fannie Smith, Athletics & Communications Manager
604.333.3630 x 202 fannie@bcadaptive.com