BC athletes shine at LA 2015 Special Olympics World Summer Games
Aug 04, 2015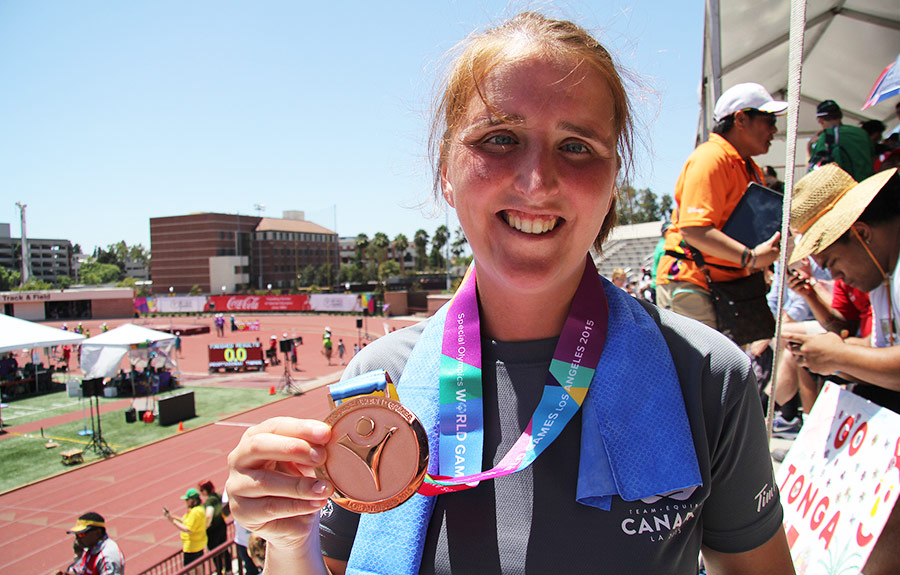 After 10 days of competition, Team Canada has returned home from the 2015 Special Olympics World Summer Games in Los Angeles with plenty to be proud of.
Canada finished the Games with a record-breaking 144 medals –  70 gold, 48 silver and 26 bronze.
Nearly half (46%) of Team Canada was made up of BC athletes, including the entire roster for Canada's basketball, bocce, soccer and softball teams. The BC contingent shone at the games with 39 medals, contributing to 27 per cent of Team Canada's total medal haul (read the full list of results below).
A few outstanding BC highlights to note:
BC's Joshua Low of Langley won Canada's first gold medal in the 25m backstroke
Magnus Batara of Vancouver won four gold medals in aquatics
Joanne Bunnin of Chilliwack earned three gold medals in powerlifting
Annabelle Davis of Vancouver earned three gold medals in 10-pin bowling
Kelsey Wyses's 4x50m swim team set a new World Games best-on-record mark with their time of 2:48.61
The BC-loaded softball and bocce teams both earned a bronze, with soccer and basketball teams right behind with a 4th place finish.
"We are extremely proud of the accomplishments of each and every one of the members of Team Canada and are thrilled with their performances in Los Angeles," noted Chief Executive Officer for Special Olympics Canada, Sharon Bollenbach. 
viaSport would like to congratulate the entire BC team and Team Canada on their incredible accomplishments at the Games. 
BC ATHLETE RESULTS:
Visit LA2015.org for a full list of Team Canada results.
Name
SOBC Local
Sport
Hometown
10-PIN BOWLING
 
 
 
Athletes
 
 
 
Annabelle Davis
Vancouver
10-pin bowling
Vancouver
 
 
 
 

Gold – Bowling Team (with Huff)

 
 
Jake Huff
Penticton
10-pin bowling
Okanagan Falls

Gold – Bowling Team (with Davis)

 
 
 
 
 
 
Austin Johnston
Abbotsford
10-pin bowling
Abbotsford
 
 

Silver – Bowling Team (with Renner and Summer)

 
 
 
Linda Renner
Prince George
10-pin bowling
Prince George

Silver – Bowling Team (with Johnston and Summer)

 
 
 
 
 
Kara Summer
Cowichan Valley
10-pin bowling
Duncan

Silver – Bowling Team (with Johnston and Renner)

 
 
 
 
 
 
 
 
 
AQUATICS
 
 
 
Athletes
 
 
 
Magnus Batara
Richmond
Aquatics
Richmond
 
 
 
 
 
 

Gold – 4x100m Medley Relay

 
 
Carrie Dignan
Coquitlam
Aquatics
New Westminster
 
 
 
 
Joshua Low
Langley
Aquatics
Langley

Gold – 25m Backstroke (Canada's 1st gold medal of the Games)

 

4th – 4x25m Freestyle Relay

 
 
 
 
Avery Newton
Penticton
Aquatics
Penticton
 
 
 
 
 
 

Silver – 4×50 Freestyle Relay (with Schleppe)

 
Amanda Schleppe
Penticton
Aquatics
Okanagan Falls
 
 

Silver – 4×50 Freestyle Relay (with Newton)

 

Bronze – 50m Breaststroke

 
 
Kelsey Wyse
Kelowna
Aquatics
Kelowna

Gold – 4x50m Medley Relay*

 
 
 
 
 
 

4th – 200m Individual Medley

 
 
*Wyse's relay team set a new World Games best-on-record mark with their time of 2:48.61
 
 
 
 
Coach
 
 
 
Marie Telder
Sunshine Coast
Aquatics
Sechelt
 
 
 
 
ATHLETICS
 
 
 
Athletes
 
 
 
Robert Burns
Comox Valley
Athletics
Courtenay

Gold – Standing Long Jump

 
 
 
 
Jeneka Grief
Kelowna
Athletics
Kelowna

Silver – 4×100 Relay (with Manzardo)

 
 

Bronze – Shotput Women 3 kg

 
 
 
 
Mandy Manzardo
Coquitlam
Athletics
Coquitlam

Silver – 4×100 Relay (with Greif)

 
 
 
 
 
 
Mike Palitti
Abbotsford
Athletics
Abbotsford
 
 
 
 
 
 
 
 
 
 
Coaches
 
 
 
Aleila Miller, Head Coach
Smithers
Athletics
Head Coach
Deborah Carter
Surrey
Athletics
Coach
Tom Norton
Abbotsford
Athletics
Coach
 
 
 
 
BASKETBALL: 4th place
 
 
Athletes
 
 
 
Nicholas Bobek
Vancouver
Basketball
Vancouver
Shane Carr
Vancouver
Basketball
Vancouver
Casey Cochran
Vancouver
Basketball
Vancouver
Michelle Forberg
Campbell River
Basketball
Campbell River
Jacky Law
Vancouver
Basketball
Vancouver
Jeff Leung
Vancouver
Basketball
Vancouver
Alexander Pang
Vancouver
Basketball
Vancouver
Alastair Singh
Langley
Basketball
Langley
Matthew Williams
Langley
Basketball
Langley
Sangeon Yoo
North Shore
Basketball
North Vancouver
 
 
 
 
Coaches
 
 
 
Jayne Baggott
North Shore
Basketball
Coach
Zak Klein
North Shore
Basketball
Coach
Jimmy Peterson
North Shore
Basketball
Coach
 
 
 
 
BOCCE: Bronze (team event)
 
 
Athletes
 
 
 
Margaret Burnell
Penticton
Bocce
Penticton

Bronze – Bocce Doubles (with Kevin Ellis)

 
 
Chad Conlon
Penticton
Bocce
Penticton
 
 

6th – Bocce Doubles (with Lynden Hicks)

 
 
Kevin Ellis
Penticton
Bocce
Penticton

Bronze – Bocce Doubles (with Burnell)

 
 
 
 
Lynden Hicks
Penticton
Bocce
Penticton
 
 

6th – Bocce Doubles (with Chad Conlon)

 
 
Ben Willms
Kelowna
Bocce
Kelowna
 
 
 
 
 
 
Coach
 
 
 
Dona Cade
Penticton
Bocce
Coach
 
 
 
 
GOLF
 
 
 
Athlete
 
 
 
Kyle Grummett
Kelowna
Golf
Kelowna
 
 
 
 
 
 
Coach
 
 
 
Ben Postmus
Trail
Golf
Coach
 
 
 
 
POWERLIFTING
 
 
 
Athlete
 
 
 
Joanne Bunnin
Chilliwack
Powerlifting
Chilliwack
 
 

Gold – Female Bench Press

 
 

Gold – Female Combination B & DL

 
 
 
 
 
 
Coach
 
 
 
Ken Saunders
Kelowna
Powerlifting
Kelowna
 
 
 
 
SOCCER: 4th place 
 
 
 
Athletes
 
 
 
Adam Advocaat
Coquitlam
Soccer
Coquitlam
Liam Barry
Mission
Soccer
Mission
Tony Carter
Mission
Soccer
Mission
Jeremy Cheverie
Victoria
Soccer
Victoria
Chris Hamilton
Abbotsford
Soccer
Abbotsford
Tom Hanna
Mission
Soccer
Mission
Mitchell Howell
Mission
Soccer
Dewdney
Justin King
Mission
Soccer
Mission
Amanda Peebles
Mission
Soccer
Mission
Bryce Schaufelberger
Mission
Soccer
Mission
 
 
 
 
Coaches
 
 
 
Vincent Astoria
Abbotsford
Soccer
Coach
Stuart Coates
Mission
Soccer
Coach
John Scholtes
Mission
Soccer
Coach
 
 
 
 
SOFTBALL: Bronze
 
 
 
Athletes
 
 
 
Karl Anderson
Coquitlam
Softball
Langley
James Blacke
Kelowna
Softball
Kelowna
Ryan Courtemanche
Kelowna
Softball
Kelowna
Richard Gillis
Kelowna
Softball
Kelowna
Chris Harrington
Kelowna
Softball
Kelowna
Brad Hogan
Comox Valley
Softball
Courtenay
Jim Laitar
Surrey
Softball
Delta
Jonathan MacDonald
Kelowna
Softball
Kelowna
Jake MacFarlane
Kelowna
Softball
Kelowna
Andrew McIntyre
Kelowna
Softball
Kelowna
Dale Ramsden
Kelowna
Softball
Kelowna
Chris Roberge
Comox Valley
Softball
Courtenay
David Scott
Kelowna
Softball
Kelowna
Danny Sperling
Kelowna
Softball
Kelowna
Carl Willing
Surrey
Softball
Surrey
 
 
 
 
Coaches
 
 
 
Lorena Mead
Kelowna
Softball
Coach
Ian Olive
Kelowna
Softball
Coach
Dennis Richardson
Kelowna
Softball
Coach
 
 
 
 
MISSION STAFF
 
 
 
Leslie Thornley
SOBC MCD Region 2
Mission Staff
Megan Grittani-Livingston
SOBC Manager, Communications
Comms Liaison