BC Games TV to increase exposure for amateur sport in British Columbia
Jan 29, 2016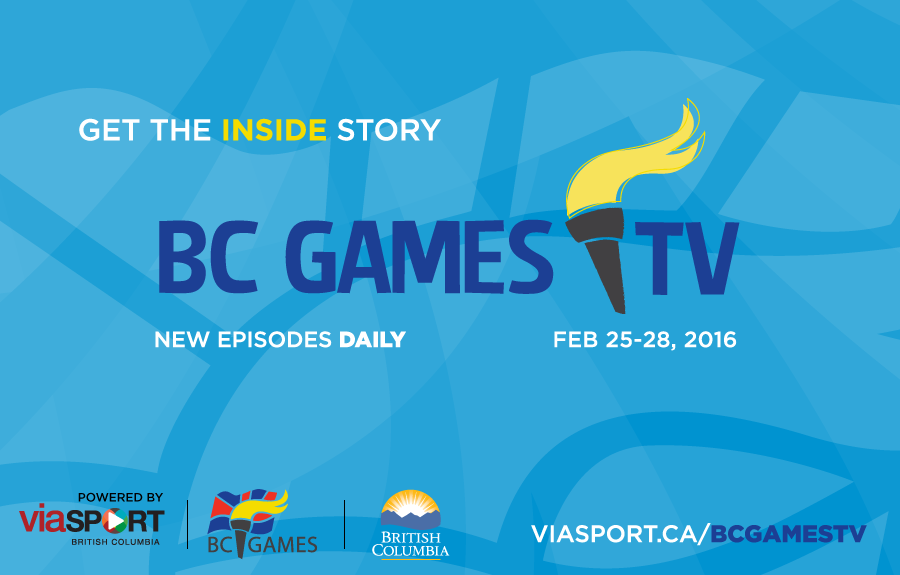 Vancouver, BC – A new daily video series called BC Games TV will give fans a closer look at the untold stories, experiences, and inspiring moments happening behind the scenes at the Games. 
Produced by viaSport Media, BC Games TV will air a daily three-minute video each evening of the Penticton 2016 BC Winter Games and Abbotsford 2016 BC Summer Games. The highlight clip will share stories captured that day on Games' athletes, coaches, officials, volunteers, fans, and the host community.
"As the BC Summer and BC Winter Games grow larger, so do the production levels of these thrilling, multi-sport events," says Peter Fassbender, Minister of Community, Sport and Cultural Development. "This new video series will bring fans unable to attend the Games in person closer to the athletes, the sports and the communities that play host each year." 
Hosted every two years in communities across the province, the BC Games are an important stepping stone for British Columbia's emerging high-performance athletes, coaches, and officials preparing for higher-level multi-sport competition.
"Highlighting the BC Games and some of our 17 sports to viewers can create a new awareness and expand membership, while the coverage of a gold medal performance can capture a unique sport experience for all time," said BC Games Society President and CEO, Kelly Mann.  "We are excited to showcase the BC Games to new audiences through this partnership."
BC Games TV is a joint initiative between viaSport and the BC Games Society with the ultimate goal of building more exposure for amateur sport in BC.
"viaSport is thrilled to work with the BC Games Society to bring more exposure to the incredible experience provincial multi-sport games provide for those in Penticton and Abbotsford, or for those watching viaSport Media," says Sheila Bouman, viaSport CEO. "viaSport was proud to produce the first ever Canada Games TV TODAY show for the 2015 Canada Winter Games, and following that model, knows that BC Games TV will create provincial pride and lasting memories for many people."
Tune in to BC Games TV starting February 25 at: viasport.ca/bcgamestv
Use hashtag #BCGamesTV on Twitter, Facebook, or Instagram or follow @viaSportBC or @BCGames1 leading up to the Games for more updates.    
About BC Games Society:
The BC Games Society is the leadership organization that guides the BC Winter and BC Summer Games and prepares Team BC for national multi-sport Games.  Since 1978, the BC Games have taken place in 38 communities and brought together thousands of athletes, coaches, officials, volunteers and spectators in celebration of sport and community excellence.  It is a milestone event that people count as an exceptional experience where memories, friendships, spirit, and pride are abundant.  Learn more at www.bcgames.org
About viaSport British Columbia: viaSport British Columbia is a not-for-profit organization established in 2011, responsible for providing strategic leadership to sport in BC. Formed in partnership with the provincial sport sector and the Province of BC, our mandate is to increase awareness, opportunity and participation in sport across the province at every stage of life and in every community. viaSport is the Provincial/Territorial Coaching Representative (PTCR) for British Columbia and maintains a strong partnership with the Coaching Association of Canada.  Learn more at www.viasport.ca
– 30 –
Media Contacts: Alyson Gourley-Cramer
Acting Director, Communications & Engagement
viaSport
250.961.5366
AlysonGC@viasport.ca
Lia Threlfall
Communications Manager
BC Games Society
250.387.4688
liat@bcgames.org