BC Sports Hall of Fame & Vancouver Canucks strike 50-50 partnership to inspire youth
May 10, 2019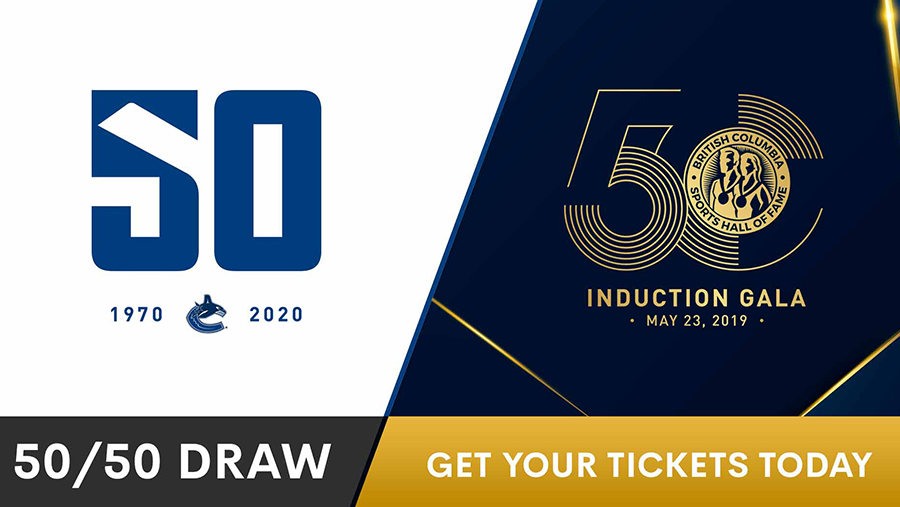 In celebration of the BC Sports Hall of Fame's upcoming 50th Induction Gala and the Vancouver Canucks 50th NHL season, the two organizations have partnered in a 50-50 draw – with proceeds benefitting the Hero in You youth education programs that reach youth across the province and inspire them to fulfill their dreams. 
"We are very pleased to announce this partnership and greatly appreciate the support of Canucks Sports & Entertainment," said BC Sports Hall of Fame Chair Tom Mayenknecht.  "Together, we are excited that the real winners in this collaboration are the teachers and students who access the Hero in You youth education programs, which inspire current and future generations to pursue sport, be active and healthy and achieve their goals."
Over the past five decades, the Vancouver Canucks have become an essential part of the fabric of British Columbia and for that very reason, Chris Brumwell, the hockey club's Vice-President of Communications and Community Partnerships, says today's announcement is noteworthy: "I don't know that there is a more fitting way to benefit communities than to lend our support to a program that motivates youth and empowers them to make positive contributions in their communities." 
Tickets for the 50-50 draw are now on sale. Ticket purchases can be made until 9:30 pm on May 23rd (or until they are sold out) – and are available at the BC Sports Hall of Fame website: www.bcsportshalloffame.com or the 2019 BC Sports Hall of Fame Induction Gala, May 23rd where a silent auction, live auction and a grand-prize draw will also occur – all benefiting Hero in You youth education programs.  
For more information on the BC Sports Hall of Fame's Hero In You program, please visit: https://heroinyou.ca/