Celebrate your season!
Dec 16, 2021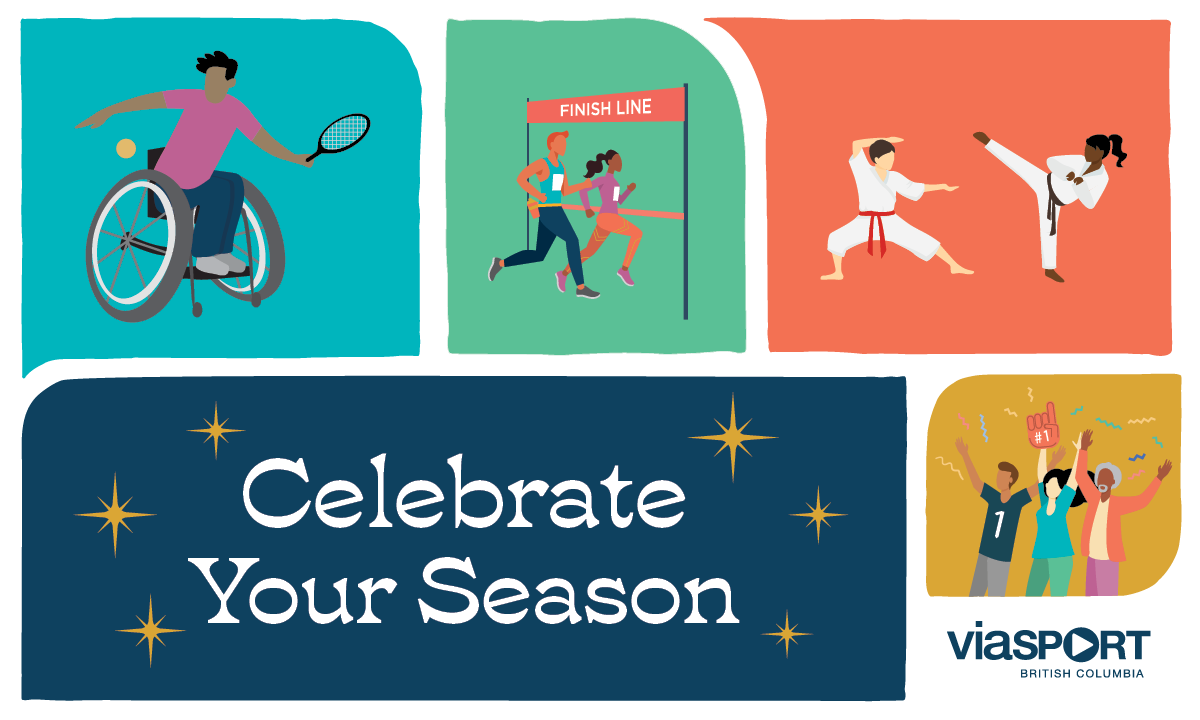 To celebrate the many achievements of the sport community in 2021 and ring in the new year, viaSport is hosting a contest on our Instagram account. To enter:
Follow @viasportbc on Instagram
Like and save our launch post
DM us a photo and brief description of a special sport moment that you want to celebrate from from 2021. This could be something you're proud to have accomplished, a milestone, a goal you reached, your sport club/community etc.
Bonus entry:

Share your photo to your Instagram story and tag us @viasportbc (+1 entry)
Post your photo to your Instagram feed and tag us @viasportbc (+3 entries)
The winner will be randomly drawn from submissions and receive $500.00 to put toward their sport fees*. If you are submitting a bonus entry, ensure your account is public so we can see it.
We're celebrating your achievements and the collective hard work of the sport community right alongside you. In the spirit of celebration and reflection, we'll take these amazing moments you've captured and create a year in review for the whole community to see and share. 
One entry per user will be eligible. Contest ends December 23, 2021 at 11:59 p.m. The winner will be randomly selected and announced by the end of December.
CONTEST FAQ
Q. What can the prize money be used for?*
A: This money can cover expenses related to the winner's sport and/or recreation activities. i.e. registration fees, club fees, competition fees, travel for sport fees, cost of special training or programming
Q. How will my photo be used?
A. Any submitted photo may be used by viaSport and provincial and regional sport organizations for promotional purposes. By submitting a photo, you allow consent for use and acknowledge that you have obtained consent from all necessary parties.
Q. How will the winning photo be selected?
A. One photo will be randomly selected from all submissions submitted through Instagram Direct Message. If a potential winner is not in compliance with contest rules, viaSport BC reserves the right to disqualify the photo from the contest and select an alternative winner.
TERMS & CONDITIONS
All entries must be posted between December 16, 2021 at 12:00 p.m. and December 23, 2021 at 11:59 p.m.
By entering our contest, the entrant consents to the release of their photo for promotional use by viaSport BC, and provincial and regional sport organizations. Entrants must own the rights to the photo.
Entrants must be based or practicing sport in B.C.
Entrants must be in compliance with contest rules indicated above to win.
The winning entrant will be awarded $500.00
The winning photo, will be contacted by viaSport via Instagram
In order to receive payment, the winning entrant must complete and sign an 'Intention of Use Agreement' form after the contest commences. Before the money is awarded, viaSport BC owns the right to approve its intent.
Good luck!