Celebrating B.C. Coaches: Cristina Weir
Sep 20, 2021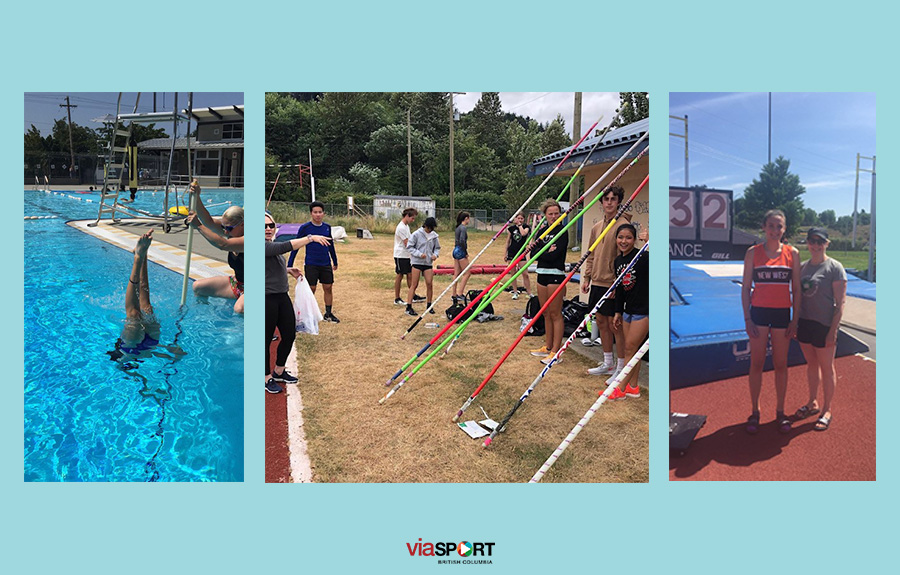 This year for Coaches Week, we want to celebrate each and every coach in B.C. who has made a difference in their athletes lives and positively impacted their community. We are so excited to present a series of profiles on coaches who are going above and beyond to support their athletes through unprecedented times. These are stories of passion, resilience, love for sport and much more. Let's meet Cristina Weir, pole vault coach from Royal City Track and Field Club. 
Q – Can you tell us about your coaching journey?
My first coaching job was in the sport of gymnastics while I was still in high school. My competitive gymnastics career was winding down, but I still wanted to stay connected to the sport. In grade 12, I discovered pole vault so I redirected my energies and became an athlete again instead of a coach.
When I moved to Vancouver in 2010, my daughter was getting really involved in track and field so I started volunteering as a parent helper at practices. The following season I officially joined the club as a JD coach, and as the club grew I took on the role of horizontal jumps coach for the 14+ athletes as well. I enjoyed those coaching roles, but my true love has always been the pole vault. When our club's former pole vault coach stepped down in 2017, I was lucky enough to be allowed to take over the pole vault program for the 2018 season, and beyond.
Q – Why did you choose the sport of pole vaulting? What is your favourite thing about coaching this sport?
As an athlete, I chose pole vault because it was fun. As a coach, I chose pole vault because of the challenging technical nature of the event and the community that surrounds it. It takes a certain type of person to run full speed down a runway, jump as high as they can, then swing themselves completely upside down on a big stick. People like that tend to stick together. I don't know one vaulter that isn't competitive, but they compete against the bar instead of against each other. The pole vault community is like a second family, and that is really special to me.
Q – Can you talk about some of the ways you adapted to get your athletes through the pandemic?
We were actually at the track, just starting a practice when the mayor closed all city facilities. The police came over to the vault area to tell us we were shut down. It was a very sad moment, but lucky because I was able to send training equipment home with the athletes who were there. Poles, PVC poles, a speed sled, resistance bands, I gave anything I could to whomever wanted it. We went into the initial shut down hoping that after a month or so everything would be fine and we could go back to normal. When it became apparent that we were going to be shut down much, much longer I started emailing sprint and strength workouts to the whole group. Some parents in the group installed high bars in their yards so I assigned high bar workouts and had the athletes send me videos of their progress. I tried to stay in touch with all my athletes without putting any pressure on them. Some trained on their own 4 times a week, some once a week, some not at all. Given the situation, my focus was to be a support for them if needed while letting them deal with "the new normal" in the way that was best for them.
It was late summer 2020 by the time we were allowed back at the track, so any hope of a traditional outdoor season was over. After the stress of the shutdown, I made the decision to have a "fun" season. I knew we were only going to have 2 or 3 months to vault, so that's what we did. We vaulted. A lot. I kept providing self-directed speed and strength workouts, but my main focus was getting the group back together and just letting them jump. There were no competitive opportunities available, so I worked with the club to create some. We were able to host several single event pole vault meets at our home track in the fall of 2020 and have continued to host this type of meet ever since. Almost every one of my athletes pb'd (personal best) in that first mini-season, and they all came out of the pandemic loving vault just as much if not more than before the shutdown.
Q – Can you tell us about one of your proudest coaching moments?
I have a lot of proud moments as a coach. Most involve incredible achievements by my athletes, but there is one moment that almost brought me to tears a few months ago.
I started competing in the pole vault in 1994 when women's vault was a brand-new event. It was not yet an Olympic event, it wasn't even a demonstration event. For the first several months of my track career I was the only active female vaulter in the entire province of Saskatchewan. My coaches had to fight with meet directors to get women's vault added to the schedule at a lot of meets. Any meet that did include us usually had less than 6 competitors from 3 or 4 different provinces.
This past year I took the opportunity to offer intro vault practices to as many junior athletes as I could. After completing that introduction I started a second training group for the first time since starting as our club's pole vault lead. At the first beginner practice I had 7 athletes, all females. By the 4th practice I had almost 20 athletes attending, with a 10:1 female to male ratio. To be able to see the event in its beginnings, and now see how far it has come, and how many amazing opportunities there are for all vaulters regardless of gender is just amazing. All of the struggling to find acceptance of the event while travelling 900km just to find an opportunity to compete was worth it because now I can share this incredible sport with everyone. And I can do my best to inspire young female athletes the way my coaches inspired me.
Q- What is your coaching philosophy?
I try to have kids leave my program not just better vaulters, but better athletes, and better human beings. I'm not necessarily trying to build Olympians. I'm trying to build strong, confident, coachable athletes who will go on to succeed in life no matter which path they take. Hard work, responsibility, accountability, commitment, and overall athleticism with a keen eye toward proper technique.
"I know it's hard; if vault was easy everybody would be doing it."
Q – What advice do you have for new coaches?
Trust yourself. The biggest coaching mistakes I've made are when I second guessed my first instinct.
Also, never stop learning, seek out people who've been doing this longer than you have, and never be afraid to admit that there are things that you don't know. When I first started coaching, I felt like I was making things up as I went along and constantly changing course from day to day. I probably was, but there came a time when all of that experimentation developed into a detailed structured program almost without my noticing.
I used to get quite stressed out and worried when my athletes competed. I was so nervous at opening heights that I sometimes could barely watch. Then, one day at practice I said something to an athlete that I realized I needed to say to myself, "This is pole vault. This is fun. Just take a deep breath and jump. If we're not having fun, why are we doing this?"
***
Cristina, your dedication to your sport and the growth of your athletes is incredible. Thank you for all you do and happy Coaches Week! Keep an eye out for our next profile tomorrow.
Follow Cristina's journey on Instagram @royalcitytrack.
Don't forget to enter our Coaches Week Contest for a chance to win $1,000 for your coach and club, on until September 26. Find the details here.