Celebrating B.C. Coaches: Pat Sima-Ledding
Sep 22, 2021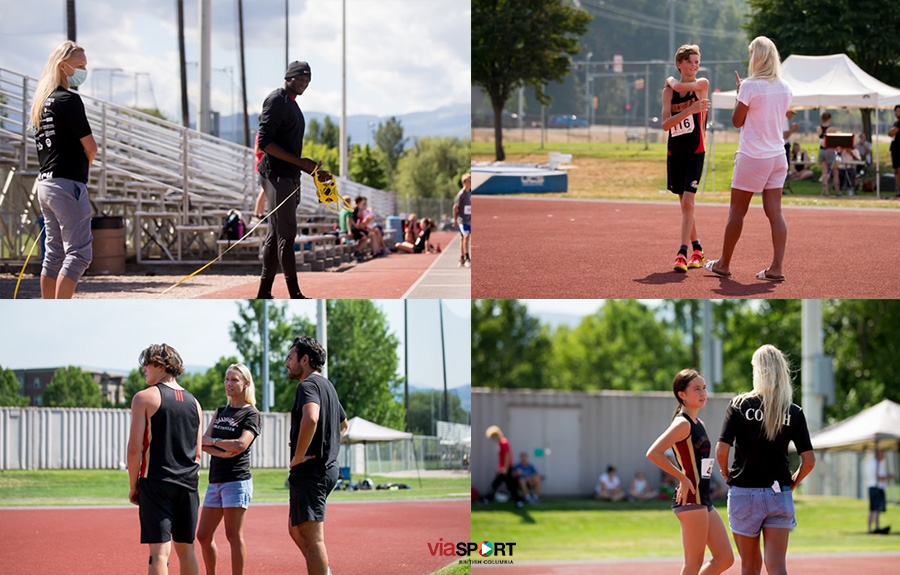 This year for Coaches Week, we want to celebrate each and every coach in B.C. who has made a difference in their athletes lives and positively impacted their community. We are so excited to present a series of profiles on coaches who are going above and beyond to support their athletes through unprecedented times. These are stories of passion, growth, achievement and much more. Let's meet Pat Sima-Ledding, head athletics coach from Okanagan Athletics Club.
Q – Tell us a bit about your coaching journey?
I started coaching in 1988, with the Special Olympics in Winnipeg, MB, to fulfill a volunteer requirement for high school. I loved it! When I moved to Saskatoon, SK for university in 1990, I coached with the Century Track & Field Club at the Junior Development level. Since moving to Kelowna, in 1998, I've been involved with the Okanagan Athletics Club (formerly the Kelowna Track & Field Club), initially as an athlete and then as a coach. 
Q – How did you adapt as a coach during the pandemic?
Thankfully, there was little adaptation required by me, as a coach, during the pandemic. Besides having to follow COVID -19 protocols we, as a club, were very fortunate to be up and running relatively quickly. Prior to that, we offered online programming, which I found challenging – it confirmed to me how important in person training can be. Having a great "behind the scenes" team made the transition back to in person programming relatively smooth. 
Q – What was something you are proud of over the last year when it comes to the sport and athletes you coach?
Not that it's mine, alone, to be proud of, but I do feel very proud to be part of a club that faced challenging times and worked together to create both training and competitive opportunities for our athletes. I was also impressed by the tenacity, determination and drive, and level of focus of our athletes, especially during the more restricted times of the pandemic protocols. Training intensity was high, and performances, once we were able to host in house time trials, were exceptional. It was moving and motivational to experience that. 
Q – What is the most rewarding part of coaching?
The most rewarding part of coaching for me, is teamwork. Working with an athlete is a collaboration that extends far beyond actual training. Being a part of any athlete's development physically, emotionally, and on a human level is a privilege. This is true of athletes at all levels. Achieving performance results requires partnership founded in trust. In coaching, there is an element of mutual trust required, that carries with it a huge responsibility, but is equally rewarding. 
Q – Can you tell us about your time coaching Jerome Blake? What's it like seeing past athletes go on to achieve amazing things like competing at the Olympics?
I first met Jerome is the summer of 2013, when he joined the Okanagan Athletics Club. What a character! It was immediately evident that Jerome had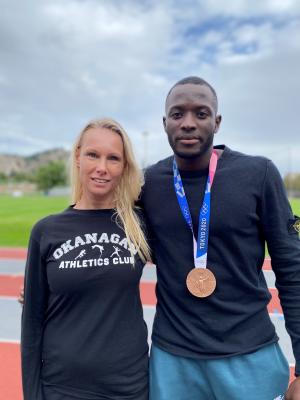 "untapped" potential. 
With some formal training, and with some direction and focus, Jerome's race times improved dramatically. He quickly gained recognition as he established himself as one of B.C.'s top sprinters, winning multiple provincial titles and gaining some national recognition. With Jerome now being reaffiliated with the Okanagan Athletics Club, it was absolutely thrilling to watch him represent Canada at the Tokyo Olympics and return home as an Olympic medallist! It's an incredible honour to have been part of Jerome's journey, that in many respects has just begun. We remain close and I'm excited to see what his future will bring! 
Q – How can a coach best support their athletes during not only difficult times like the past year, but always?
In my opinion, the most important thing that a coach can do to support their athletes is to keenly observe and to listen. In order to be an effective coach, it is imperative to know and to understand your athletes. 
"She has done an exemplary job providing endless support, energy, innovative programming and flexiblity in order to not only sustain the program, but to grow so many of the OAC programs during the pandemic. Pat is always thinking of her athletes' needs and is a pillar of support for the club and families within it." – Shaunna Taylor, Executive Director of PacificSport Okanagan
***
Pat, your humility, collaborative nature and ability to be so in tune with your athletes are the qualities of an incredible coach. Thank you for all you do and happy Coaches Week! Keep an eye out for our next profile tomorrow.
Don't forget to enter our Coaches Week Contest for a chance to win $1,000 for your coach and club, on until September 26. Find the details here.