Celebrating B.C. Coaches: Sandi Vyse
Sep 23, 2021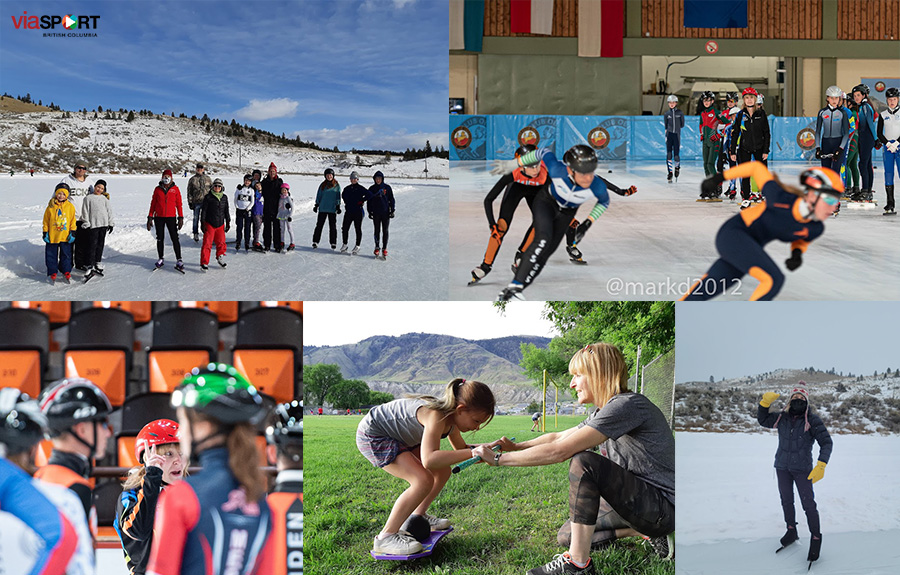 This year for Coaches Week, we want to celebrate each and every coach in B.C. who has made a difference in their athletes lives and positively impacted their community. We are so excited to present a series of profiles on coaches who are going above and beyond to support their athletes through unprecedented times. These are stories of passion, community, creativity and much more. Let's meet Sandi Vyse, co-founder of Kamloops Long Blades .
Q – Can you tell us a bit about your coaching journey?
I started coaching in Dawson Creek while I was still a competitive skater. My mom was the club coach and I started by assisting her. I took my first NCCP training when I was 15, but could not receive my official certification until 16. I have been coaching ever since!
Q – What is it like looking back on almost three decades of work since forming your club, and seeing what it has evolved into?
When I moved to Kamloops there was no speed skating club so with the help of my mom and the Zirnhelt family we started the club. The Matsqui Blades donated some old mats and skates to get us started. The person behind that assistance was Allison Kampman. Little did she know that several years into the future, she would have four grandkids in our club over a period of about 25 years. We have had so many awesome families in Kamloops Long Blades, many who have been with us for decades and some who are even bringing a new generation of skaters. Karen MacLaren has been coaching with me for almost as long as the club has been in existence. Together, we have mentored and encouraged many new coaches, some of them skaters like ourselves and others parents who want to participate with their kids.
Q – How did you keep your athletes engaged during the pandemic?
The pandemic brought many challenges but it also brought some new innovations. It gave us time away from an emphasis on competitions to focussing on skating well and becoming more technically sound. It helped us become more resilient and mentally tough and taught us to accept change and adapt quickly. We all missed competitions and the excitement and comradery, but we stayed positive, did the best we could with what we had to work with. We were just happy to be skating!
Q – Can you talk about your project building a skating oval?
In normal times, January is when we would take our annual bus trip to Fort St. John for our provincial long track competition. Some of us were feeling a bit sad that we wouldn't be going. Then came a text message from Nancy Bepple of the Kamloops Outdoor Skating Association (KOSA), "Would you like to come build an oval on Inks Lake?". It was a fast YES from me! I put the word out to the club and soon had a healthy work crew of skaters, parents and KOSA members out on the snowy lake using GPS coordinates to lay out the 400 meter oval, scraping, shovelling, sweeping to find the fresh ice beneath the snow. Add a quad with a blade and by the end of the day, we had an oval! It was bumpy and imperfect, but we were all so excited to have it! As a coach, I was so proud of all of the kids who were out there for hours shovelling and taking ownership of the project. Everyone was smiling and laughing and feeling a sense of accomplishment. We were able to forget about the pandemic and all of the things we couldn't do, and enjoyed something we could do. The oval was filled with people from the public day after day while it lasted. We created something that was not just for us, but for the community; such great character building for the kids.
Q – What is one lesson you have learned and will always remember as a coach?
There have been so many lessons, so it's hard to single one out. A funny one is that I learned to not demonstrate a drill going backwards when there is a full garbage can of water in the middle of the ice! I landed deeply into it and it didn't even dump over! 
But, a more everyday lesson or philosophy is that there always needs to be some degree of fun. Speed skating is a sport where no one gets rich. Our wealth comes from the enjoyment and fun we have. Even the highest level of athletes in our sport need to find fun in what they do. Of course everyone's definition of fun is different so coaches need to be creative enough to find something that everyone enjoys enough to keep them coming back. 
Q – Tell us about one of your favorite coaching moments in your career?
Some of my favourite coaching moments are when something finally clicks and I see a change in the skater. We spend so many hours saying the same thing and trying to express it with as many variations as possible. It can be exhausting! But, when you see an athlete finally put it together and make it happen, that's really exciting!  My other favourite moments come from coaching at training camps where I have skaters who may not know me, or who I only coach once or twice a year. I love the challenge of finding ways to connect with them and to surprise them with something they may not have done with their club coach. A couple of years ago I had the privilege of coaching at a short track camp in Germany. My group was 26 skaters, all about 14 years old, from eight different countries speaking five different languages. I only speak English. That was one of the biggest communication challenges of my career, but we figured it out and because we all had to help one another, it brought a real friendliness to the group.
"I have been coaching for over 40 years and stepping onto the ice still brings a smile to my face. I love coaching. I love the energy that comes from being with the athletes. I love when we can celebrate the little victories and learn from our mistakes. I have coached hundreds of skaters over my career and only one (so far) is an Olympic medalist. My biggest regret is that I didn't keep a journal. I would have four decades (and counting) of funny stories, happy milestones and things to reminisce about the many skaters who I have coached. I just figured I'd remember! The last, and possibly best thing that I really love is when our grown up skaters stay in or come back to the sport as coaches, officials, board members and parents. We know then, that we have done a good job!" – Sandi Vyse, Kamloops Long Blades
***
Sandi, your genuine passion for coaching, positive outlook and commitment to your athletes makes you a pillar in the community. Thank you for all you do and happy Coaches Week! Keep an eye out for our next profile tomorrow.
Don't forget to enter our Coaches Week Contest for a chance to win $1,000 for your coach and club, on until September 26. Find the details here.