Celebrating coaches in B.C – #ThanksCoach
Sep 25, 2017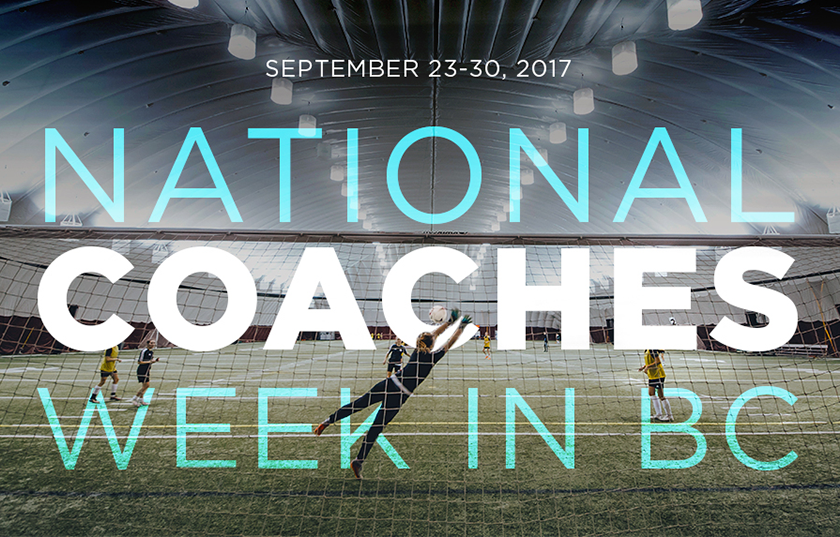 The government of British Columbia has proclaimed Sept. 23 – 30, 2017, as British Columbia Coaches Week, recognizing the impact of the more than 10,000 coaches in the province.
Coaches not only contribute to an athlete's performance, but also provide motivation, support, work ethic, and become role models who inspire athletes for success in all facets of life. This week, we commend coaches for all that they do to encourage healthy, active lifestyles at all levels of sport while helping athletes develop lifelong skills.
"My coaches provided me with the skills to succeed in the ring," says Lisa Beare, Minister of Tourism, Arts and Culture and a former amateur wrestler. "The values I learned from my coaches continue to guide me throughout my career. Thank you!"
The recent success of B.C. athletes at the Canada Summer Games and North American Indigenous Games are a testament to the strength of the sport system in this province and the contribution B.C. coaches make to this system.
"Coaches have an incredible impact on all aspects of an athlete's career from introducing a new sport, to bringing out the inherent skills of a player to teaching the importance of teamwork on and off the field," says Ravi Kahlon, Parliamentary Secretary for Sport and Multiculturalism. "B.C. has incredible coaches that are recognized at all levels of sport. #Thankscoach"
In 2017, Team BC at the Canada Games brought home 146 medals, the largest number of medals ever received. Team BC at the North American Indigenous Games brought home the overall team title for the second year in a row. A key component to the success of Team BC is the strength of the coaches.
With support from the Province of British Columbia, viaSport is working with its partners to strengthen B.C.'s amateur sport system and coach development. In the last year, the Province invested over $235,000 through viaSport to support coach development through subsidized coaching courses, professional development opportunities and grants.
"Passionate and qualified coaches who are committed to the physical, social and technical development of their athletes have a positive and lasting impact on the people they work with," says viaSport CEO, Sheila Bouman. "They have the ability to shape important lessons that allow people to thrive, both in sport and in life. That's why we take the opportunity during National Coaches Week to honour those coaches who continue to invest their time in the development of people, as well as in their own development."
To celebrate British Columbia Coaches Week, viaSport has organized a number of activities to celebrate, train and recognize coaches throughout the province including:
A call to all British Columbians involved in sport to submit a video showing a small act of appreciation for your coach – the winning entry will be awarded $750 towards team expenses.
Offering multisport National Coaching Certification programs at reduced rates to develop technical, leadership and mentoring skills for new and experienced coaches throughout British Columbia.
Quick Facts:
In the last year, the Province invested over $235,000 through viaSport to support coach development in B.C. through subsidized coaching courses, professional development opportunities and grants.
viaSport and its sport partners train approximately 10,000 coaches in B.C. each year through National Coaching Certification Programs (NCCP).
viaSport is the Provincial/Territorial Coaching Representative for British Columbia and maintains a strong partnership with the Coaching Association of Canada.
The NCCP was launched in 1974 by the Coaching Association of Canada to standardize coach development and training across the country
Coaches Week in B.C. has been an annual event since 2007, and this year will align with National Coaches Week across Canada.
viaSport is a not-for-profit organization created in 2011 as a legacy of the 2010 Olympic and Paralympic Winter Games. Its mandate is to increase awareness, opportunity and participation in sport throughout the province: http://www.viasport.ca/coachesweek
Learn More:
viaSport SURPRISE, COACH! CONTEST
In celebration of the lasting impact that coaches have on us, viaSport is calling on all British Columbians involved in sport to submit a short (30 seconds or less) video showing a small act of appreciation for your coach – the winning entry will be awarded $750 towards team expenses i.e. travel expenses, equipment, uniforms, team celebration, etc. Find out more about the contest here: http://www.viasport.ca/coachesweek
NCCP COURSES OFFERED FOR $10 THROUGHOUT B.C. DURING COACHES WEEK
viaSport Regional Alliance partners throughout B.C. will be offering multisport NCCP courses for $10 in celebration of coaches week. That includes over 50 courses through the following regional partners throughout the province. All course listings and registration information can be found here: http://www.viasport.ca/coachesweek