Celebrating excellence in the 2015 Year of Sport
Dec 17, 2015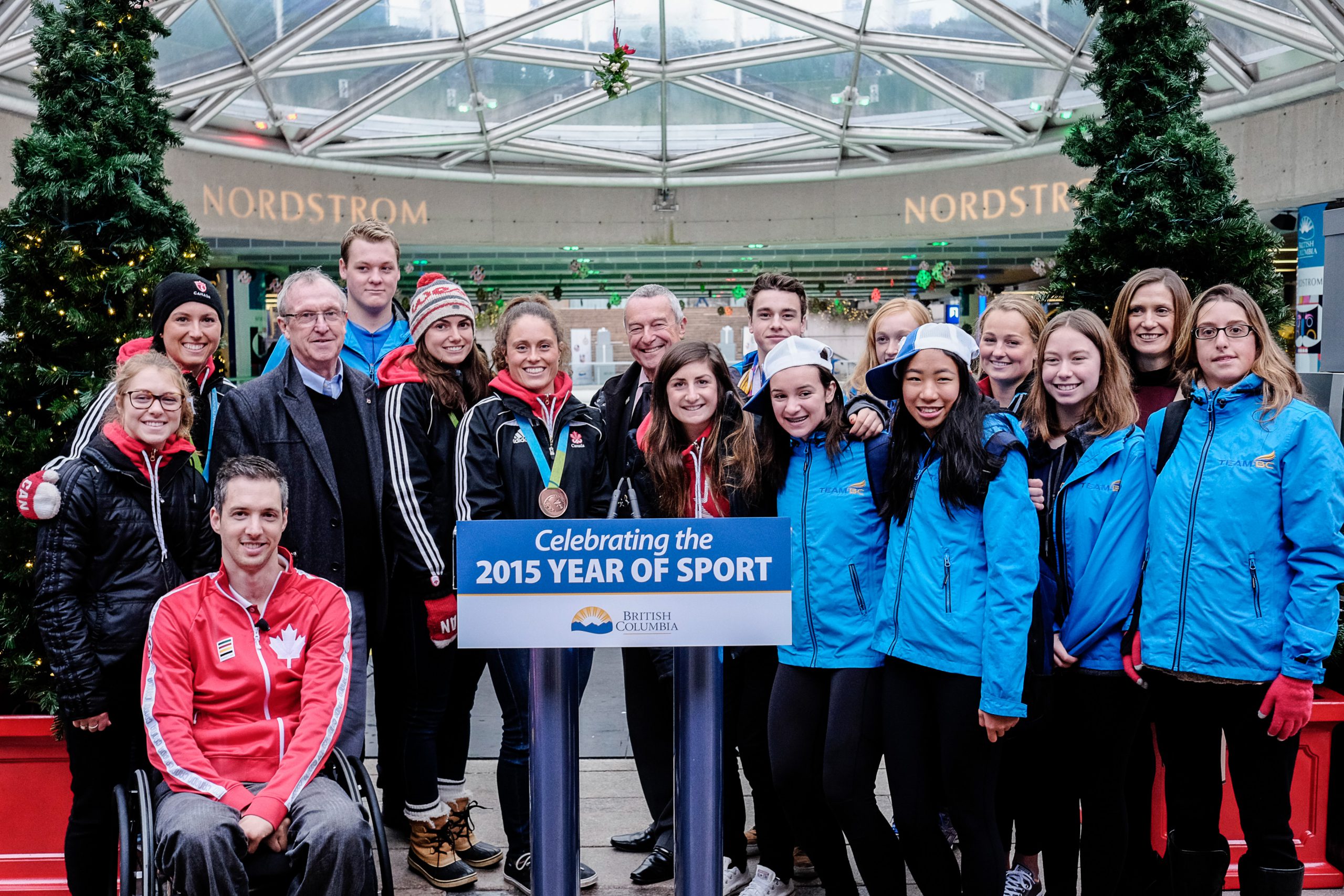 The Government of British Columbia wrapped up the Year of Sport in spectacular fashion by congratulating the hundreds of athletes who competed on behalf of their province and their country.
British Columbia hosted a number of marquee sporting events in 2015, including the Canada Winter Games and the FIFA Women's World Cup. Athletes from this province also competed in the Western Canada Summer Games in Alberta, both the Pan Am and Parapan Am Games in Ontario, and the Special Olympics World Games in Los Angeles.
In addition to the great events from the past year, the Province will continue to fund and host more world-class sporting events in 2016, building on the momentum of 2015. These will include:
2016 International Bobsleigh & Skeleton Federation (IBSF) Bobsleigh World Cup: Whistler $60,000
2016 International Ice Hockey Federation (IIHF) Ice Hockey Women's World Championship: Kamloops $150,000
2016 Canada Cup International Wheelchair Rugby Tournament: Richmond $90,000
The Province has invested more than $1 billion in sport since 2001, more than any government in B.C. history. Event hosting stimulates economic activity through support of local businesses and jobs in cities and towns across the province.
Quotes:
Peter Fassbender, Minister of Community, Sport and Cultural Development –
"I am very happy to say that the Year of Sport in B.C. was an outstanding success and we will continue the momentum in 2016 with the hosting of many more great events. I also want to congratulate each and every one of the athletes who have represented this province and this country."
The Honourable Carla Qualtrough, Minister of Sport and Persons with Disabilities –
"I want to thank all British Columbians for your active contribution to a very successful Year of Sport in the province and across Canada. Canadians from coast-to-coast-to-coast took the chance to get active, to try a new sport and to support our country's high-performance athletes throughout a packed calendar of incredible national and international competition hosted here in Canada. I know the memories created throughout the year will continue to motivate and inspire Canadians, especially our young people, for many years to come."
Sheila Bouman, CEO, viaSport –
"2015 was a banner year for sport in this province for people of all ages and at all stages of participation and performance. Record-setting attendance at events like FIFA Women's World Cup Canada 2015 and Team BC's strong showing at the 2015 Canada Winter Games reinforces British Columbians' commitment to cheering, playing and leading sport. Through legacy funding and ongoing grants from the Province of B.C., we are all in a position to build on the momentum of this past year and ensure that sport continues to be relevant for more and more people across more and more communities."
Jordan Sturdy, MLA West Vancouver-Sea to Sky –
"Whistler is among the best destinations in the world for winter sports, and our sliding centre hosted bobsleigh, luge and skeleton competitions during the 2010 Winter Olympics. It's a great honour to have this facility host an event on the World Cup circuit."
Terry Lake, MLA Kamloops-North Thompson –
"I was thrilled to hear that the 2016 IIHF Women's Ice Hockey World Championships would be held in Canada's Tournament Capital. Kamloops is an amazing city and will show once again that it is up to hosting the best athletes in the world."
Todd Stone, MLA Kamloops-South Thompson –
"As a hockey fan, I'm very excited that Kamloops will be hosting the best women's hockey players in the world next year. This province has some of the best sports fans in Canada, and I know many people are looking forward to this world-class tournament."
John Yap, MLA Richmond-Steveston –
"The Canada Cup of Wheelchair Rugby began in Richmond, and draws some of the best wheelchair rugby athletes on earth. This tournament is very important to British Columbia and our amazing athletes across Canada."
Teresa Wat, MLA Richmond Centre –
"Athletes who compete in this demanding sport show tremendous strength and determination, and a tournament of this magnitude showcases these positive role models for a healthy, active life."
Quick Facts:
British Columbia residents make up 13% of Canada's population but exceed that number in sport:
At the 2015 Special Olympics World Games in California, 46% of Team Canada were BC athletes who won 27% of Canada's medals.
At the 2015 Parapan American Games, 21% of the Canadian athletes and guides who competed resided from and/or trained in B.C.
This year, 200 of the 719 athletes (28%) on the Canadian team for the 2015 Pan American Games were connected to B.C.
At the 2015 Canada Winter Games, Team BC claimed 88 medals total, including 21 gold, 34 silver, and 33 bronze to place third in the overall standings.
At the 2015 Western Canada Summer Games in Alberta, Team BC topped the medal standings once again with 197 total across 18 sports. 
Learn More:
Check out our factsheet on sports funding in the province:https://news.gov.bc.ca/factsheets/factsheet-sports-funding-1
viaSport is a not-for-profit organization created in 2011 as a legacy of the 2010 Olympic and Paralympic Winter Games. Its mandate is to increase awareness, opportunity and participation in sport throughout the province: http://www.viasport.ca/