Close to 50% of Canadian Paralympic Team has a Connection to B.C.
Mar 07, 2018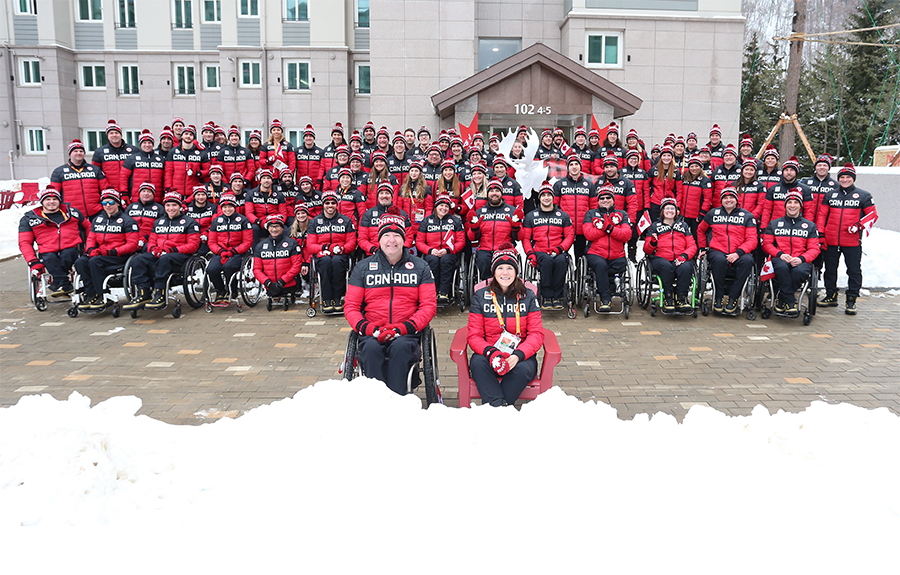 There are 24 athletes with connections to B.C. competing in the PyeongChang 2018 Winter Paralympic Games, which represents 44% of the 55 athletes on Team Canada and twice as many as those who competed at Sochi 2014. This increase is a testament to the strength of the inclusive sport system being developed here in B.C.
"It is an exciting time to be a British Columbian athlete," says Lisa Beare, Minister of Tourism, Arts and Culture. "So many of our athletes have been given the opportunity to follow their dreams of competing at the highest level, on the world stage. We wish our Paralympians the best of luck – and will be cheering them on – as they represent us in PyeongChang."
Following her dream of competing on the world stage is B.C.'s very own Mel Pemble. Having moved to Victoria from England at the age of 9, Pemble praises Canada for igniting her passion in sport and for giving her the invaluable opportunity to ski. The support of B.C.'s sport system encouraged Pemble to participate in both the 2014 BC Winter Games and the 2015 Canada Winter Games.
She was nominated to the Canadian Para-Alpine Ski Development Team at sixteen years old, making Pemble the youngest of the 35 athletes to make one of the national teams. For the last two years, Pemble has been an avid student-athlete at the Canadian Sport School in Victoria, training in both para-alpine skiing and para-cycling. In addition to PyeongChang, Pemble aims to compete at the 2020 Paralympic Games in Tokyo.
"The incredible number of Team Canada athletes with a B.C. connection heading to PyeongChang for the Paralympics reflects our province's commitment to ensure people living with a disability have quality opportunities to participate in and thrive via sport " states viaSport CEO, Sheila Bouman.
B.C.'s Pathway:
The Government of British Columbia's annual investment in sport is approximately $50 million
B.C. supports the athlete pathway with a regionally-based performance system of multi-sport and provincial sport organizations
The biennial BC Summer and Winter Games provide opportunities for selected athletes to gain multi-sport games experience and are the entry point to B.C.'s sport excellence system
Many of these athletes advance to compete nationally with Team BC at Canada Games, held every four years
Announced at the end of the 2015 Canada Games in Prince George was the Northern Sport Accessibility Initiative, a three year pilot project which aims to expand access to sport and recreation for people with disabilities living in Northern B.C.
Also of note, three of B.C.'s Paralympians had the opportunity compete for Team BC at the 2015 Canada Games in Prince George, including Mel Pemble, Ethan Hess and Emily Young, showcasing the importance provincial and national multi-games experience has on the Paralympic pathway
Athletes targeted by their local and provincial sport organizations for high performance gain access to important resources and expertise in sport science, sport medicine and coaching through CSI Pacific, SportMedBC and viaSport's Regional Alliance delivery partners
viaSport British Columbia, the Province of B.C.'s lead agency responsible for promoting and developing amateur sport, plays a critical role in this long term athlete development process
Some of these athletes will be celebrated with the momentous achievement of being nominated to the BC Sports Hall of Fame – such as B.C. Paralympic silver and gold medalist, Josh Dueck, who is being inducted May 31, 2018
"These athletes are true inspirations for all Canadians, each with their own incredible story of perseverance and dedication," says Canadian Sport Institute Pacific CEO Wendy Pattenden. "We are privileged to work with them and are sure they will continue the terrific success that Team Canada had in February in PyeongChang."
Every British Columbian has the opportunity to thrive via sport when it is welcoming, inclusive and accessible to all, and the British Columbia sport system is a critical component of this inclusive athlete development pathway. Athletes, coaches, officials and administrators are the backbone of B.C.'s sport sector and we look forward to cheering for all of Team Canada at the PyeongChang 2018 Winter Paralympic Games, which start on March 9, 2018.
Quick Facts about B.C. athletes on Canada's national Paralympic team:
44% are athletes affiliated with B.C.
22 benefitted from CSI Pacific and/or PacificSport services in the past year
B.C. athletes will compete in 5 of the 6 sports at the Paralympics
6 athletes are alumni of the BC Games or were part of Team BC at the Canada Games
CSI Pacific is sending a Strength & Conditioning Coach, who works with Canada's Para-Alpine team