Coaches Week: Building a lifetime love for exercise
Sep 22, 2017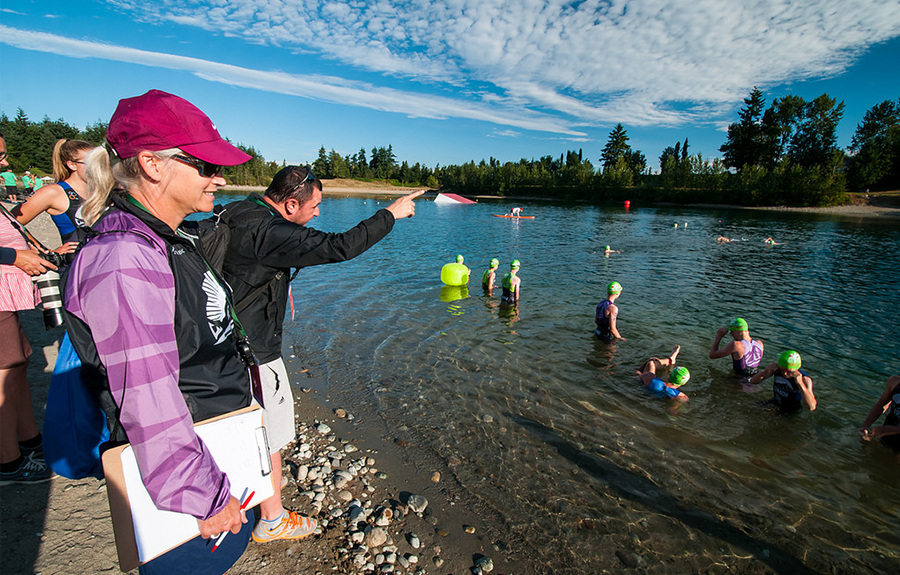 As a coach, Crystal Thomas believes that her role is to connect with her athletes beyond sport. Read on to learn more about how she adopts this mindset into her coaching philosophy.
Name: Crystal Thomas
Sport: Swimming & Triathlon
Community: Terrace
In her final year of high school, Crystal Thomas had one goal: to attend the BC Summer Games. She doesn't remember the specifics, but recalls competing at the Summer Games for modern pentathlon which consists of swimming, fencing, running, shooting and stadium jumping. Since 2004, she's taken a number of athletes from northern B.C. to attend the Games, just like she once did.
Although modern pentathlon no longer exists at the games, Thomas' experience from this event translates well into her current coaching endeavours. For the past seven years, she's been running the Kermode Kids Triathlon for young athletes in the Zone 7 region to gain invaluable experience and qualify for the Summer Games.
She also coaches the Terrace Blueback Swim Club. Part of her motivation in deciding to coach swimming stemmed from poor coaching and directorship with the club. When head coach Mike Christensen decided to rebuild the club, Thomas was immediately on board.
"I wanted to be a part of rebuilding it because I really respect Mike. He's somebody that I can work well with. If you're going to be going to work, it's nice to go to work with somebody you enjoy."
Her emotional rapport with athletes is what keeps Thomas motivated as a coach. Often times, she sees herself as a mentor through the relationships that she has fostered. With increased pressure on children nowadays to participate in a variety of extracurriculars, Thomas understands that her athletes have a life outside the field of play. That's why she often attends other events that her students are a part of, outside of sport.  
"It's more than just standing on a pool deck and giving them their slips. It's being able to connect with them beyond sport."
When asked about her coaching style, it's no surprise that she describes it as being more of a "mom-style". For her, relationships come first. Building athletes to the provincial and national level is a by-product of her work to build a meaningful connection first.
"When they come, I want them to work hard. But if they get out of the pool with a stomach-ache, I'm not going to make them get back into the pool. I'll list out what their options – if you feel okay, you can swim. Otherwise, you can go home."
On a deeper level, Thomas' style is one that is self-directed. She aims to inspire self-determination so that her athletes take personal responsibility for their athletic career. This way, they own what they do. She's simply the template provider to help them build the skills necessary to develop this mind set.
That's why one of her most memorable highlights from coaching is an emotional one. Where a young athlete's sense of intimidation took over his self-confidence to even attend practice, let alone compete. Luckily, Thomas' personal and relational approach to coaching allowed for her young athlete to build up his mental strength and compete without emotional barriers.  
Having coached for more than ten years now, Thomas is keen to develop sport for athletes in the north. For those looking to start their own personal dive into coaching, she offers this piece of advice: 
"Just take it on. Don't think too much about what could happen, or the 'what ifs'. The rewards always outweigh the worries. Say yes!"