Coaches Week: Happiness is the key to success
Sep 24, 2018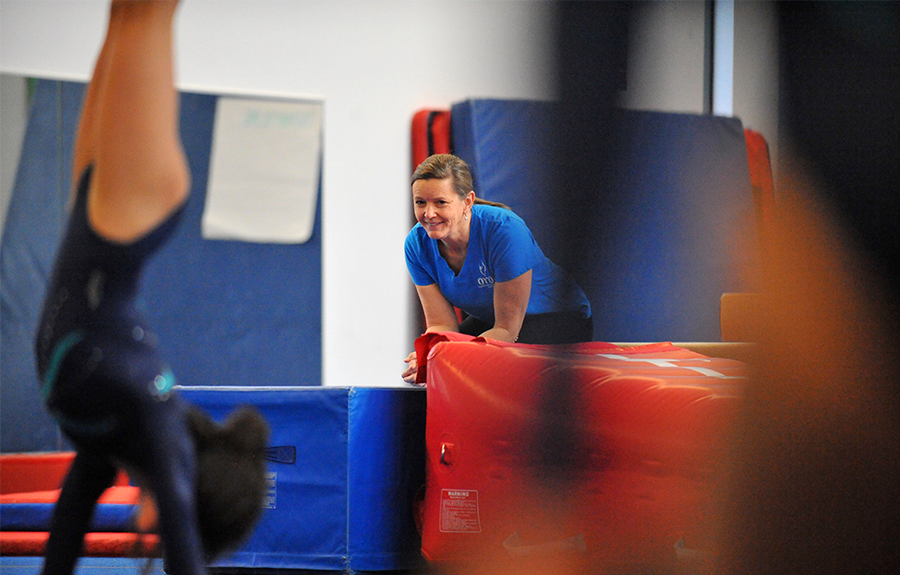 Name: Karin Jarratt
Sport: Gymnastics
Community: Whistler
Imagining a world without the NCCP (National Coaching Certification Program) is strange for Karin Jarratt. Prompted by her gymnastics coach to take certification, Karin was exposed to the world of coach education and the NCCP, still in its infancy at the time. A number of course-filled years later, Karin is a veteran of the program and Head Coach of the competitive artistic program at Whistler Gymnastics Centre.
Coming from a fitness forward family, Karin's parents ensured that their children had access to physical activity opportunities, such as downhill skiing, cross country skiing, and track and field. Because of their fitness mentality, rides to activities were far and few. She relied on her trusty old bike to get her around.
Remarkably, gymnastics had never been a part of Karin's upbringing. In addition to her activity-instilled values, Karin was heavily inspired by Olympian Nadia Comăneci, the first gymnast in Olympic history to be awarded a perfect score of 10.0 for her performance on the uneven bars. (The legendary gymnast went on to receive six more perfect 10s at the same 1976 Summer Olympic Games in Montreal.)
"I was 13, which isn't typical for someone that's involved in gymnastics for a long time. Most people start as children. Their parents introduce them, or friends do. I just saw something on TV. Nadia at the Olympics a long time ago. Wow, she looked great. 'That looks really good – I'd like to try some of that,' I thought. I fell in love instantly."
Although she started at an later age than usual for the sport, Karin wasn't discouraged. Her motivation spurred from an absolute love for the intrinsic beauty of gymnastics and the movement it brought.  
"I just fell in love with the movement. Everyone wants to flip or figure out a hand stand – I thought it was so beautiful and challenging. There were no short cuts to being good at it. It was all up to me and I couldn't rely on anybody else."
As the Head Coach, Karin oversees kids who have gone through the basics program and are looking to pursue personal goals. Training between two to four days a week, there's no other place these athletes would rather be.
"I feel really lucky. It's not a job in my mind – I get to hang out with cool little people."
It's these little people that keep Karin coming back to the gym, day in and day out. A big champion of female empowerment, Karin doesn't believe girls and women are currently on equal footing within all aspects of the gymnastics world. She does all that she can to promote the importance of creating strength and pride in who they are and what they can achieve, independent of anyone else. The fruits of her labour can be seen when her athletes are training in the gym.
"A little athlete on the beam, four inches wide and three feet up in the air. The look on her face, right before she tries something that's really challenging for her? She's a little afraid, but has been given all the tools to succeed at it. The first time she tries on her own, whether she's successful or not. The determined, "I'm afraid, but I've got this," sort-of-look. Not really sure, not knowing. I live for that. It's so powerful to me."
Karen's success story from her coaching journey is simply her happiness. She's still knee-deep in love with what's created within the gymnastics environment, whether the mastermind is herself or her athletes. According to her, it's never boring, and never the same day twice. She also believes other coaches can achieve the happiness that she has come to experience:
"Drop the ego and make it about the athletes. Connect more with the people you're there to support. There is no sport without athletes. There is no good sport without good coaches."