Coaches Week: Home is where a coach's heart is
Sep 22, 2017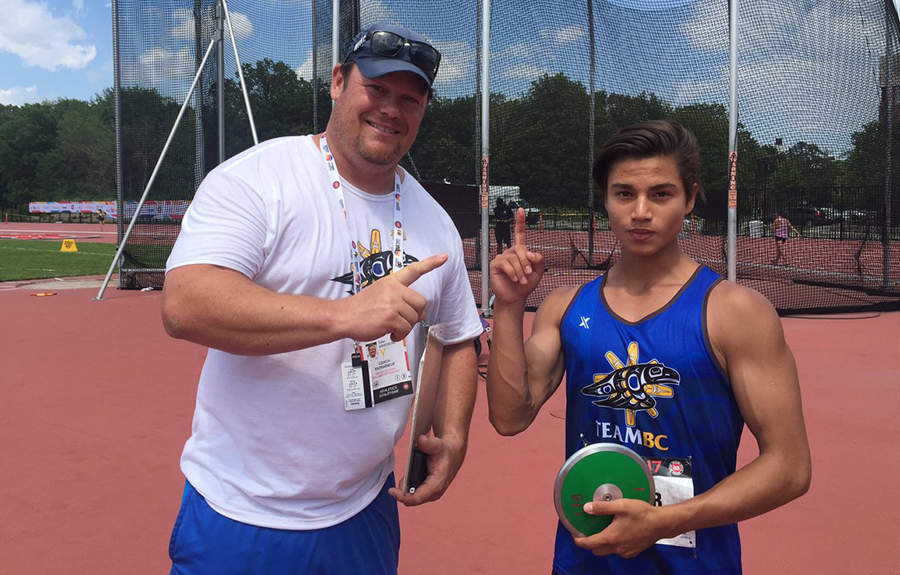 Dylan Armstrong has travelled to Europe over 100 times, but it's still the community of Kamloops that he wants to give back to through coaching. Read on to learn about this Olympian's coaching journey so far. 
Name: Dylan Armstrong
Sport: Shot put
Community: Kamloops
The beauty of sport lies in the different ways that one can get involved. You can choose to play pick-up games. You can join an organized league with friends. You can dedicate more than three quarters of your life to reach the Olympic stage. 
For Dylan Armstrong, his involvement has always been the latter. Recently awarded a long-awaited bronze medal from his performance at the 2008 Beijing Summer Olympics, Armstrong's encounter with sport is far from being over. 
Kamloops is home to the Kamloops Track and Field Club where Armstrong's throws career began many years ago. Although currently retired from competing himself, Armstrong has dipped his toes into coaching at the very club that brought him up. For the past year, he's been coaching part-time while balancing time with his family, including a baby daughter.
His ultimate goal? To expand on his legacy and grow throws in the region.
"I enjoy athletics! It's a great way to still be involved in the sport in some way. What would be better than trying to give back to the kids in my community?"
Given that Armstrong competed at the highest level of performance, it's no surprise that he pushes his athletes to work hard with relentless dedication to his program. However, it's not always results that makes coaching rewarding. Instead, it's the beaming smiles that he receives from his athletes when they've accomplished a personal best.
One of these smiles came from a discus thrower that Armstrong had the pleasure of coaching early last winter. She was an exchange student studying abroad with no prior throwing experience of any kind. However, she trained at full-throttle. Surprising herself and Armstrong, she came 9th at the BC High School Track and Field Championships in the spring. It was quite the accomplishment for the duo, given the short amount of time that was given.
Although fairly new to coaching, Armstrong has an advantage – his throws coach, Anatoly Bondarchuk, who happens to be one of the most accomplished throws coaches in the world. Armstrong often models his own coaching methods after his mentor's, given that most of what he knows is from him. Currently 77 years old, Bondarchuk is still studying the biomechanics of the sport and looking for ways to improve performance.
Aside from studying and reading on a daily basis, Armstrong also believes in the importance of practicing your skills so that others can learn proper form and technique. (This isn't particularly hard for Armstrong – he's constantly itching to throw and give demonstrations for his athletes.) 
"Try and be in the field as much as possible. Experiment. The more experimenting you do, the better off it is. You need that experience, because you can never stop learning."
Photo credit: ISPARC