Coaches Week: Sport for life is sport for everyone
Sep 25, 2018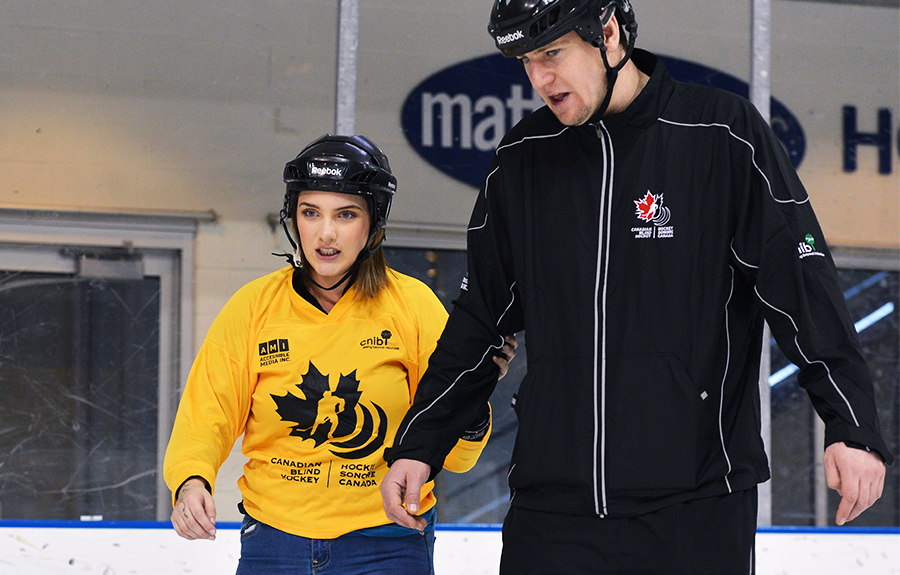 Name: Matt Morrow
Sport: Blind Hockey
Community: Vancouver
Matt Morrow is frequently asked whether he works in blind sport because a family member is visually impaired or blind.
"Nope. It all just happened to fall in place," he'll reply.
Throughout elementary and high school, Matt played just about everything – volleyball, basketball, ultimate frisbee, golf – to name a few. Even having dabbled in a wide variety of sports, Matt still had his favourites: hockey in the winter and baseball in the summer. All of this, thanks to his mom. 
"My mom has a Master's in physical education. Before there was the concept of Canadian Sport For Life (CS4L) and Long-Term Athlete Development (LTAD), she was really aware of the importance of learning fundamental movement skills at a young age," says Matt.
Equipped with a foundation of fundamental movement skills, Matt always kept sport within arm's reach. His first venture into coaching occurred as a swimming instructor during his late teens. Developing young athletes into fully competent swimmers gave him the ability to break down specific skills and the eagerness to assist with coaching when the circumstance presented itself.
The opportunity to work in sport continued. After working for the Canada Games Council and Synchro Canada, he became involved with the Active Living Alliance for Canadians with a Disability. From there, he worked for Canadian Blind Sports before helping to create Canadian Blind Hockey, the association responsible for governing blind hockey in Canada and promoting the sport worldwide.
As the Executive Director of Canadian Blind Hockey, Matt wears a number of hats while overseeing all aspects of the organization. One of his favourite roles is having the opportunity to coach. Having also coached the national blind baseball team and goalball at both the national and international level, Matt is no stranger to coaching athletes with a disability. Currently, he coaches Canadian Blind Hockey's youth programs, runs Try-It programs from coast to coast and visits each of the seven Canadian Blind Hockey teams across the country to run at least one practice with them.
The majority of Matt's coaching, however, occurs during the annual Canadian Blind Hockey Summer Development Camp, which he co-founded in 2014 Paul Kerins and Luca DeMontis. Both Paul and Luca serve as the Canadian national blind hockey team's Head Coach and General Manager, respectively.
"The three of us really came together. It was the first time blind hockey ever had a hockey camp, and we didn't really know what to expect. With my background working with athletes with a disability, Paul's background as a former NCAA player and Luca's background with experience in both, we were able to create a curriculum," explains Matt.
Fast forward five years, and the Summer Development Camp is thriving. One of Matt's fondest moments comes from athlete Alex Angus MacEachern who attended the very first camp as a 14 year old after learning about blind hockey. By attending the annual camps since then, Angus progressed rapidly through the stages of LTAD and was selected onto the first-ever national blind hockey team. His budding success? A tangible result of Matt's pride and joy.
Having coached athletes with a vision impairment for many years, Matt knows the ins and outs of what it's like. He stresses the importance of coaches that are extremely confident in verbal communication and aren't afraid to work with the athlete directly, one on one. Traditional coaching methods such as demonstrating skills don't always work in blind sports. Rather, kinesthetic manipulation or modelling are preferred. As coaches receive training, they become more comfortable with hands-on coaching and working with blind athletes to learn new skills.
As Matt works towards creating a World Championships for the sport, he encourages others to champion inclusion and support athletes with a disability.
"Continue to create greater access and improve capacity for programming for athletes with a disability. Have more trained coaches and more funding and access to facilities through initiatives like subsidized ice for disability programs. By doing so, we'll be able to continue to move forward with ensuring sport for life is sport for everyone."
Canada's national blind hockey team will compete against USA in the world's first-ever international blind hockey competition between October 10-12, 2018. For more information about blind hockey or the organization, visit www.blindicehockey.com