Community of Iskut uses grant funding to increase sport opportunities for local Aboriginal youth
Jun 25, 2014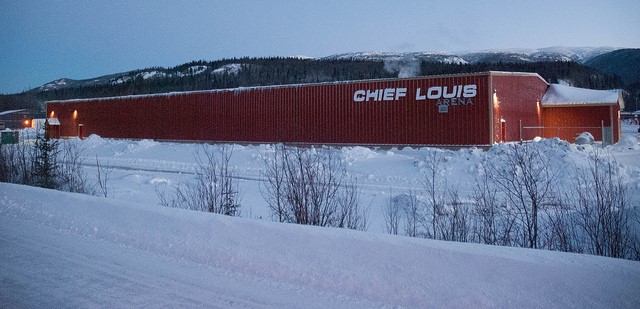 Aboriginal Youth Sport Legacy grant supports purchase of new sport equipment for use at local arena
You may not have heard of the small northwestern village of Iskut, but the residents of this rural B.C. community are biding their time doing some fantastic things. Only 9 hours away from the Yukon Territory, Iskut is home to a growing Aboriginal community and continues to expand each year with budding infrastructure and ongoing improvements to village life.  
A crowning achievement for Iskut was the recent completion of their local sports arena: the Chief Louis Arena. This venue provides a fantastic sport environment that supports an increased number of sport program offerings, and also engages the village's youth who already make up 80% of Iskut's total population. 
 
Chief Louis Arena is a living legacy for sport in Iskut, built on a 20-year-old dream
The goal of 
building an indoor arena was to provide a place for the community to come together and bond during the long, dark months of winter. This dream started more than 20 years ago when two influential figures laid down the foundations in order to make the dream a reality.
Iskut's Chief at the time, Chief Louis Louie, diligently worked to gather enough funding for an indoor rink to replace the outdoor rink. When he passed on, it was the late Jackie Carlick Sr. – hockey coach and community volunteer – that stepped in to ensure that there would always be the opportunity for youth to play hockey in Iskut. He divided his time to coach four youth hockey teams over the course of 10 years, preparing them to someday play in their own arena.
Chief Louis and Jackie Carlick Sr. provided the means for the structure to finally become the sports arena it is today, and both are memorialized for their hard work and dedication. Their legacy continues to be present in the community of Iskut through the sport and health programs that are now offered through the arena they helped build.
 
Iskut Valley Health uses hockey as an educational tool for youth to stay healthy and teach discipline
Jodie Payne, a Community Wellness Coordinator for Iskut Valley Health (a community organization that delivers health and preventative programs) often reflects upon a statement she found in the First Nations Health Plan about health and lifestyle. The Plan outlined how traditional First Nations lifestyles have been dramatically altered due to reduced access to traditional food and medicines. Therefore, more sedentary habits and preventable diseases have become more prevalent in daily life.
After reading this statement, Jodie thought, "wow. Being healthy physically can lead my people to be more healthy mentally, emotionally, and spiritually. And if they are well grounded they may also engage more in our culture's traditional activities." Jodie knew that her people on the reserve would be able to beat negative statistics and overcome obstacles through increased health and physical activity. It was just a matter of providing the proper education in order to make it happen.
As a result, Jodie and her team at Iskut Valley Health now use the Chief Louis Arena to deliver a community-based program that uses hockey as an educational tool for youth to stay in school and teach discipline. They will also be partnering with Klappan Independent Day School, a local independent school in Iskut, to promote the importance of a healthy lifestyle that includes exercise, education and regular physical activity.
 
Aboriginal Youth Sport Legacy Fund enables the purchase of necessary sport equipment for community program
The dedicated staff at Iskut Valley Health work to ensure they are holistically meeting the needs of the communities they serve. After receiving an Aboriginal Youth Sport Legacy Fund (ASLYF) grant this past May, provided through the Province of BC and administered by viaSport British Columbia, the team was able to purchase hockey equipment and subsidize registration to their program in order to reduce some of the financial barriers many participants in Iskut face.
"The ASLYF grant helps ensure poverty or having low income will not be a barrier to our children being able to participate in sport," says Jodie. "No child should be sidelined because they lack the money to get involved."
The remainder of the grant will be used to purchase additional pieces of equipment that can be used by the entire community at Klappan School. This will give children access to all kinds of sport equipment at the arena during PE, Sports Days and other forms of social interaction. 
More about the Aboriginal Youth Sport Legacy Fund
ASLYF was created as an agreement between the Province of British Columbia, Squamish Nation and Lil'wat Nation and the Vancouver 2010 Bid Corporation. The Squamish and Lil'wat Nation and the Province of British Columbia appointed viaSport as the trustee for the Aboriginal Youth Sport Legacy Fund in 2008.
ASLYF provides opportunities to support the creation of innovative programs aimed at assisting Aboriginal youth in the province of British Columbia to prosper in sport and physical activity. See full list of the March 2014 intake recipients of the ASLYF grant on viaSport's website. Next intake for this grant will open March 2015.
For further questions about Iskut Valley Health or their programming in the Iskut community, contact Jodi Payne, Community Wellness Coordinator, at Jodi.nole@iskut.org
For more feature stories by viaSport or to find out about our roster of available grant programs fun