Congratulations to Competition Coach of the Year, Julian Green!
Sep 27, 2019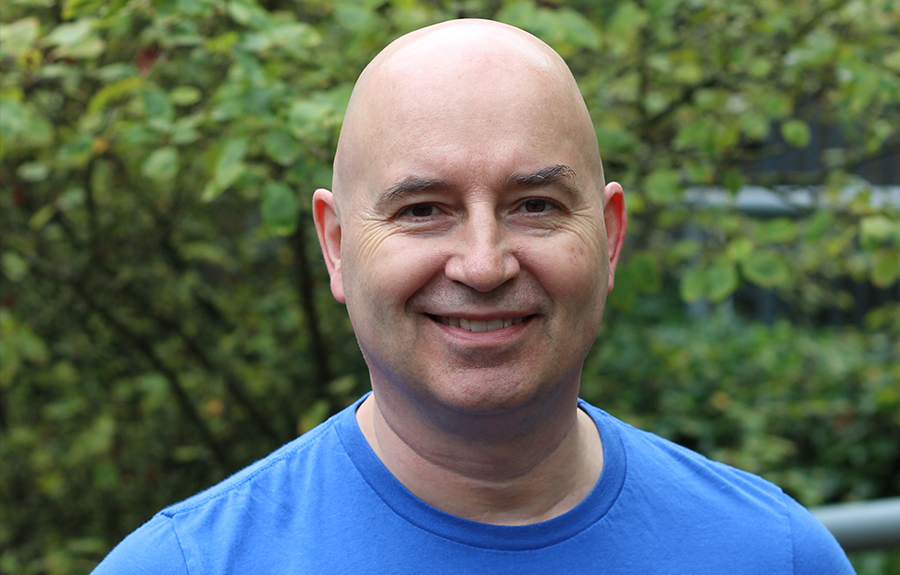 Julian Green is the Program Director for the Ridge Meadows Speed Skating Club and Head Coach for the Langley Blades and also runs Donatelli-Green Speed Skating Coaches with his wife and father-in-law. The Mission, B.C. legend is also the recipient of the 2018 Bob Bearpark Competition Coach of the Year award.
Over 35 years of coaching and a list of achievements that could fill a long-track course would suggest that Julian's career highlight might be competing in the 1988 Olympics or coaching stars like Jeremy Wotherspoon and Catriona LeMay Doan. We asked Julian to tell us about what's inspired this incredible journey, and instead of rattling off podium wins, he treated us to a love story. We'll let him tell it:
viaSport: What inspired you to get into coaching?
Julian: "Girls. Well, a girl. Eden Donatelli, to be precise, who later became my wife, best friend and comedy sidekick. That's the short version. The longer version goes something like this:
Eden was speed skating on the Canadian team and I was speed skating on the British team. We saw each other once a year at the World Championships or Olympic Games but never spoke, so our first "dates" were quite uneventful.
Then in 1989, disaster struck! Well, not so much disaster as an unfortunate event: my local ice arena in Birmingham, England closed down and my club ceased to exist as it had before. In a nutshell, I had to hang-up my skates as a competitor. In April 1990 I went to watch the World Championships in Amsterdam to help coach and support my friend and former training partner Wilf O'Reilly who was a contender for the men's title. Upon entering the ice stadium, Eden immediately caught my eye the second that I laid eyes on her and so, like any other person who has experienced love at first, well, fourth sight, I stalked her relentlessly and went to great lengths to be wherever she went that weekend.
We got on like the proverbial house on fire and for the next four months Eden and I exchanged numerous letters between Britain and Canada, (no computers or email back then) which resulted in me coming to Canada for a visit, coaching at a speed skating camp with Eden, making a  good impression with Jeremy Wotherspoon's parents (Jeremy became Canada's most decorated long track speed skater), subsequently offered the Provincial Coach and Technical Coordinator position in Alberta, then the Olympic Long Track coaching position for the 1992 Winter Games and "Bob's your uncle". Coaching gave me a way to be closer to Eden. I did it for love!"
As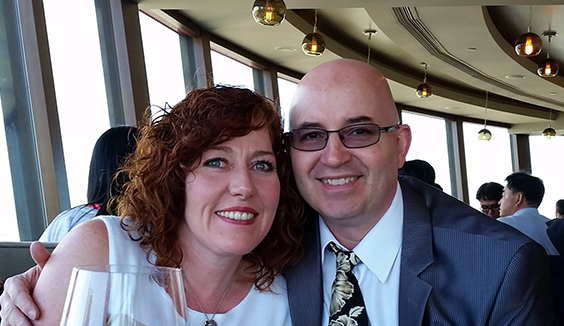 an athlete, Julian skated internationally for Great Britain in both Short Track and Long Track, attending the 1988 Olympic Games as well as the 1987 and 1989 World Championships. As a coach, the list of notable speed skaters he's worked with is extensive, but his club nominators say it's his commitment to young athletes and coaches that's solidifying his legacy.
"For all his skills coaching at a world class level, Julian has a gift for coaching our youngest skaters," says Mae Santiago-Shupe whose children skated under Julian's guidance for years. "His knowledge of the fundamentals of skating is unparalleled, ensuring the joy of skating-the skill and the fun-is instilled the moment skaters first step onto the ice."
For over 25 years, Julian has delivered numerous Level 1, 2 and 3 NCCP coaching clinics and mentored many up-coming junior coaches, leaving a footprint in the B.C. speed skating community so large it's difficult to measure. For all of it, when asked about the greatest reward he's felt from coaching, Julian maintains that the sport has still done more for him than any award can replace.
"I know most people might mention an athlete who won an Olympic medal, or achieved a world record or some such thing, but for me it has all been about meeting Eden, raising a family of three wonderful monsters who also speed skate, our extended speed skating family and the journey. 'The family who plays together stays together' has loosely been our motto."
On behalf of viaSport and the Bob Bearpark Foundation, congratulations Julian!