Congratulations to Ryder Gillis!
Apr 01, 2014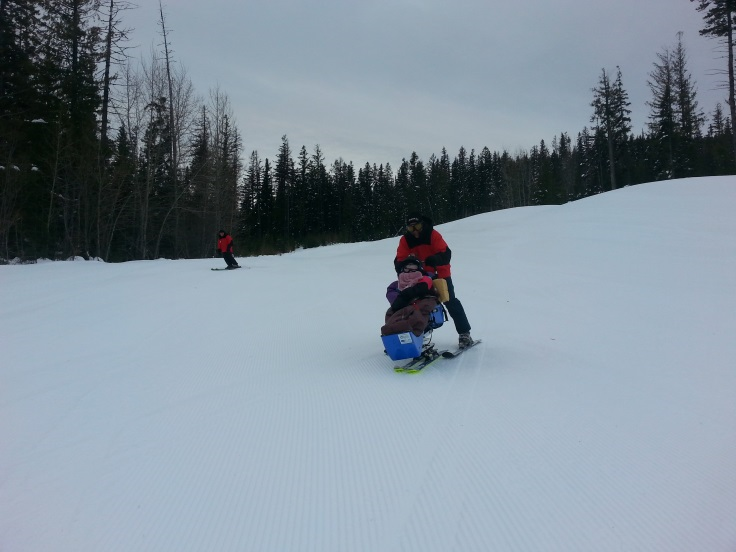 Congratulations to Ryder Gillis from Adaptive Sports at Sun Peaks; he is the winner of our Mountain Lover Facebook photo contest! Runner up is Avalene Manchester.
When we launched our photo contest on Valentine's Day, we had no idea the amount of love it would generate. We could have never guessed that this contest would have brought over 120 entries, generated over 13K visits to the site or that two pictures would almost "break the bank" generating close to 5.5K votes each (with a limit of 1 vote per day!) Both families received a lot of support and the race was so clos; each picture taking the lead at one point or another. In the end, Ryder's picture came out in front with 5416 votes while Avalene's got 5359. The response was so overwhelming for these two young mountain lovers that we wished we had 2 Go Pro's to giveaway! Instead we added a $100 Gift Certificate to Best Buy to the second prize and have awarded it to Avalene and her family.
We wanted to give you all the opportunity to meet these two amazing kids, so we asked each of their moms to send us a little note.
From Shannon, Ryder's mom: I just wanted to say a great big thank you to everyone who has taken the time to spread the word about such an amazing program and how it truly has changed our lives. My son Ryder has been a part of the Sun Peaks Adaptive Ski Program for the past 3 seasons and watching him go out and work hard and see him thrive with this sport has changed so many things for us. As people know children and adults with autism have a hard time to socialize and communicate with others but when my son first started with this program it opened up so many great things in him, he loves to go on chair lifts and loves to ski all the different runs, once he started skiing it gave him so much joy that he wanted to share it with others and let people know all about how great it is. Ryder's second passion is videography, he loves to watch YouTube videos on so many topics and really loves to watch himself talk about all of his experiences, I can't wait for him to be able to watch himself ski and hear all the chatter about what he sees and hears, it is so amazing to see the positive emotions when we finish a lesson and we can't wait to show of all his skills. Ryder has decided he wants to a professional skier as well as a ski instructor when he grows up and you know what? I believe he will. Thanks so much to this amazing program and all the fantastic people that allow us to experience this… From my family to yours thank you for this opportunity.
A little on Avalene from her mom Laressa: Avalene is an amazing nonverbal seven year old. She lives with her family in a small community in Alberta. As her parents, we try to provide her with as many life experiences as we can. She has a rare genetic disorder that leaves her with little to no use of her hands and limited mobility. She loves roller coasters and as we discovered this winter, skiing. We were fortunate enough to take a family vacation to SilverStar in December. The wonderful volunteers at Silver Star's Adaptive Snowsports opened up early to provide this wonderful opportunity for her. We were so thankful to all the volunteers who provided her with three- half days of fun and excitement. Her genetic disorder, Rett's syndrome, makes communication extremely difficult; however the smile on her face after each of her skis was truly priceless. We could see her exhilaration in her smile and her eyes. This experience was even more meaningful by having Avalene's Great Great Uncle Dave to be one of the amazing volunteers. Thank you to all Adaptive Ski instructors across British Columbia for providing these opportunities to all our special children.
The contest also allowed us to meet BC Adaptive Snowsport members who with the help of our programs throughout the Province were able to start enjoying skiing and snowboarding. We were also treated to some breathtaking pictures of summer and winter mountain scenes, powder heaven, first times and too many to count times. We also met some of our amazing volunteers who make it all happen, but overall, the contest truly showed us that we are all united by one thing, the love of mountains and the desire to make more people discover what being a Mountain Lover truly is. All the pictures can be viewed on our website here: http://bcadaptive.com/content/gallery
From the bottom of our hearts, thank you to everyone who participated in this contest. We are happy to have you as part of our Mountain Loving family and we hope you will stay tuned…we have plenty more fun things planned!