Each for Equal 2020: recapping promising practices
Mar 19, 2020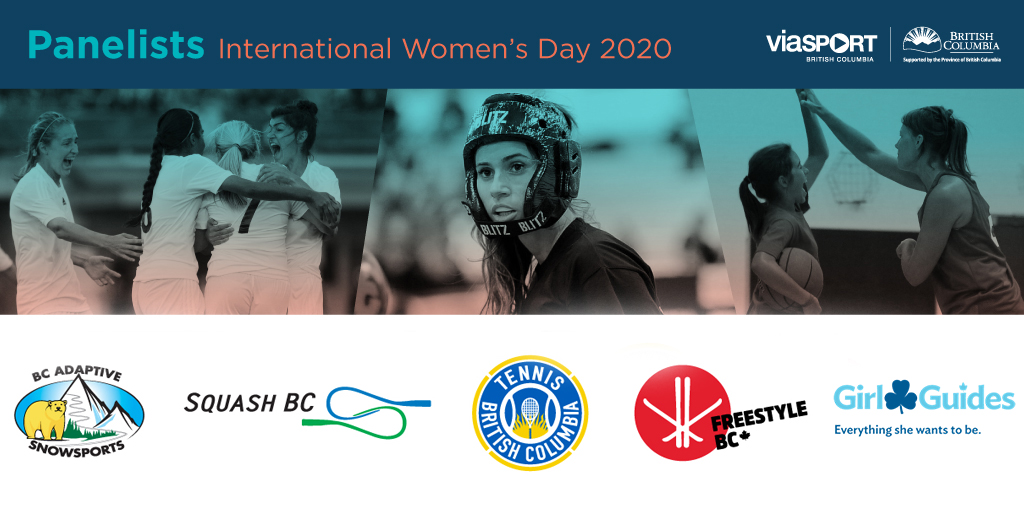 Last week we celebrated International Women's Day with a forum on advancing gender equity in sport and beyond. To kick off the day, we held a peer-to-peer learning session with a panel of leaders in sport and recreation to share promising practices for engaging girls and women. Moderating the panel was Fannie Smith, a member of the viaSport Girls and Women Advisory Group. In her role at BC Adaptive Snowsports, Fannie started SheCan, a program to empower and connect women with certified instructors and each other. The goal of this panel was to dive deeper into why and how organizations might consider women and girls'- only programming while offering the audience ideas and the confidence to create change.
Panelists:
Natasha Doucas, Squash BC, Board president Initiatives:
Emerging Female Leaders grant and forum
Women and Girls in Squash Committee
Women in Squash Week
Diamond Isinger, B.C. Provincial Commissioner for Girl Guides of Canada
Initiatives:
Community based programs for girls, providing role models and mentorship opportunities
Gamechangers, a new program with Canadian Women and Sport focused on keeping girls in sport
Danika Mazur, Freestyle BC, coach and program coordinator
Initiatives:
Girlstylerz, an all-girls freestyle ski program including training, camps and events
Jeannie Rohr, Tennis BC, director of community
Initiatives:
After school program for at-risk female youth in School District 36
Community Tennis Facilitators program, matching mentors with youth programs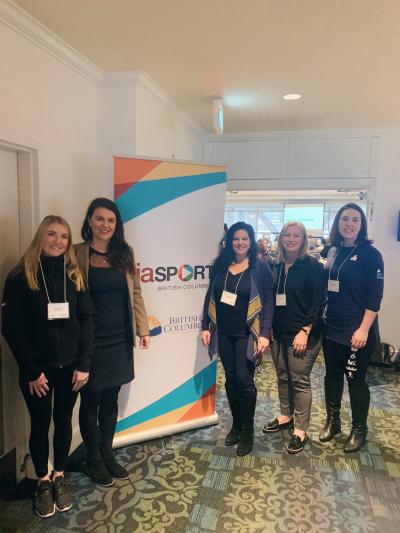 We've summarized some of the key points that came up during the discussion as tips to advancing gender equity in our organizations and beyond.
Each for Equal in your personal life
The panelists shared some ways that they set the stage for positive conversations around gender equity in their home lives:
Be intentional about talking about respect at home and with children.
Demonstrate what showing respect for one another looks like
Have positive role models for children to look up to
Addressing barriers to girls' participation
Families are actively looking for their girls to "be everything they want to be and explore everything they want to explore," says Diamond.
Need more and more leaders and allies to facilitate girls only programming
Girl Guides welcomes anyone who feels that it is the right space for them, it's important for organizations to ensure their programming is inclusive
The 'girls in the driver's seat' philosophy
Girls in the driver's seat means making it a priority to actively listen and ask girls what they want to do, learn or explore in your programming.
Go back to the girls for constant feedback about the programming and implement it
Engage in this iterative process across multiple levels of your organization i.e. provincial, national
Engage girls in leadership and consultation
The need for girls-only programming
The panelists discussed their experiences with sport and being in male-dominated environments. They each identified that female athletes may be getting lost in an environment that does not support their needs. While this may not be the case in all organizations, the panelists offered their perspectives:
To foster confidence and emotional growth, girls need a safe environment
Girls thrive and feel more comfortable with each other
Girls may have different learning needs than their male peers and need to be mentored accordingly
Developing girls-only programming
For organizations that see a need for girls-only programming, the panelists agreed that having the support of leaders and their clubs was crucial to their successes. In developing GirlStylerz, Danika noted that while the coaches were eager to implement the program, they did not quite have the 'how' tools.
Develop resources for your coaches and mentors who are leading girls-only programming. For example, Freestyle BC now has a manual for best practices to support their athletes
Help girls set goals with direction and intention
Create a space where the girls can get to know each other and feel included, ease and comfort will allow them to learn better
Are you in a governance role? Identify the needs of your organization and work to address them
Advocating for change
Ready to make change? The panelists agree that it begins with conversations in your community.
Engage passionate individuals at the grassroots level who want to help
Identify obstacles and advocate for new resources or policies to be put in place
Allow for more women and girls to be involved at a leadership level and contribute to creating that inclusive environment
Women leading
The panelists emphasized the need for champions and leaders that value women's voices being heard. We must create safe spaces for girls to grow and thrive in leadership positions.
Engage girls to participate on their own terms
Create roles within your programming for women leaders, i.e. coaching for GirlStylerz by athletes aging out of their competitive career
We're grateful to this inspiring group of leaders who are pushing for gender equity and opportunity for girls and women to be included across sport and beyond. Thank you again to all our panelists and our moderator for sharing these insights, promising practices and for inspiring your peers to act.