Equal opportunity at the Olympics? Yes please.
Feb 08, 2018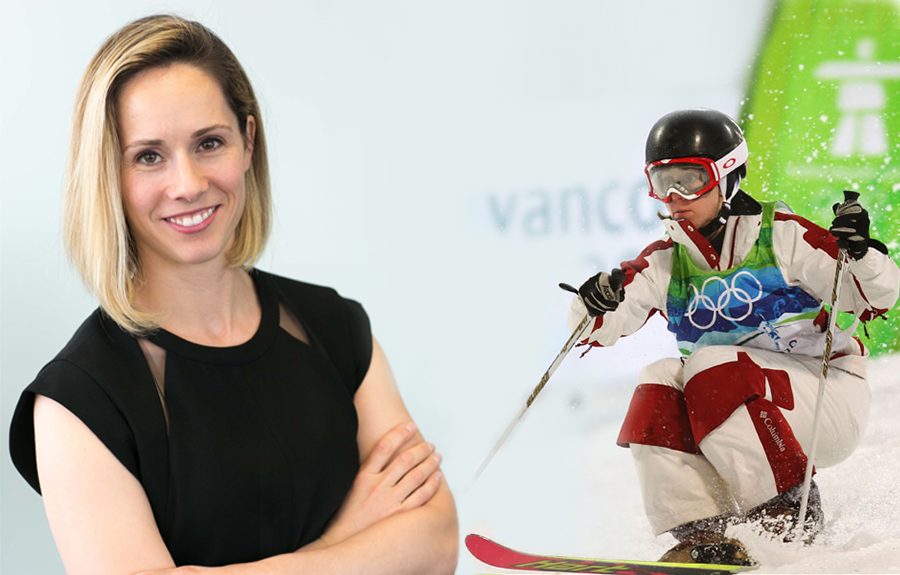 Only 2% of girls ages 12-17 are getting enough physical activity, according to the Canadian Association for the Advancement of Women and Sport and Physical Activity (CAAWS). On top of that, only 19% women participated in sport, compared to 35% of Canadian men. It's clear as day—as a society, we have some work to do.
"You can't be what you can't see." – Marian Wright Edelman
Every two years, billions of people marvel at the sheer ability of high performance athletes that compete at the world's most paramount sporting event—the Olympic Games. Among the viewers are young girls, many with their own dreams of pursuing sport. So, what can be done to ensure more females are involved in sport and physical activity?
Inspiration is important. That being said, it is positive experiences and equitable opportunities in sport that truly allow women to break down gender stereotypes and stay active throughout their life. Thankfully, there is a fierce army of women and men that are working to remove the persistent barriers for girls and women in sport. Included within this army is none other than Jennifer Heil.
Best known as one of the most successful freestyle mogul skiers in the world, Heil works relentlessly behind-the-scenes to advocate for and empower females, whether it be in sport or education. Here are her thoughts on the current scope for girls and women in Canada, and the change that needs to occur.
viaSport: You had the opportunity to represent Canada at the 2002, 2006 and 2010 Winter Olympics. What was the environment like for Canadian girls and women in sport back when you started, compared to now?
Heil: One of the first moments I looked at sport through a more "gendered lens" was at the 2006 Olympics, when Canadian women won more than 50% of the medals. I hadn't noticed but when I became aware, I was immensely proud to be part of such a team.
"From that moment on, I became more informed about many of the underlying issues and frustrations that girls and women had—how they didn't feel like sport was an option for them or why they didn't have a positive experience in sport, like I did."
I was certainly fortunate. I grew up in Spruce Grove, Alberta, which was an active community. Participating in sport and physical activity was just a way of life for everyone I knew. Luckily, my sport valued the importance of supporting females. Despite participating in a male-dominated sport, Freestyle Canada had equitable access for girls and women at a both a policy and funding level.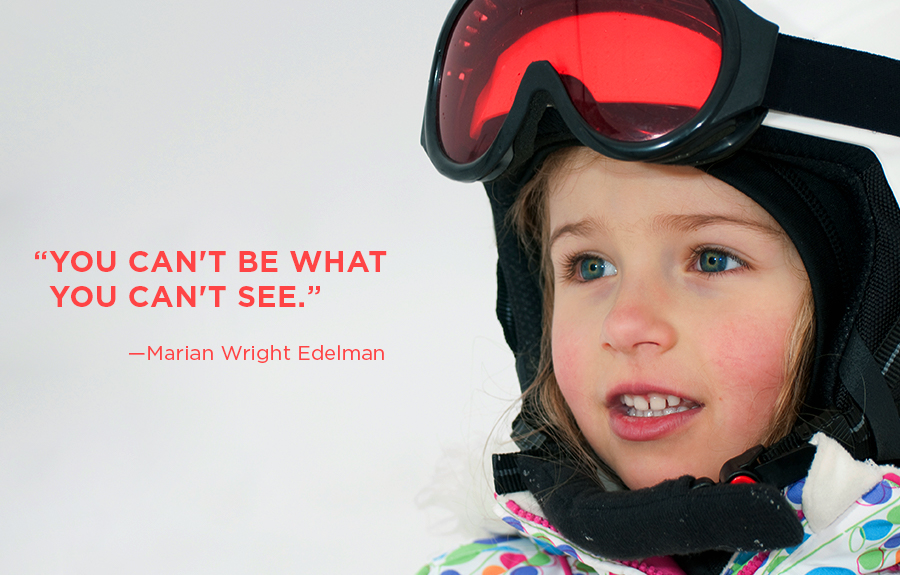 Edelman's quote drives the invaluable importance of role models—especially for young girls wanting to get into sport, both recreationally and competitively. How did you relate to this quote growing up?
When I was young, I had strong women and men in my life tell me that I could be anything I wanted to be—who believed in my crazy dream of becoming a world class skier from the prairies. Role-models became important in my life much later—when I needed reassurance, in the national and global spotlight, that being strong, ambitious, and determined was completely normal and feminine.
Safe to assume that you relate to the quote differently now?
Yes. I'm so devoted to ensuring that girls and women all across B.C. and Canada can be whatever they put their minds to, including athletes, scientists, doctors, politicians—you name it! It's important that they have positive role-models and it is essential that they live in environments and communities that don't remove any of the possibilities from that list.
Despite the extensive resources and access to sport, an overwhelming amount of Canadian girls continue to face real barriers to participation, including the invisible kind. What do you think?   
It's true—despite increased access and opportunity to sport, recreation and physical activity, 96% of Canadian girls don't meet physical activity guidelines, which lead to increased health risks.
A number of the leading reasons as to why girls don't participate in physical activity and sport are based on gender stereotypes, concerns around body image, femininity, and a lack of confidence. These types of barriers are cultural, and because they're "invisible", it makes it much more difficult to address. It's necessary to recognize the current narrative around sport, recreation and physical activity, and for girls and women to create a new narrative around the power that comes from connecting with their bodies and the joy of movement.
Aside from female advocates in sport and recreation, how can men be part of the conversation, and ultimately, the solution?
At the end of the day, this is a story about human potential and community, more than it is about sport. We know that being physically active is essential to being our best selves and that physical activity has extensive benefits, on and off the playing field.
The question to me is, How do we ensure all Canadians have equitable access to physical activity, sport and recreation?
Girls and women face increased barriers at all levels that need to be addressed within families, communities, and at the provincial and national levels. It's absolutely necessary that this conversation involves everyone in order to break persistent gender stereotypes, ensure programming meets the interests and needs of girls and women through innovative programming and delivery methods, and ensure equitable opportunities for organizational leaders, coaches, and officials.
Changes are starting to happen. The International Olympic Committee is starting to show leadership around gender equity. Nancy Lee, the former head of CBC Sports and former COO of the Olympic Broadcast Service at the Vancouver Olympics, recently conducted a gender equality review for the International Olympic Committee (IOC). Her recommendations included issues concerning athlete portrayal, funding and the number of sports at each of the Games. Even at PyeongChang, there's a discrepancy of 49 men's events and 44 women's events. Nancy's also a pivotal reason for why women's events are scheduled—for the first time ever—on the final day of competition. Less media exposure for women's events implies that female sport is less important—which isn't true.
As VP of Sport Development at viaSport, gender equity for sport in B.C. falls on Heil's shoulders. She's currently leading the development of a Women and Girls Strategy for the province while advancing key priorities, focusing on attracting and retaining participants. Not an easy responsibility, but definitely one to be proud of as she works alongside many champions of gender equality.
Interested in learning more about what we do to support women and girls in sport? Register for our event happening March 8, 2018 on International Women's Day.