Fuelling Youth Performance for Indigenous Athletes
Feb 13, 2018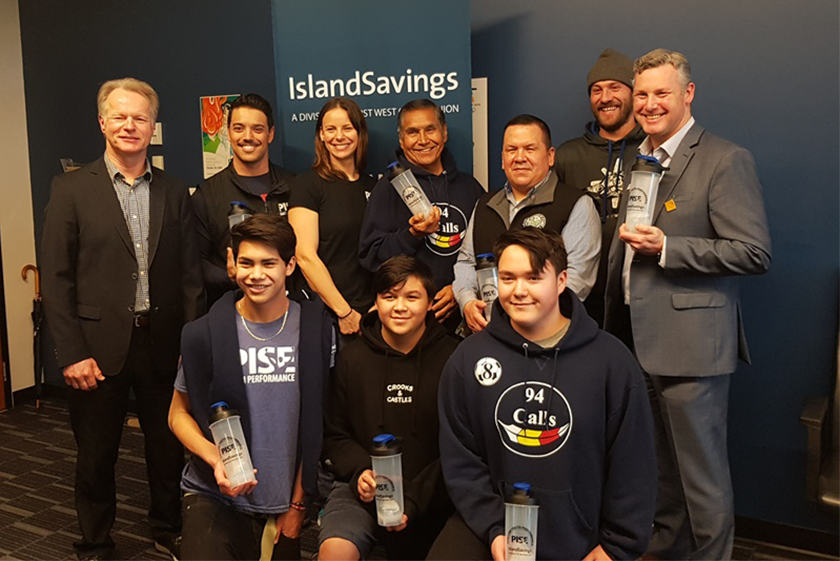 PISE and Island Savings, a division of First West Credit Union, are proud to announce Fuelling Youth Performance, a new program supporting Indigenous youth. Over the course of ten weeks, PISE welcomes 16 Indigenous athletes who have demonstrated the drive, skill and determination in their chosen sport to a specialized strength and conditioning program with PISE's Performance Training Coaches. This program is designed to help the athletes take their performance to the next level and support them on the proper pathway to develop athletically, and reach their goals in sport excellence.
"This program will support the youth involved with valuable tools to enhance their training for sport, and help them to develop an understanding of the commitment necessary to pursue their goals," shares Chris McElroy, Coach from Songhees Nation. "Through this opportunity the participants will also gain confidence and leadership skills to enhance athletic experience."
Today, members from the Indigenous Sport, Physical Activity and Recreation Council (I·SPARC), athletes, coaches and PISE representatives gathered to thank Island Savings for their generous sponsorship of this program.
"Indigenous youth, athletes, parents and leaders need to raise their expectations and standards of personal achievement," says I·SPARC Elder & Senior Advisor, Alex Nelson. "First-class facilities and coaches at PISE create an environment of excellence and offer Indigenous athletes exposure to performance training programs. We are very grateful to Island Savings for making this program possible."
Robert Bettauer, CEO of PISE, adds, "PISE is very pleased to renew our partnership with Island Savings, this time on a program that we passionately believe can make a fundamental difference by supporting these young Indigenous athletes to new personal standards of performance excellence."
Randy Bertsch, CEO of Island Savings concurs, "Through this program partnership, not only are we able to support skill development, but we are building self-confidence in these youth as well. When they see their hard-work and determination pay off, there's no telling what they can accomplish both in their athletic lives and in their communities."
Island Savings is also sponsoring two scholarships for performance training at PISE. For the application form and further details, visit: http://pise.ca/fuelling-youth-performance