Host cities announced for BC Winter and BC Summer Games
Mar 16, 2017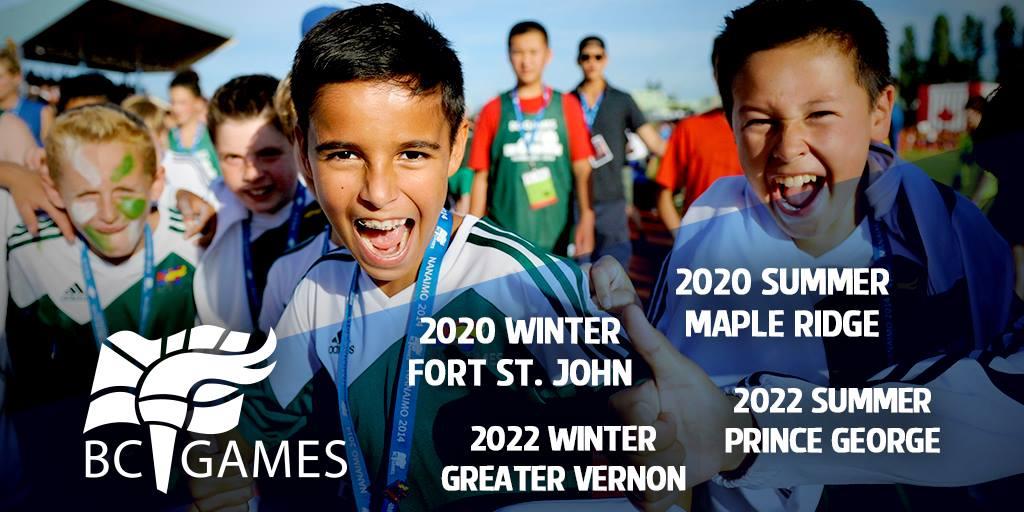 VICTORIA – Fort St. John, Maple Ridge, Greater Vernon and Prince George have been announced as host cities for the 2020 and 2022 BC Winter and Summer Games. These games bring together athletes, coaches, officials, spectators and visitors, and result in significant economic benefits to the regions over the four days of competition.
Local MLAs joined community leaders, volunteers and athletes in the host cities for the announcements this morning, generating momentum as communities kick off planning for the largest multi-sport competition in the province.
The upcoming games will be held in:
• Fort St John – 2020 BC Winter Games, Feb. 20-23, 2020
• Maple Ridge – 2020 BC Summer Games, July 23-26, 2020
• Greater Vernon – 2022 BC Winter Games, Feb. 24-27, 2022
• Prince George – 2022 BC Summer Games, July 21-24, 2022
The BC Games contribute to the development of sport and community through infrastructure improvements, volunteer engagement and a major event-hosting experience that leaves a lasting legacy for host communities.
The games are an important part of the progression of B.C.'s emerging high-performance athletes. For some athletes, the games may be the highest competition they participate in, while others move on to the Canada Games or join national teams and go on to participate at international competitions, including the Olympic and Paralympic Games.
The B.C. government contributes over $2 million annually to the BC Games Society to support the BC Summer and BC Winter Games – part of over $40 million invested annually to encourage British Columbians to be physically active and to support a "performance pathway" for athletes, coaches and support personnel.
Quotes:
Peter Fassbender, Minister of Community, Sport and Cultural Development – "The BC Games provide a great opportunity for host communities to showcase their event- hosting expertise and community pride. At the same time, the games bring social and economic benefit to a community and can help launch the sporting careers of B.C. athletes and coaches into the national and international arena. Congratulations to each of the host communities."
Kelly Mann, BC Games President & CEO – "These four communities have made strategic investments into sport and recreation facilities, which will ensure that British Columbia's best young developing athletes have valuable competitions at the BC Games. The 2020 and 2022 BC Games will bring new opportunities for sport and community development, but it is the collective hosting expertise, skills, and qualities of community volunteers that will make each games a unique and memorable experience for participants and spectators alike. We look forward to working with the communities of Fort St. John, Maple Ridge, Greater Vernon and Prince George."
Quick Facts:
BC Winter Games (on average) – 19 sports, 2,100 participants (1,500 athletes, 600 coaches, managers and officials), 2,000 volunteers.
BC Summer Games (on average) – 18 sports, 3,700 participants (2,800 athletes, 925 coaches, managers and officials), 3,000 volunteers.
BC Games are held every two years in even calendar years.
The estimated economic positive effect of the BC Games is $2 million for Summer Games and $1.6 million for Winter Games.
Athletes range in age from 9-19 years, depending on the sport. The average age of the athletes is 14.
Since 1978, the BC Games have taken place in 38 communities throughout B.C., involving more than 350,000 participants and volunteers and thousands more as spectators and supporters.
Learn More:
BC Games Society: https://www.bcgames.org/
Media Contacts:
Ministry of Community, Sport and Cultural Development
250 356-6334
Lia Threlfall
BC Games Society
250 812-3887
liat@bcgames.org