International Women's Day 2022: Break The Bias
Mar 08, 2022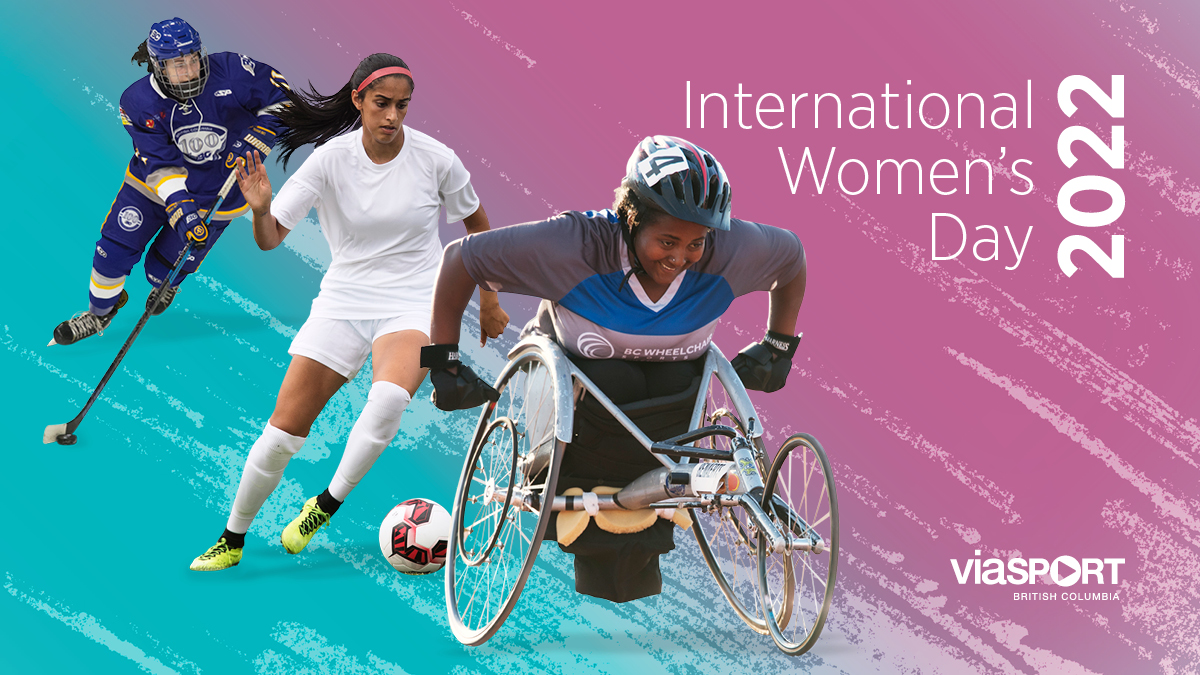 In pursuit of a stronger, more equitable and more inclusive sport sector in British Columbia, viaSport is celebrating International Women's Day on March 8 and throughout the month of March. This year's global theme is Break the Bias, which encourages everyone to consider their own perspectives on gender equity and how addressing our biases can help achieve equality for girls and women. From the International Women's Day website:
"Imagine a gender equal world.
A world free of bias, stereotypes, and discrimination.
A world that is diverse, equitable, and inclusive.
A world where difference is valued and celebrated.
Together we can forge women's equality.
Collectively we can all #BreakTheBias"
While we know that the power of sport is equally beneficial for people of all genders, current data from both B.C. and across Canada shows that girls and women are underrepresented in sport, both in participation and in leadership roles. There is also persuasive evidence that girls and women were disproportionately affected by the pandemic, raising alarm bells that the barriers that already exist for girls and women would be made even worse. Through research and engagement, reasons for this disparity are becoming more apparent, and solutions are coming to light.
For viaSport, addressing these issues is not only the right thing to do, but crucial to achieving our strategic priorities. We are committed to elevating sport sector capacity, enabling sport leaders in B.C. to be well-equipped to deliver safe, inclusive and welcoming sport experiences.  We are also actively expanding the reach of the sport sector by increasing and targeting grants to more inclusive pathways to sport for under-represented groups, so that more British Columbians participate in and benefit from amateur sport.
Over the last year and into the next, moving in the direction of a gender equal sport sector means ongoing work conducting research; sharing resources, policies and promising practices; delivering education and training; and, providing grant funding to sport organizations that are doing this work at the provincial and local level.
Some highlights of our recent and current work include:
Leading and sharing outcomes of the participant-designed project, She Plays. viaSport worked with local sport organizations across B.C. to develop strategies for keeping girls aged 11 to 14 in sport.
Since 2020, almost 200 sport leaders have benefited from Women in Leadership Learning Labs that were delivered in partnership with Canadian Women and Sport. These interactive workshops provided opportunities for education, networking and empowerment.
Exploring the development of a community of practice that includes diverse voices and will be committed to advancing gender equity in the B.C. sport system.
Offering the LeadForward Grant: Advancing Balanced Representation in Sport to enhance leadership opportunities for female coaches, officials or organizational staff throughout B.C. by supporting training, education, and policy development.
Hosting webinars to highlight outstanding results from BC sport organizations, including last month's presentation from BC Artistic Swimming. Presenting on the recent success of their Evolve project , they share learnings on how to purposefully create culture and behaviour change to provide a safer, more inclusive sport environment.
As the month of March rolls on, stay tuned to the viaSport website and social channels for more about these and other initiatives that can help you and the sport organizations you're part of to #BreakTheBias.