LeadForward 2022: Tailored programs for women in sport leadership
Dec 07, 2022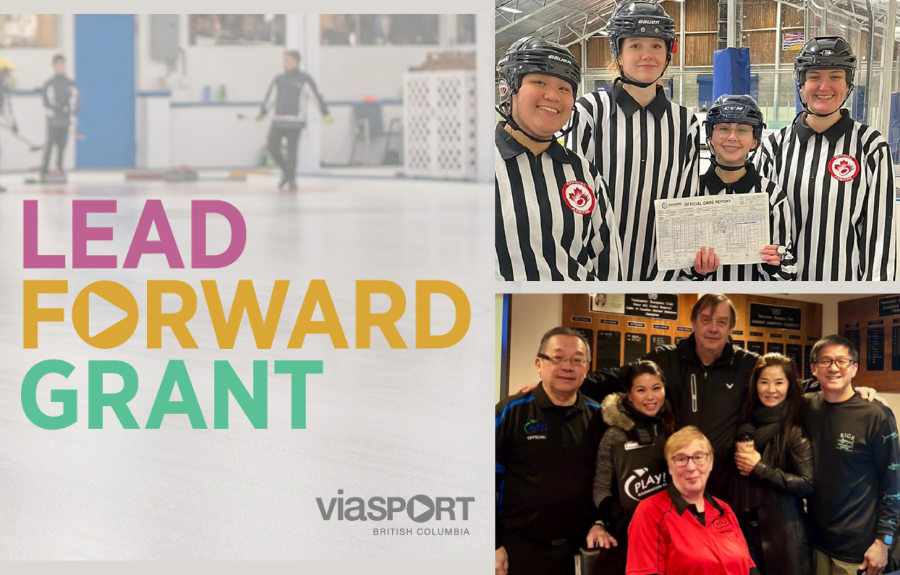 In August 2022, eight organizations across British Columbia were awarded with a LeadForward grant. Through the LeadForward grant, viaSport provides funding that supports initiatives to improve sport leadership opportunities for girls and women. With the second LeadForward intake of 2022 now open, we want to take the opportunity to highlight the outstanding work of previous recipients of this grant. Today, we are thrilled to share the progress of Badminton BC and Richmond Ringette, both recipients of the August 2022 LeadForward intake.
Badminton BC: Female Tournament Director Program
Badminton BC is the provincial sport organization that oversees and leads the sport of badminton in British Columbia. Their organization hosts tournaments and provides development pathways for players, coaches, and officials. While Badminton BC has strong representation of women among their staff, they recognized that their tournament staff remained a male dominated group.
After their previous LeadForward grant helped them to increase the representation of women in their staff from 20 per cent to 50 per cent, they decided to develop a new program that would help to remove barriers for women to become tournament directors.
"The current LeadForward grant is now helping Badminton BC to create a female-driven program for tournament directors," said Badminton BC's executive director, Daisy Lee. "We are now in the process of creating a course to recruit more female tournament directors for each of our sanctioned badminton tournaments."  
The organization believes that providing a program tailored specifically to women will provide opportunities for women to attain leadership roles in their sport for years to come. Their vision is that developing women into tournament director roles will increase both capacity and representation. Increasing the number of women in leadership roles will have a positive impact on their community by demonstrating that there are opportunities for women to take on these roles.   
"We are using this grant money to create proper content development for the female tournament director program that we can use each year to certify female tournament directors," Daisy explained. "We are now creating proper content to service and recruit female leadership in the future. This is the legacy that this grant will help Badminton BC to create. This grant had a critical positive impact for our organization."
Richmond Ringette: Junior Official Development Program
Richmond Ringette has delivered recreational and competitive ringette programming since 1984. The President of Richmond Ringette, James Snowdon, shared some additional background on the sport and the organization:
"Ringette has elements of basketball and soccer, with exciting speed and strategic passing plays. Both girls and boys are encouraged to play ringette, although 90 per cent of Richmond Ringette's players are girls. Our community-based program is accessible to athletes of all levels and from all backgrounds. Inclusivity is one way to begin to remove obstacles and engage at-risk children in our community, enriching both the child and the community." 
After their successful grant application, Richmond Ringette launched their Junior Official Development program this fall, which aims to support junior referees in their organization. Richmond Ringette decided to pursue a LeadForward grant due to a shortage of referees in their program. The organization felt that the minimum standard of three on-ice sessions with senior officials was insufficient to build junior referees' skills and confidence, leading to low retention rates. Their solution was a Junior Official Development program that would attract, develop, and retain referees.
"With attrition and the impact of Covid-19 on sports participation, Richmond Ringette was left with just two referees at the start of the 2021 season," James explained. "We decided to focus on training referees and providing support to young referees who need a mentor to further develop their confidence and skills."
The program is off to a great start! So far, the LeadForward program has helped two girls complete their online and classroom referee training, and provided mentor referees during games for four Level-1 referees. Their goal for the season is to fully develop two new Level-1 referees and provide 12 to 16 mentor referee support to build the confidence and skills of their young referees. In addition to developing their own referees, Richmond Ringette is working collaboratively with Delta Ringette to share best practices around mentorship and to secure experienced women officials who act as mentors for the junior officials.
Richmond Ringette recognizes the need to improve gender equity in their sport's leadership. Despite being a sport where girls make up the majority of the athlete demographic, they identified that a disproportionate number of men coach and officiate. Their intention with this program is to provide adequate resources that will remove obstacles to sport leadership for girls in their program.
"The LeadForward Grant has helped us cover the cost of referee development," James said. "But more importantly, it has galvanized our resolve to build up our team of referees and the leadership skills of the young ladies involved."
Could your organization use some additional support to advance leadership opportunities for girls and women in your sport? viaSport is accepting applications for the winter 2022 intake of the LeadForward grant until December 16, 2022. Check out the LeadForward grant page for information and eligibility requirements or fill out an application form!