Los Angeles welcomes 75 BC athletes, coaches and staff for 2015 Special Olympics World Summer Games
Jul 23, 2015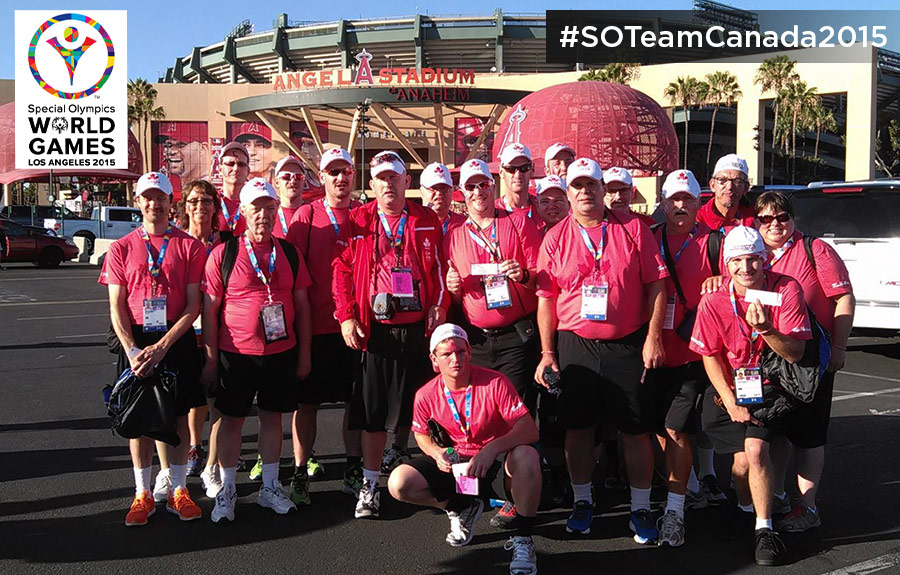 Los Angeles welcomed 75 BC athletes, coaches and mission staff this week in the lead-up to the 2015 Special Olympics World Summer Games. Kicking off July 25, the British Columbia contingent makes up 46% of Team Canada, including 57 athletes, 16 coaches and 2 mission staff across 10 sports.
BC athletes will also make up the entire roster for Canada's basketball, bocce, soccer and softball teams, following their qualification at the Special Olympics Canada 2014 Summer Games held here in Vancouver.
"The bigger picture is that persons with an intellectual disability, wherever they are, have the right to pursue excellence, just like anybody else," says Dan Howe, Special Olympics BC President and CEO. "They have the right to dream big, just like anybody else. And they have the right to push past their limits, to compete and excel, to experience the joy of teamwork, the passion of sport, to leave it all on the field, just like anybody else. We are so proud that a large contingent of Team Canada is made up of athletes from BC.  That speaks to the hard work these athletes put into their training, and how hard their coaches worked to prepare them for the competition."
viaSport would like to congratulate the entire BC team on this great accomplishment and wish Team Canada the best of luck on the world stage!
Join us in cheering them on by using the hashtag #SOTeamCanada15 and tagging @LA15.
 
BC ATHLETES AT THE 2015 SPECIAL OLYMPICS WORLD SUMMER GAMES: 
| SPORT/NAMES | COMMUNITY |
| --- | --- |
| 10-PIN BOWLING |   |
|   |   |
| Athletes |   |
| Annabelle Davis | Vancouver |
| Jake Huff | Penticton |
| Austin Johnston | Abbotsford |
| Linda Renner | Prince George |
| Karalyn Summer | Cowichan Valley |
|   |   |
| AQUATICS |   |
| Athletes |   |
| Magnus Batara | Richmond |
| Carrie Dignan | Coquitlam |
| Josh Low | Langley |
| Avery Newton | Penticton |
| Amanda Schleppe | Penticton |
| Kelsey Wyse | Kelowna |
|   |   |
| Coach |   |
| Marie Telder | Sunshine Coast |
|   |   |
| ATHLETICS |   |
| Athletes |   |
| Robert Burns | Comox Valley |
| Jeneka Greif | Kelowna |
| Mandy Manzardo | Coquitlam |
| Mike Palitti | Abbotsford |
|   |   |
| Coaches |   |
| Aleila Miller, Head Coach | Smithers |
| Deborah Carter | Surrey |
| Tom Norton | Abbotsford |
|   |   |
| BASKETBALL |   |
| Athletes |   |
| Nicholas Bobek | Vancouver |
| Shane Carr | Vancouver |
| Casey Cochran | Vancouver |
| Michelle Forberg | Campbell River |
| Jeff Leung | Vancouver |
| Alexander Pang | Vancouver |
| Alastair Singh | Langley |
| Matthew Williams | Langley |
| Sangeon Yoo | North Shore |
| Nick Kellof | North Shore |
|   |   |
| Coaches |   |
| Zak Klein, Head Coach | North Shore |
| Jayne Baggott | North Shore |
| Jimmy Peterson | North Shore |
|   |   |
| BOCCE |   |
| Athletes |   |
| Margaret Burnell | Penticton |
| Chad Conlon | Penticton |
| Kevin Ellis | Penticton |
| Lynden Hicks | Penticton |
| Ben Willms | Kelowna |
|   |   |
| Coach |   |
| Dona Cade, Head Coach | Penticton |
|   |   |
| GOLF |   |
| Athlete |   |
| Kyle Grummett | Kelowna |
|   |   |
| Coach |   |
| Ben Postmus | Trail |
|   |   |
| POWERLIFTING |   |
| Athlete |   |
| Joanne Bunnin | Chilliwack |
| Coach |   |
| Ken Saunders | Kelowna |
|   |   |
| SOCCER |   |
| Athletes |   |
| Adam Advocaat | Coquitlam |
| Liam Barry | Mission |
| Tony Carter | Mission |
| Jeremy Cheverie | Victoria |
| Chris Hamilton | Abbotsford |
| Tom Hanna | Mission |
| Mitchell Howell | Mission |
| Justin King | Mission |
| Amanda Peebles | Mission |
| Bryce Schaufelberger | Mission |
|   |   |
| Coaches |   |
| John Scholtes, Head Coach | Mission |
| Vince Astoria | Abbotsford |
| Stuart Coates | Mission |
|   |   |
| SOFTBALL |   |
| Athletes |   |
| Karl Anderson | Coquitlam |
| James Blacke | Kelowna |
| Ryan Courtemanche | Kelowna |
| Richard Gillis | Kelowna |
| Chris Harrington | Kelowna |
| Brad Hogan | Comox Valley |
| Jim Laitar | Surrey |
| Jonathan MacDonald | Kelowna |
| Jake MacFarlane | Kelowna |
| Andrew McIntyre | Kelowna |
| Dale Ramsden | Kelowna |
| Chris Roberge | Comox Valley |
| David Scott | Kelowna |
| Danny Sperling | Kelowna |
| Carl Willing | Surrey |
|   |   |
| Coaches |   |
| Lorena Mead, Head Coach | Kelowna |
| Ian Olive | Kelowna |
| Dennis Richardson | Kelowna |
|   |   |
| MISSION STAFF |   |
| Leslie Thornley | SOBC MCD Region 2 |
| Megan Grittani-Livingston | SOBC Manager, Communications |