Lyric Atchison: A story of identity, advocacy and resilience
Oct 06, 2022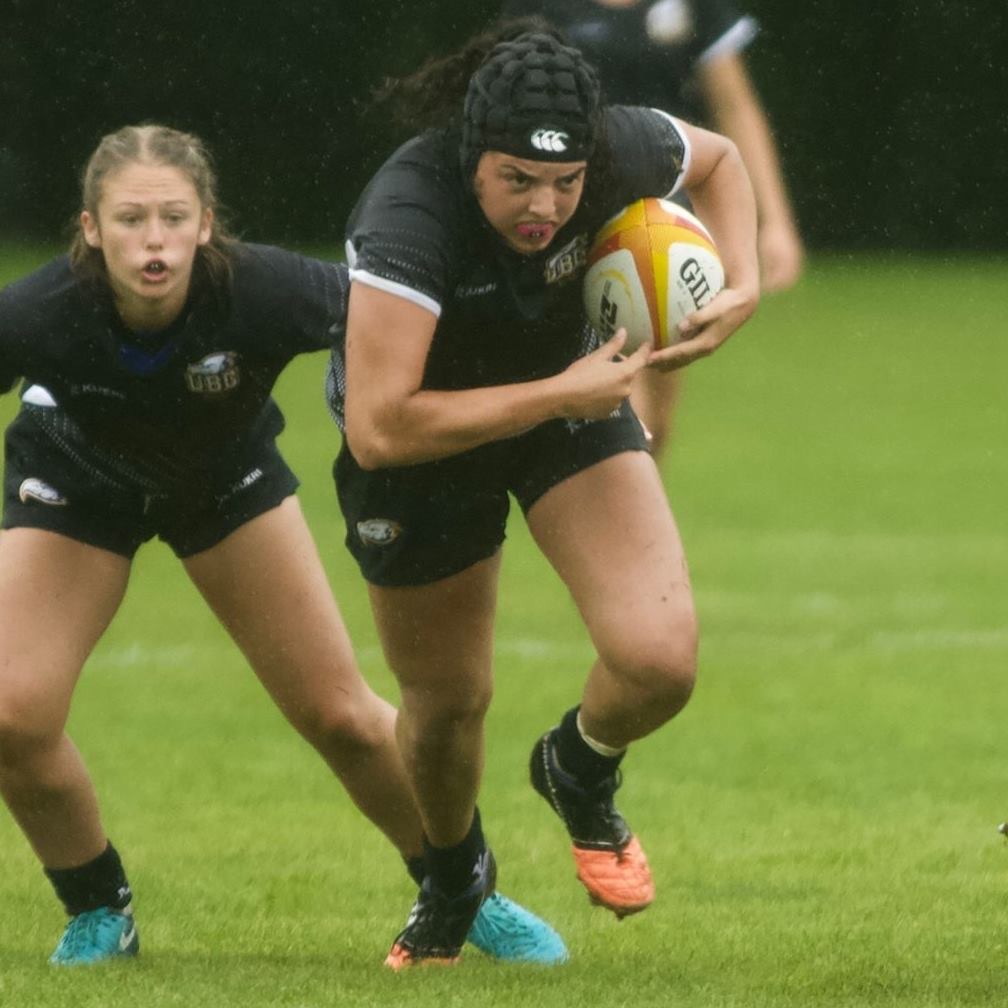 Lyric Atchison is a highly accomplished student-athlete with the University of British Columbia women's rugby program. Some of her greatest sport accolades include winning the 2019 Tom Longboat Award and participating in the 2019 Tri-Nations Cup with the U20 Canadian National Team. Lyric is also a recipient of the viaSport Indigenous Youth Legacy Fund grant. Amid the accomplishments on the pitch, Lyric's story is about so much more than rugby. This is the story of a career-altering injury that lead to a path of self-discovery.
A member of the Squamish First Nation, Lyric grew up in North Vancouver and started playing rugby for her high school team at Carson Graham Secondary. Throughout high school, she was a multi-sport athlete who was competitive in rugby, soccer and wrestling. She chose to pursue rugby and accepted a full ride scholarship to study Kinesiology and play rugby at UBC starting in 2017.
With her rugby career taking off after representing the Junior National Team at the Tri-Nations Cup, her athletic journey took an unexpected turn at a pre-season training camp in Ireland. "It was just like an unlucky situation. I just got pulled in different directions by different people, and I basically tore everything in my knee, so I was done for that season," Lyric recalled.
After being told that her injury did not require surgery, she spent a year rehabilitating her knee only to come back with the injury not properly healed. "I went to see new doctors, new surgeons, and they were like, 'yeah, you actually should have surgery.' So I had surgery last year in May, and then it's been another full year of rehab again."
Needless to say, it's been a long road to recovery for Lyric who has faced numerous setbacks along the way. While her time away from the sport was a huge mental challenge, it gave her the space to define herself outside of her athletic identity.
"Before I was injured I just thought that coaches only cared about what I produce on the field and there wasn't really space…It's still kind of hard to bring yourself as a whole person to the sport of rugby," Lyric reflected. "Rugby is a very white sport, and so as a person of color and a queer person I would have to separate all my experiences. After [stepping] away from that for three years, I got into other interests and found what I'm passionate about outside of rugby, which was really hard to do, because I was just used to rugby, rugby, rugby all the time. So now I've just come to bring more of my full self to the sport and I try not to separate myself or hide my identity anymore."
Part of this journey to discovering her identity involved connecting with her Indigenous background. Growing up, she often kept her Indigenous background to herself because of the racist comments she heard from others about Indigenous people.
"My dad is Indigenous and my mom is white. I grew up mostly with my mom, so I was never super connected to my Indigenous side and growing up. I don't know, kids just said a lot of nasty things about Indigenous people and if I could get away with it, then I wouldn't say anything about it because I obviously don't want to be labeled as those things. I guess for a long time I would say I was ashamed just because my identity was based off of what other people would say about me. People would be saying bad things and I'd say I was Indigenous, and they'd be like, 'Oh, but you're so smart, so how is that possible?' Just things like that, so why would I say anything if that's the response I'm going to get?"
Unfortunately, Lyric has faced this type of discriminatory attitude in her sport journey as well, at times from the sport leaders who are meant to support their athletes the most.
"I just find, I don't know there's not a lot of room in sport even still to speak your lived experience or advocate for change," she explained. "I had a coach once, I said something about how I want to go to medical school eventually and they said something like, 'oh well, you'll just get in because you're Indigenous'. So just hearing that kind of stuff from a coach, someone that's supposed to help you move forward in your career is kind of a blow. There's just a lot of micro-aggressions around like, any race really. I've heard terrible, terrible things from coaches. It's just hard to hear that and then ever feel comfortable as yourself in the sport."
While these negative experiences growing up often led her to disassociate with her Indigenous background, Lyric's approach to her cultural identity has shifted drastically over the last few years. With her knee injury and the pandemic forcing her to step away from sport, she took on other opportunities like participating on a Sport and Decolonization panel at UBC.
"I never really felt like I had a voice before I was injured, but then I had a lot of time off to reflect and I was asked to participate in a panel with really great people that I look up to, like Waneek Horn-Miller. That gave me a platform to speak about my experiences and the problems that exist in sports."
Lyric's advocacy work extends beyond the sport realm and into her academic work. After completing her required Kinesiology courses, she took a minor in Gender, Race and Social Justice (GRSJ). This ignited a passion that led her to apply for a master's at UBC.
"I took a lot more GRSJ courses and I just kind of fell in love with it. My proposed research for my master's deals a lot with the concept of childhood innocence and how Indigenous children are excluded from that, and how that in turn impacts the depiction of missing and murdered Indigenous women and girls."
Lyric had always planned to pursue medical school after finishing her undergraduate degree, but her motivation to further her education in GRSJ, along with her remaining years of varsity eligibility led her to take a bit of a detour. At the time of interview, Lyric was two weeks away from beginning her master's program and playing her first rugby game with UBC in three years.
It's been a long journey of growth and self-discovery in her return to competitive sport. When asked what being an Indigenous athlete means to her now, Lyric said:
"I think it means being proud and knowing that I'm valid enough just as I am. I think it also means sharing my experiences with other people, whether it's my teammates or my coaches and also speaking up when I think something's not right, because there are other people of colour on my team and not everyone's comfortable speaking up. I've reached a place where I would rather say something than say nothing."
As our society and the B.C. sport community continues the long road towards Truth and Reconciliation, Lyric's advice to the viaSport community is simple: just listen.
"I've come to learn that you learn the most from just listening to the things people have to say and the stories they have to tell," Lyric reflected. "I grew up quite disconnected from my community, so being able to listen to Elders or people that are more connected and have stories to tell is a really good way to learn. And giving people the space to also tell you their stories, whether it's someone like me as an athlete or not, just listening."
At viaSport, we strive to support the journeys of incredible athletes like Lyric, and we are excited for the next steps in her athletic and academic journey.
This feature is part of a series of stories to highlight the sport journeys of Indigenous athletes in British Columbia, as part of viaSport's commitment to the Truth and Reconciliation Report Call to Action 87. Keep an eye out for our next Indigenous athlete profiles, as we continue to speak with and learn from Indigenous athletes in our community.