More than 150 BC athletes join #TEAMCANADA at 2015 TORONTO Pan Am Games
Jul 07, 2015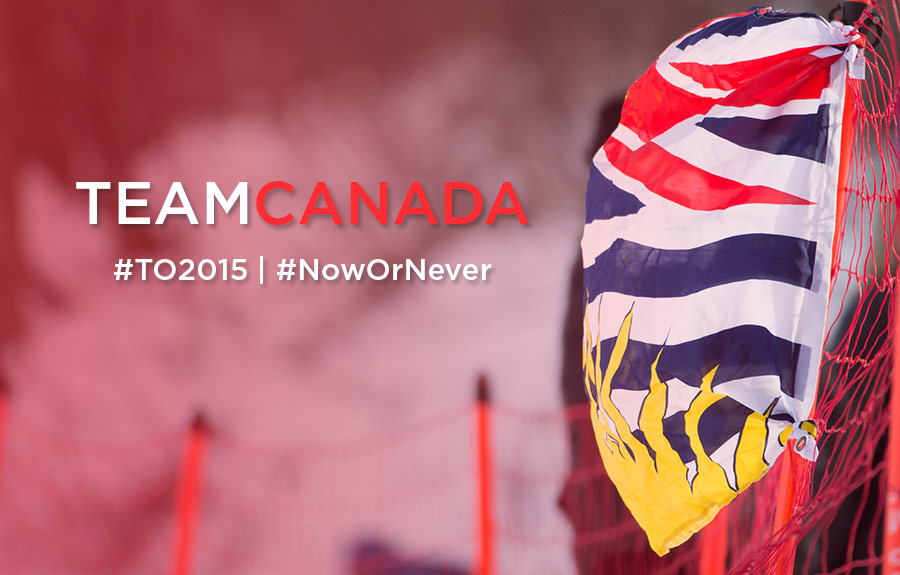 More than 150 BC athletes are set to attend the 2015 TORONTO Pan Am Games over the next two weeks as part of Team Canada. Kicking off this Friday, July 10, BC athletes will join more than 700 of the nation's top male and female athletes as they go head-to-head against 40 countries from North America, South America, Latin America and the Caribbean in the quest for gold. 
The Canadian Sport Institute Pacific (CSI Pacific), a team of experts responsible for providing BC athletes and coaches with a world-leading Olympic and Paralympic training environment, is supporting the majority of the athletes attending the Games.
"Competing at the Pan Am Games on home soil will give many BC athletes a time to shine in front of their family and friends, inspiring excellence from the playground to the podium in Canada," explained Wendy Pattenden, CEO of CSI Pacific. "With eight of our staff travelling to the Games with teams, we are very excited to support the athletes in areas such as mental performance, physiology and performance analysis."
On their path to excellence, 77 (50 per cent) of these BC athletes have also competed at the BC Games or represented Team BC at the Canada Games or Western Canada Summer Games. Twenty-five alumni have attended both a BC Games and Canada Games or Western Canada Summer Games, including Mike Mason (Athletics), Cam Levins (Athletics), Hillary Caldwell (Swimming), Emily Overholt (Swimming), Nikola Girke (Sailing) and Nathan Hirayama (Rugby).
"The strength of the provincial sport system is evident as we see the progression of athletes towards events like the Pan American Games," says Kelly Mann, CEO of BC Games Society. "We are proud to have played a role in providing a valuable multi-sport competition for these athletes at the BC Games and as part of Team BC. We know that our alumni will draw upon that experience as they represent Canada on home soil."
viaSport would like to congratulate all BC and Team Canada athletes on this incredible achievement and wish them the best of luck on the international stage. GO #TEAMCANADA!
Visit the Canadian Olympic Committee website for a full list of Team Canada athletes and bios, or follow them on social media using the hashtags #TEAMCANADA, #TO2015 and #NowOrNever.
BC ATHLETES AT THE 2015 TORONTO PAN AMS:
Browse the list below to find your favourite BC athletes attending the Pan Ams. Learn more about the 2015 TORONTO Pan Am Games at www.toronto2015.org
| Athlete | Hometown | Sport | BC Games/ Team BC Alumni |
| --- | --- | --- | --- |
| Alyxandria Treasure | Prince George | Athletics | 2006 BC Summer Games; 2011 Western Canada Summer Games |
| Christabel Nettey | Surrey | Athletics | 2006 BC Summer Games  |
| Elizabeth Gleadle | Vancouver | Athletics |  2007 WCSG; 2009 Canada Summer Games |
| Emma Kimoto | Richmond | Athletics | 2006 BC Summer Games; 2011 WCSG; 2013 Canada Summer Games |
| Jessica Smith | North Vancouver | Athletics | 2004 BC Summer Games; 2009 Canada Summer Games |
| Katelynn Ramage | Nanaimo | Athletics | 2011 Western Canada Summer Games |
| Natasha LaBeaud | Kelowna | Athletics |   |
| Natasha Wodak | Vancouver | Athletics | 1995 & 1996 BC Summer Games  |
| Raquel Tjernagel | New Westminster | Athletics | 2012 BC Summer Games; 2013 Canada Summer Games |
| Cameron Levins | Black Creek | Athletics | 2004 BC Summer Games; 2009 Canada Summer Games |
| Creighton Connolly | Vancouver | Athletics | 2004 BC Summer Games  |
| Evan Dunfee | Richmond | Athletics | 2004 BC Summer Games; 2007 Western Canada Summer Games |
| Inaki Gomez | Vancouver | Athletics |  2007 Western Canada Summer Games |
| Lucas Bruchet | Vancouver | Athletics | 2006 BC Summer Games; 2007 WCSG; 2013 Canada Summer Games |
| Mike Mason | Nanoose | Athletics | 2000 BC Summer Games; 2005 Canada Summer Games |
| Nathan George | Coquitlam | Athletics |   |
| Phyllis Chan | Vancouver | Badminton |  2007 Canada Winter Games; 2007 WCSG |
| Toby Ng | Richmond | Badminton | 2000 BC Winter Games; 2003 & 2007 Canada Winter Games |
| Amanda Asay | Prince George | Baseball | 2002 & 2004 BC Winter Games  |
| Becky Hartley | White Rock | Baseball |   |
| Claire Eccles | Surrey | Baseball |   |
| Ella Matteucci | Fruitvale | Baseball | 2006 BC Summer Games  |
| Niki Boyd | Surrey | Baseball |   |
| Jared Mortensen | Abbotsford | Baseball |   |
| Jeff Francis | Delta | Baseball | 1993 BC Summer Games; 2001 Canada Summer Games |
| Jesse Hodges | Victoria | Baseball | 2008 BC Summer Games  |
| Jordan Lennerton | Langley | Baseball |   |
| Kellin Deglan | Langley | Baseball | 2009 Canada Summer Games |
| Kyle Lotzkar | Delta | Baseball |   |
| Rene Tosoni | Port Coquitlam | Baseball |   |
| Tyler O'Neill | Maple Ridge | Baseball |   |
| Tyson Gillies | Vancouver | Baseball |   |
| Scott Richmond | Vancouver | Baseball |   |
| Kim Gaucher | Mission | Basketball | 1998 BC Summer Games; 2001 Canada Summer Games |
| Thomas Scrubb | Richmond | Basketball |   |
| Kenny Lally | Prince George | Boxing |   |
| Sasan Haghighat-Joo | Coquitlam | Boxing |   |
| Jazmyne Denhollander | Chilliwack | Canoe Kayak – Slalom |   |
| Tory Nyhaug | Coquitlam | Cycling – BMX |   |
| Catharine Pendrel | Kamloops | Cycling – Mountain |   |
| Jasmin Glaesser | Coquitlam | Cycling – road & track |   |
| Laura Brown | Vancouver | Cycling – road & track |   |
| Evan Carey | Victoria | Cycling – track |   |
| Karen Pavicic | Surrey | Equestrian |   |
| Tiffany Foster | North Vancouver | Equestrian |   |
| Shaul Gordon | Richmond | Fencing | 2013 Canada Summer Games |
| Abigail Raye | Kelowna | Field Hockey | 2007 Canada Summer Games |
| Alex Thicke | North Vancouver | Field Hockey |   |
| Danielle Hennig | Kelowna | Field Hockey |   |
| Hannah Haughn | North Vancouver | Field Hockey | 2006 & 2007 BC Summer Games  |
| Holly Stewart | North Vancouver | Field Hockey |   |
| Kaitlyn Williams | Surrey | Field Hockey | 2007 Western Canada Summer Games |
| Karli Johansen | North Vancouver | Field Hockey |   |
| Madeline Secco | Victoria | Field Hockey | 2006 & 2007 BC Summer Games  |
| Natalie Sourisseau | Kelowna | Field Hockey | 2008 BC Summer Games  |
| Sara McManus | Tsawwassen | Field Hockey |   |
| Shanlee Johnston | Vancouver | Field Hockey | 2004 BC Summer Games  |
| Stephanie Norlander | North Vancouver | Field Hockey |   |
| Thea Culley | Rossland | Field Hockey | 2000 BC Summer Games; 2005 Canada Summer Games |
| Adam Froese | Abbotsford | Field Hockey |   |
| Benjamin Martin | Vancouver | Field Hockey |   |
| Brenden Bissett | New Westminster | Field Hockey |   |
| David Carter | Vancouver | Field Hockey | 2002 BC Summer Games  |
| David Jameson | Vancouver | Field Hockey | 2000 BC Summer Games  |
| Gabriel Ho-Garcia | Burnaby | Field Hockey |   |
| Gordon Johnston | Vancouver | Field Hockey |   |
| Iain Smythe | Burnaby | Field Hockey |   |
| Mark Pearson | Vancouver | Field Hockey |   |
| Matthew Guest | Vancouver | Field Hockey |   |
| Matthew Sarmento | Vancouver | Field Hockey |   |
| Paul Wharton | Vancouver | Field Hockey |   |
| Scott Tupper | Vancouver | Field Hockey |   |
| Sukhi Panesar | Surrey | Field Hockey |   |
| Taylor Curran | Vancovuer | Field Hockey |   |
| Scott Morgan | North Vancouver | Gymnastics – Artistic |   |
| Zachary Clay | Chilliwack | Gymnastics – Artistic | 2006 BC Winter Games; 2011 Canada Winter Games |
| Jusleeen Virk | Vancouver | Karate | 2004 BC Winter Games  |
| Richard Weinberger | Surrey | Open Water Swimming | 2006 BC Winter Games; 2009 Canada Summer Games |
| Eric Hedlin | Victoria | Open Water Swimming |   |
| Antje von Seydlitz | Smithers | Rowing | 2009 Canada Summer Games |
| Kristin Bauder | Langley | Rowing |   |
| Liz Fenje | Victoria | Rowing | 2009 Canada Summer Games |
| Rosanne DeBoef | Victoria | Rowing |   |
| Brendan Hodge | Delta | Rowing | 2001 Canada Summer Games |
| Kai Langerfeld | Parksville | Rowing |   |
| Martin Barasko | Nanaimo | Rowing | 2013 Canada Summer Games |
| Max Lattimer | Delta | Rowing | 2011 WCSG; 2013 Canada Summer Games |
| Mike Evans | Victoria | Rowing |   |
| Saul Garcia-Alvarez | Victoria | Rowing |   |
| Will Dean | Kelowna | Rowing |   |
| Kayla Moleschi | Williams Lake | Rugby  |   |
| Admir Cejvanovic | Burnaby | Rugby  |   |
| Conor Trainor | Vancouver | Rugby  |   |
| Harry Jones | West Vancouver | Rugby  | 2004 BC Summer Games  |
| Justin Douglas | Abbotsford | Rugby  | 2008 BC Summer Games  |
| Mike Fuailefau | Victoria | Rugby  | 2006 BC Summer Games; 2007 WCSG & 2009 Canada Summer Games |
| Nathan Hirayama | Richmond | Rugby  | 2004 BC Summer Games; 2005 Canada Summer Games |
| Patrick Kay | Duncan | Rugby  |   |
| Sean Duke | Vancouver | Rugby  |   |
| Sean White | Victoria | Rugby  | 2004 BC Summer Games  |
| Nikola Girke | Vancouver | Sailing | 1993 BC Summer Games; 1997 Canada Summer Games |
| Luke Ramsay | Vancouver | Sailing |   |
| Zac Plavsic | Vancouver | Sailing |   |
| Allan Harding | Sechelt | Shooting |   |
| Jonathan Weselake | Qualicum Beach | Shooting |   |
| Emma Fletcher | Victoria | Soccer |   |
| Alex Comsia | North Vancouver | Soccer | 2008 BC Summer Games  |
| Ben Fisk | Vancouver | Soccer |   |
| Caleb Clarke | Richmond | Soccer | 2007 Canada Summer Games |
| Jenn Salling | Port Coquitlam | Softball | 2005 Canada Summer Games |
| Jennifer (Jen) Yee | North Delta | Softball | 2005 Canada Summer Games |
| Jocelyn Cater | Delta | Softball | 2008 BC Summer Games  |
| Larissa Franklin | Maple Ridge | Softball |   |
| Sara Groenewegen | Surrey | Softball | 2008 BC Summer Games; 2011 Western Canada Summer Games |
| Sara Hopwood | Richmond | Softball |   |
| Derek Mayson | North Vancouver | Softball | 2001 Canada Summer Games |
| Kevin Schellenberg | Squamish | Softball |   |
| Emily Overholt | West Vancouver | Swimming | 2010 BC Summer Games; 2013 Canada Summer Games |
| Hilary Caldwell | White Rock | Swimming | 2006 BC Winter Games; 2009 Canada Summer Games |
| Kierra Smith | Vancouver | Swimming | 2011 Western Canada Summer Games |
| Markus Thormeyer | Delta | Swimming | 2013 Canada Summer Games |
| Noemie Thomas | Richmond | Swimming |   |
| Alec Page | Cortes Island | Swimming | 2006 BC Winter Games; 2009 Canada Summer Games |
| Coleman Allen | Vancouver | Swimming |   |
| James Dergousoff | Christina Lake | Swimming | 2011 WCSG; 2013 Canada Summer Games |
| Jeremy Bagshaw | Victoria | Swimming | 2006 BC Winter Games 2009 Canada Summer Games |
| Luke Reilly | Richmond | Swimming | 2011 WCSG; 2013 Canada Summer Games |
| Ryan Cochrane | Victoria | Swimming | 2005 Canada Summer Games |
| Stefan Milosevic | Burnaby | Swimming | 2006 BC Winter Games 2013 Canada Summer Games |
| Mo Zhang | Chilliwack | Table Tennis | 2004 BC Winter Games  |
| Evelyn Gonda | Maple Ridge | Taekwondo |   |
| Yvette Yong | Vancouver | Taekwondo |   |
| Philip Bester | Burnaby | Tennis |   |
| Brittany Page | Vernon | Volleyball – Indoor | 2001 Canada Summer Games |
| Dana Cranston | Fort St John | Volleyball – Indoor | 2006 BC Summer Games  |
| Jennifer Lundquist | Surrey | Volleyball – Indoor | 2005 Canada Summer Games |
| Kyla Richey | Roberts Creek | Volleyball – Indoor | 2004 BC Summer Games  |
| Lucy Charuk | Tsawwassen | Volleyball – Indoor |   |
| Marisa Field | Kelowna | Volleyball – Indoor | 2005 Canada Summer Games |
| Shanice Marcelle | Victoria | Volleyball – Indoor | 2004 BC Summer Games  |
| Frederic Winters | Victoria | Volleyball – Indoor | 1997 and 1998 BC Summer Games 2001 Canada Summer Games |
| Gord Perrin | Creston | Volleyball – Indoor |   |
| Steve Marshall | Abbotsford | Volleyball – Indoor |   |
| Carmen Eggens | Pitt Meadows | Waterpolo |   |
| Jakie Kohli | Burnaby | Waterpolo |   |
| Monika Eggens | Pitt Meadows | Waterpolo | 2004 BC Summer Games  |
| Constantine Kudaba | Port Coquitlam | Waterpolo | 2004 BC Summer Games  |
| Justina Di Stasio | Coquitlam | Wrestling | 2007 WCSG; 2009 Canada Summer Games |
| Arjun Gill | Surrey | Wrestling |   |
| Haislan Garcia | Surrey | Wrestling |   |
| John Pineda | Surrey | Wrestling | 2000 BC Summer Games; 2013 Canada Summer Games |