National Coaches Week Profile: Ben Uliana
Sep 21, 2015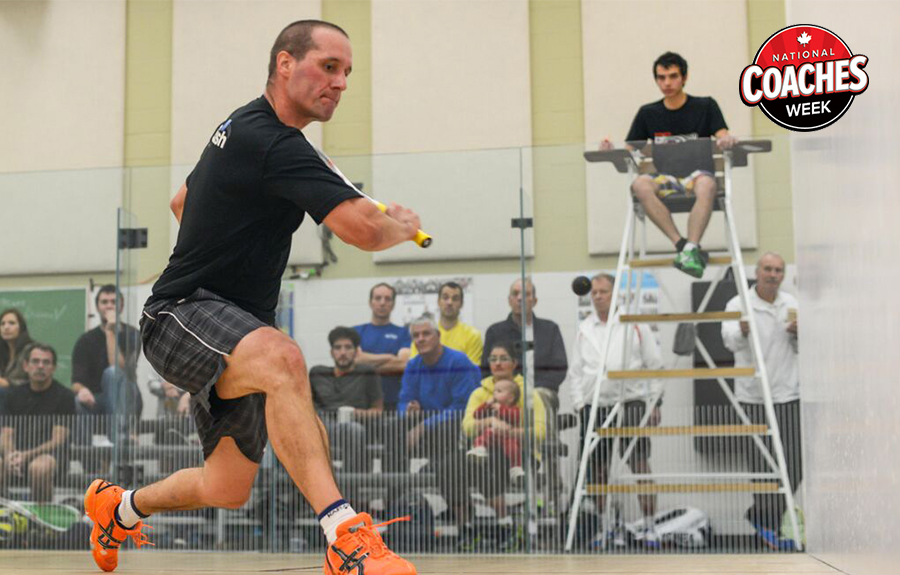 Ben Uliana is the 2014/15 recipient of viaSport's Coach of the Year Award in the category of Regional/Provincial Development. The recipient of this award is a coach who demonstrates outstanding achievement in developing athletes' competitive skills and in their preparation for higher competition within regional or provincial programs.
Name: Benjamin Uliana
Sport: Squash
Number of years coaching: 14
Hometown: Victoria, BC
Favourite coaching quote: "Talent is never enough. With few exceptions, the best players are the hardest workers." – Magic Johnson
Word or phrase your athletes will always hear you say: "Get your racquet up!" and "Hit the ball deep!"
How did you get your start in coaching? 
At age 16 or 17, I began coaching a junior squash program in Gananoque, Ontario. I suffered a badly sprained ankle, so I had to stop playing junior squash myself, but I still loved the game. Squash is a tough game, and your need to be very fit in order to effectively move around the court. In 1994, I started at McGill University and within a year, I was coaching the university's varsity team. Four years later, I chose to make coaching my career.
 
How would your players describe your coaching style? I texted some of my athletes this question and the words they came back with were: 'supportive', 'motivating', 'fun', 'positive thinker', 'patient', 'encouraging' and 'helpful'!
 
Tell us about one of your favourite coaching memories. The most recent coaching memory at the top of my list is from the past 2015 Canada Winter Games in Prince George, BC. This was the first time there had been an individual competition for squash at a Canada Games. Going into the match, our top-seeded girl was 4th and our top-seeded boy was 5th.  Both of the athletes had not beaten any of the players seeded above them. In the end, we won the first ever woman's individual gold medal and a bronze in the men's event. More importantly, it was the result of a positive team behind the athletes, not just one person. Mission staff and mental trainers available to the team were involved from day one at the 2015 Games. It was one of those times when everything gelled perfectly and we worked well together! The sport of squash might be an individual event, but it is really a team effort supporting that player on the court.
 
What do you think is the most important quality of a good coach? I wish it was just one quality that made a good coach, but…if this was true I don't know if coaching would be challenging enough for me. Coaching requires many competencies to be good.  It is a continued reflection on my weaknesses each year that I believe helps me keep improving. The techniques or tactics my athletes improve on are the same that I apply to my coaching technique: goal setting, visualization, dedicated practice, focus and searching for new ideas.  That being said, I think one quality that is extremely important to being a good squash coach is to be able to relate to the athletes you are working with.
 
What does it mean to you to be named viaSport's provincial Coach of the Year? Being named viaSport's provincial Coach of the Year, as a squash coach, is awesome! The number of people who worked to make this happen staggers my mind, but the best part was receiving the letter from viaSport and having to read it for a second time, because I did not fully comprehend what it was saying. The surprise of winning the award was special for me, because it was done without my knowledge.
Visit our National Coaches Week page to learn how you can join the celebration in British Columbia