Once a coach, always a coach
May 23, 2018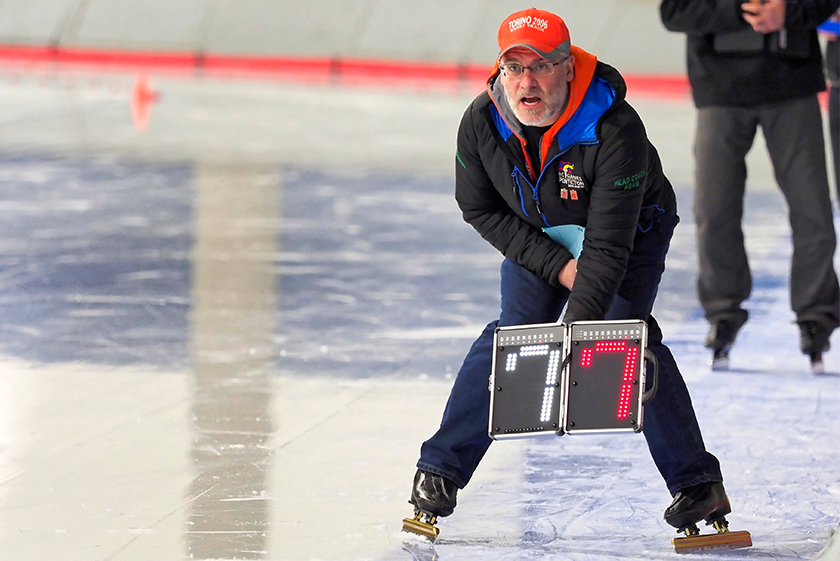 Name: Adam Ingle
Sport: Speed Skating
Community: Surrey
Imagine travelling to a sporting event that your child is participating in. You enthusiastically cheer, but start noticing that your child's coach is nowhere to be seen. What do you do in a situation like this?
Well, you become the coach.
Eighteen years ago, Adam Ingle was inspired to become a coach when his son, James, was racing in a speed skating meet in Prince George. While Adam was proudly fulfilling his parental duty, James' coach was busy socializing with friends. As a result, his first three races were missed.
Adam became frustrated beyond belief.
"At the later part of the event, I just said, 'Okay, fine. I'm going to coach him myself for the last two events of the day.'"
Adam ended up coaching James for the rest of the competition. Upon getting back home after the event, Adam immediately chatted with the head coach for James' club who had been trying to recruit him as a coach for the past few years.
"I said, 'You got me now. What do we need to do now [for me to start coaching]?'"
Currently head coach of the Vancouver Speed Skating Club, Adam's humble exposure to the sport began after a few years of watching his son skate and deciding to start skating himself. An unrelated shoulder injury halted him from further competition and redirected his sole focus on coaching.
From kids as young as four years old to Masters individuals in their 60's, Adam's coaching portfolio includes diverse athletes from varying walks of life. That being said, he sees common ground with each of his athletes through goals – from setting them, to crushing them. Watching his athletes surprise themselves and exceed their own expectations motivates Adam to continue what he does.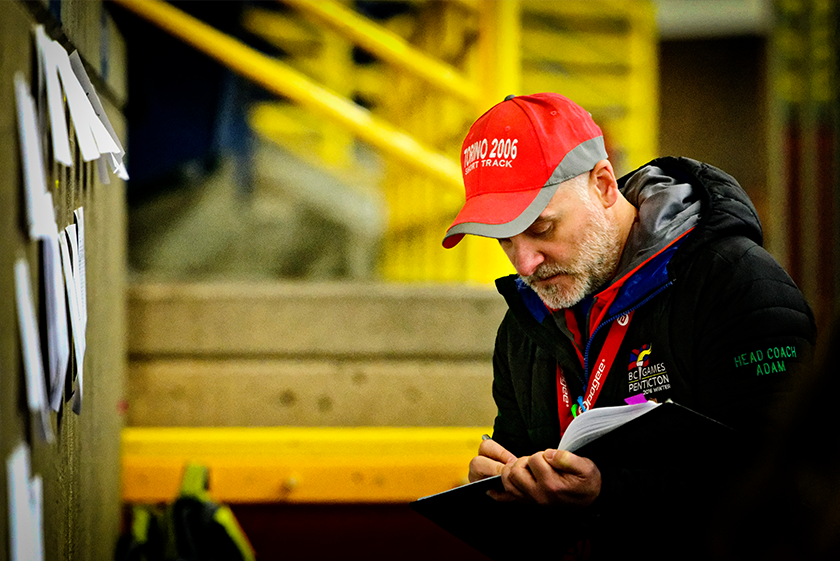 "You watch them achieve what they want, or more than what they want. Or when they have a poor performance, or they fail to meet their own expectations. It's an amazing feeling to be a part of all of that. Being able to help support them is such as an incredible opportunity that we're given as a coach," says Adam.
When asked about a memorable story from his coaching journey, Adam was quick to mention a female athlete named Carolina and their experience during off-season training. A driven and ambitious speed skater, Adam wanted to convince her that she was capable of achieving a lot more than she thought she could during hill intervals on a bike.
"Before we started this interval, I told her at the bottom of the hill that we when we got to this one particular road sign, I was going to challenge her to attack the hill. Full gas, out of the saddle, all the way to the top of the hill."
Although apprehensive, Carolina agreed to go along with the activity. While her confidence to reach the top faltered, Adam was quick to reassure herself of her unwavering abilities.
"She buried herself to get to the top. She was struggling, but she attacked as hard as she possibly could, and got all the way up there. At the top, she was completely smashed, but was so proud of herself for having dug so deep."
Carolina's dominance on this hill proved to be a turning point in her speed skating career. Nowadays, she's in Calgary training with the national speed skating development team. To this day, both her and Adam continue to use this example to illustrate how an athlete can go so much farther when someone genuinely believes in them.
As a NCCP certified speed skating coach with 18 years of experience under his belt, Adam has certainly come a long way. There's no sign of slowing down either, as he'll be head coach for Team BC's long track speed skating team at the upcoming 2019 Canada Winter Games in Red Deer, Alberta.
Adam Ingle is the proud recipient of the viaSport 2017 Coach of the Year Award in the Regional/Provincial Development category. Learn more about how viaSport supports the professional development of coaches in British Columbia.