OneAbility ProMotion Week celebrates inclusive sport and physical activity in Victoria
Nov 28, 2016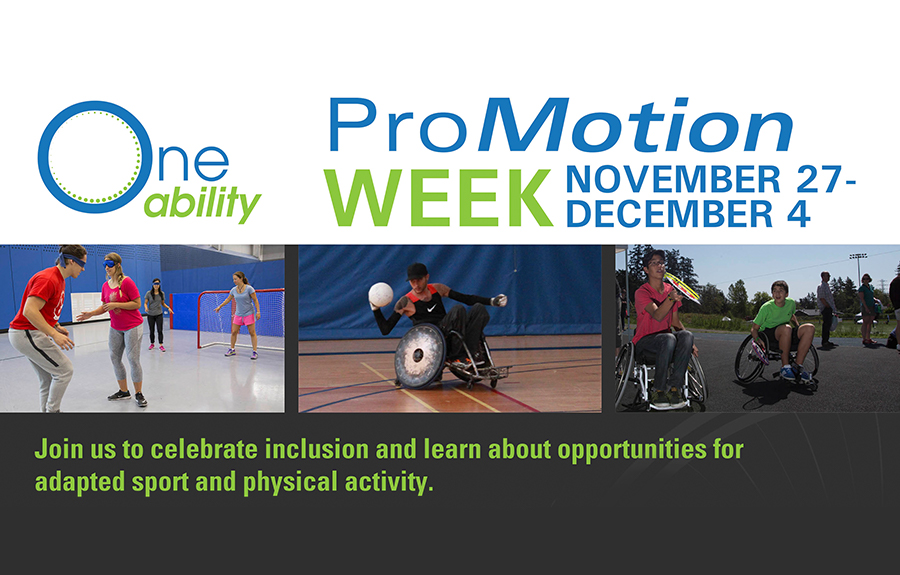 The second annual OneAbility ProMotion Week from November 27th to December 4th will highlight inclusive sport and physical activity programs for people with disabilities.  Hosted by the Victoria Wheelchair Sports Club and OneAbility and supported by partners PISE and Recreation Integration Victoria, this week features drop-in sport demonstrations, and Open House and an educational session. 
OneAbility is a collective of organizations working to promote inclusive sport and fitness programs taking place in the region.  Greater Victoria is a growing hub for disability sport and the services offered here have made the region a destination for athletes targeting events like the Paralympics.
The highlights of the week include an Open House on December 3rd hosted at PISE where anyone with an interest in learning more about adapted sport and physical activity are welcome to attend.  A number of ongoing adapted programs in the area are also open for free drop-in participation.
Fay Cawsey from Recreation Integration Victoria along with sitting volleyball athlete, Chris Bird, and co-founder of the Live it Love it Foundation, Jeff Scott, will speak at the Education Day on December 2nd where people working in the health and fitness industry to learn about including inclusive values in programming.
For more information about OneAbility and details on ProMotion Week please see www.oneability.ca
Quotes:
Robin Syme, Executive Director, CanAssist
"CanAssist is thrilled to be stewarding OneAbility and for the opportunities that this collective brings to the region. ProMotion week is a great event helping to connect our community to the valuable services, programs and opportunities from our OneAbility partners and others in the region.  It is wonderful to be able to work together and increase opportunities for people of all abilities to participate in sport and recreational activities."
Andrea Carey, Canadian Paralympic Committee Board
"December 3rd is the International Day for Persons with Disabilities and we are excited to share the opportunities that exist in our region.  We have tremendous resources and support systems in place for people with disabilities wanting to try a new sport or for anyone to learn how to include adapted and inclusive programming."
Faye Cawsey, Recreation Integration Victoria
"Inclusion is often viewed as beneficial simply to people with disabilities however, it's importance should be focused on all community members.  Our comfort zones, values and attitudes are broadened with interaction and engagement as our neighbourhoods, work places, schools, etc become increasingly inclusive and welcoming.  There is much to gain for everyone, not just those with disabilities."
Jonathan Ritchot, PISE Adapted Strength & Conditioning Specialist
"PISE is pleased to host an event that highlights the great work occurring in the community in areas of inclusion, accessibility and physical activity.  In our goal to create a barrier free training environment, we are pleased to partner with members of OneAbility to ensure all members of our community have opportunities to develop life–long Physical Literacy skills to enrich their health and overall wellbeing. As the day will highlight, inclusion is more than just programs, equipment and buildings; it is a way of approaching challenges that benefit our whole community and allows for success many different ways"
Media Contacts: 
Lia Threlfall
OneAbility Awareness Committee
250-812-3887
liathrelfall@gmail.com
Alethea Wilson
Pacific Institute for Sport Excellence
250-220-2515
awilson@piseworld.com