PANAMANIA: BC at the Pan Am and Parapan Am Games is the newest temporary exhibit at the BC Sports Hall of Fame
Aug 28, 2015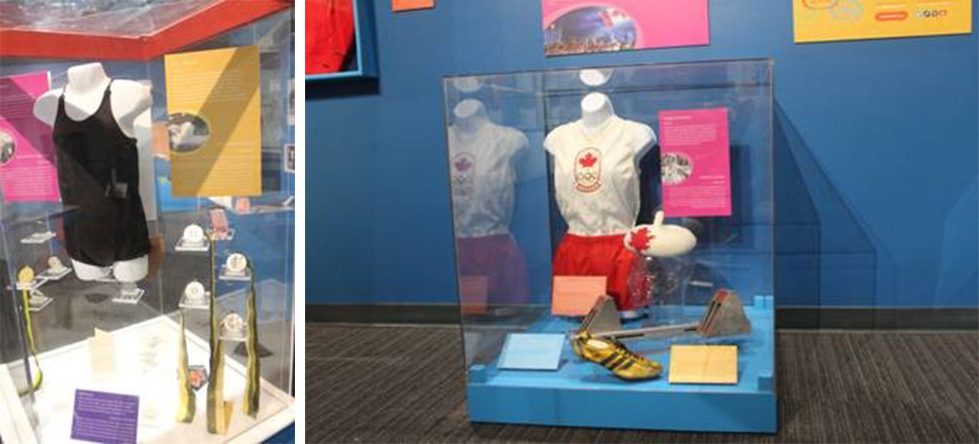 FOR IMMEDIATE RELEASE: Vancouver, BC – August 27, 2015
The 2015 Pan Am and Parapan American Games in Toronto this summer showcased countless unforgettable athletic moments during one of the world's largest multi-sport competitions.  Many British Columbian athletes achieved personal bests and helped Canada to record-breaking medal performances.  To celebrate the 2015 Pan Am and Parapan Am Games and the long history of BC athletes' participation, our newest temporary exhibit features remarkable video, photos, and artifacts stretching over a 60-year period.  Explore 800 square feet of some of the greatest athletic performances BC competitors have engineered at the Pan Am and Parapan Am Games.
Just some of the BC Sports Hall of Fame's exceptional artifacts featured in PANAMANIA: BC at the Pan Am and Parapan Am Games  include:
Canadian uniforms and memorabilia from the two previous occasions Canada hosted the Pan Am Games in 1967 and 1999, both times in Winnipeg. 
Harry Jerome's 1967 Canadian singlet and 100m gold medal.
Mary Stewart McIlwaine's remarkable four silver swimming medals from the 1963 Pan Ams.
All clothing and equipment—track suit, swimsuit, swim cap, goggles—that swimmer Bill Mahony wore during the 1967 and 1971 Pan Am Games.
Sprinter Stephanie Berto's remarkable collection including her 1971 Canadian team singlet and shorts, track spikes, starting blocks, and Canadian team woolen tam.
The many medals, badges, and plaques belonging to organizers extraordinaire Bob Osborne and Merv Ferguson.
Rare Pan Am international jerseys: a 1963 Brazilian basketball jersey and a 1975 Cuban volleyball jersey.
The many medals won by swift 1970s swimmers Leslie Cliff and Donna-Marie Gurr. 
"On behalf of the entire BC Sports Hall of Fame team we are excited about our new temporary exhibition Panamania showcasing BC's successes at the PanAm and ParaPan Games", says Allison Mailer, Executive Director of the BC Sports Hall of Fame. "Our young visitors have enjoyed exploring the artifact cases and learning more about the games all summer long and we look forward to hosting Panamania as a fieldtrip once the school year begins. We gratefully acknowledge the financial support of the Government of Canada through the Community Celebration Fund." 
PANAMANIA: BC at the Pan Am and Parapan Am Games  at the BC Sports Hall of Fame is open to the public seven days a week from 10 am to 5 pm at Gate A of BC Place in Vancouver.
Go there. Experience. Be proud. Be inspired.
 
To plan your visit: http://www.bcsportshalloffame.com
About the BC Sports Hall of Fame The BC Sports Hall of Fame is located at Gate "A" of BC Place with an inspiring Hall of Champions, Vancouver 2010 Gallery and many other exceptional galleries. The BC Sports Hall of Fame, a non-profit society, is the 'go to' organization for BC sport heritage. For over close to 50 year, we have honoured BC's teams, builders, athletes, pioneers, and media through the annual induction ceremony the Banquet of Champions. To date 363 individuals and 58 teams have been inducted onto the BC Sports Hall of Fame. The collection of the BC Sports Hall of Fame and Museum includes over 25,000 artifacts and 20,000 archival documents representing 100 years of sporting accomplishments in British Columbia. In everything it does, the BC Sports Hall of Fame honours, educates, and inspires through the Hero In You Youth Education Programs. Go there. Experience. Be proud. Be inspired. For more information please visit: http://www.bcsportshalloffame.com follow us on twitter@bcsportshall and like us on facebook/bcsportshall