Q&A: Vancouver's golden sport couple
Dec 13, 2017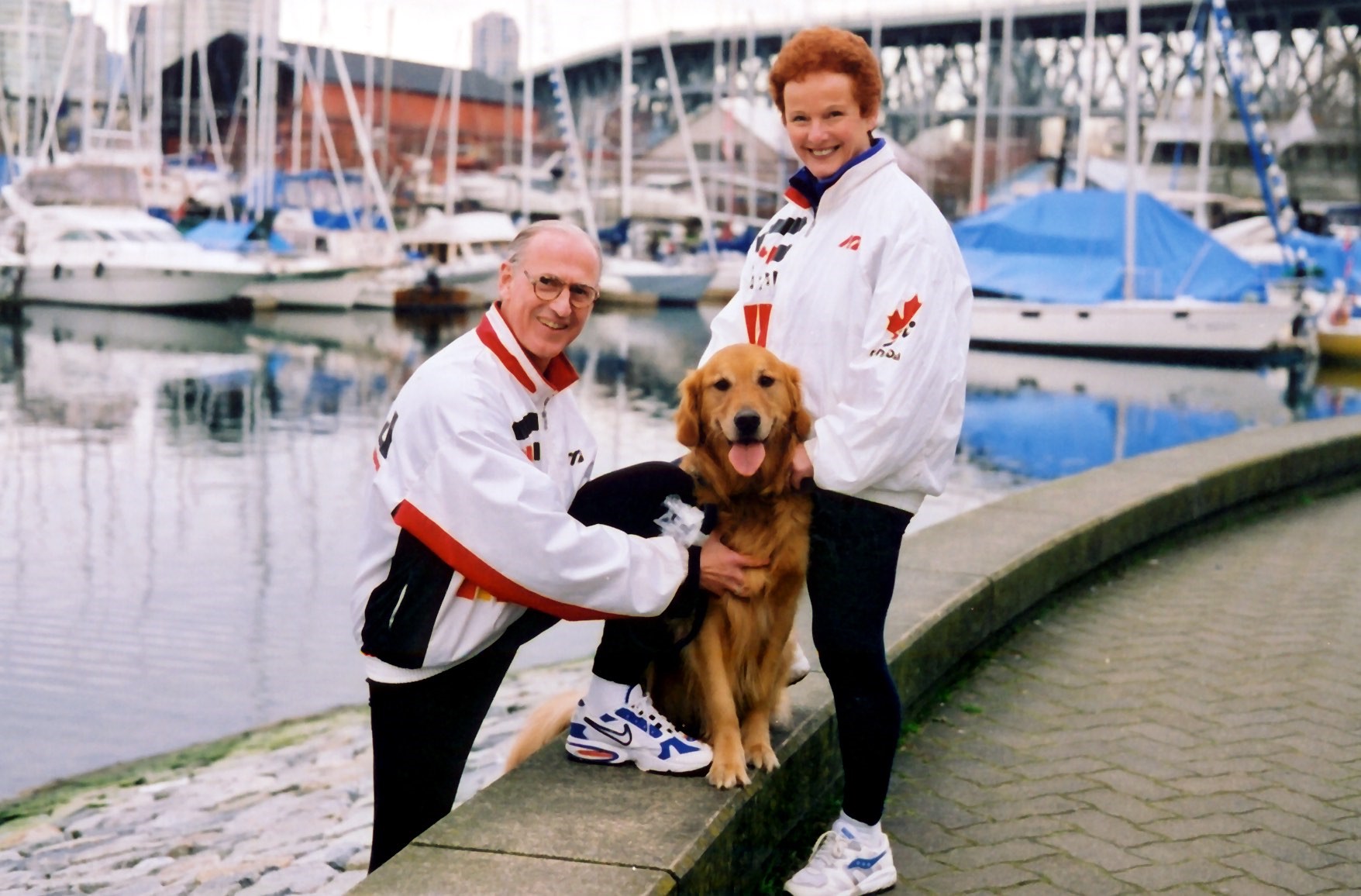 What exactly does it take to become a golden couple in sport? Is it the collective of medals obtained? The ability to answer every sport-related question at trivia? The amount of athletes within your network of peers?
Track and field Olympians Doug and Diane Clement are (unofficially) Vancouver's golden sport couple. They're the ones responsible for founding the Vancouver Sun Run, Harry Jerome Indoor Games, Harry Jerome Track Classic, Allan McGavin Sports Medicine Centre, and the Richmond Kajaks Track and Field Club. Aside from these endeavours, Doug and Diane are also best-selling authors for fitness and cooking. Their many achievements don't go unnoticed, as they're both proud Honoured Members of the BC Sports Hall of Fame. 
The two of them take some time away from their daily powerwalks on the Vancouver Seawall to reflect on the impact of sport on their lives today and the journey that they've been a part of.     
Both of you were responsible in founding the Vancouver Sun Run, Canada's largest 10K road race and the second largest of its kind in the world. What sort of community impact do you think the race has today?
Doug: It's one of the few runs that is designed and operated in such a way as to make everyone feel welcome and comfortable. An adult starting to involve running into an exercise program would feel a bit intimidated against serious, international calibre runners. The Sun Run, with 40 or 50 thousand people, has people of all ages and origins walking, running, having fun and demonstrating how important being active in their lifestyle is to them. It's aimed at everybody – not just the serious runner. 
Diane: The walkers will say, "I never thought I could walk a mile, let alone 10 kilometres". It's quite revealing. We see school teams cheering as they're running along the whole course, and corporate firms encouraging everybody. It's a terrific spirit.
Doug: You can start to see the acceptance of how important it is that people keep moving, particularly in light of the intrusion of the computer and loss of physical activity in our normal jobs.
That's exactly what the Sun Run has been able to do – make exercise available to everybody. To focus on the point that exercise is important for your health, both mentally and physically.
Although retired from competitive sport, age seems to just be a number for both of you. What kind of involvement do you currently have with BC's track and field community? Is there anything else that you're currently involved with as well?
Doug: Our main involvement in sport right now is through the organization of international events. As part of the Achilles group that organizes the indoor meet and outdoor meet, we have to raise half a million dollars each year from all sources to sponsor these events and get them off the ground. It feels like a full-time job for at least half the year!
Diane: Doug was the former Chair of the Board for the Heart and Stroke Foundation. It's a lot of food, fitness and fun lectures with them. I just spoke to the Canadian Cardiovascular Congress at the convention centre last month. I did "Hot in the Kitchen – Cold in the Gym" to over 600 of the cardiologists, and that was a lot of fun. We certainly keep busy from that aspect as well. Being a cookbook author and restaurant owner, eating healthy and bringing people together through dinner is very much an important part of my life.
Doug: Diane has 8 Canadian best-selling cookbooks, which is a very major component of her life. It's not track and field, but it's still a major contribution to the community and to the country.
December marks the 2018 BC Sports Hall of Fame Inductee announcement. Out of all your accomplishments for sport & physical activity, what are you most proud of?  
Diane: It's certainly an honour to be inducted into the BC Sports Hall of Fame! I grew up in Moncton, where my Dad started the Moncton Olympic Club. It's also where I broke the Canadian record in the 100 and 200 metre races. Subsequently, I was inducted into the New Brunswick Sports Hall of Fame. I'm so proud to be inducted from coast to coast, and to continue giving back to our sport through which Doug and I have received so much. It's truly an honour to be recognized along with our other peers in all the other sports.
It's a "Yes we can!" mentality. Whether it's Doug and I, or a young aspiring athlete, who's working hard, keeping healthy, and aiming to be the best you can be. One of the things that Doug and I receive from all this is that at no matter what level, if you take part and do your best, if you fall you get up and you finish that race, that's life. It applies to all of us in our professions and what we do in our everyday lives.
You're not always going to be a winner, you're not always going to be an Olympian. But to do your best, is an achievement.
Sport is unique in the sense that it can fulfill different purposes. What has the purpose of sport been in your lives?
Doug: I recognize and value the idea of people making the Olympic Games, or winning a medal. But I also think there's a much greater importance in terms of people participating in the local levels of sport throughout their growing years to learn about life, and what they can do. Perhaps the greatest value that I see is the careers of individuals that we've had a privilege of working with during their younger years.
Seeing them now as mature persons within our community and what they've been able to achieve. The stories go on – from very humble things, to very explosive and massive things. They have each contributed their very best, and I think that's the most important value of sport.
Diane: Not everyone is going to be an Olympian, or Commonwealth Games medallist. But all of a sudden, they're coming back to us, however many decades later, saying how sport has changed their lives. When we started the club as young coaches with a young family, we never looked at what the real purpose was, except to have participation at a young age. To start getting involved in a sport that gave us so much. It's been such a rewarding bonus for Doug and I.
I remember parading in as a team at the Opening Ceremonies in Melbourne, seeing the Canadian flag way up in the stands, and going, "Wow. Here I am, as a young Maritimer, representing our country with our teammates in all sports." You can't imagine the joy and the feeling of pride. It was at that moment where both Doug and I said, "Someday, we're going to give back."
And so here we are, however many years later, giving back.
Sport is not defined by one type of person or one kind of activity. Sport, in all its manifestations, represents a spectrum of people, abilities, languages, and values. The viaSport I AM SPORT Series is a monthly feature showcasing the myriad of individuals that personify sport in B.C.