She shoots, she scores! Female hockey on the rise in B.C.
Aug 30, 2017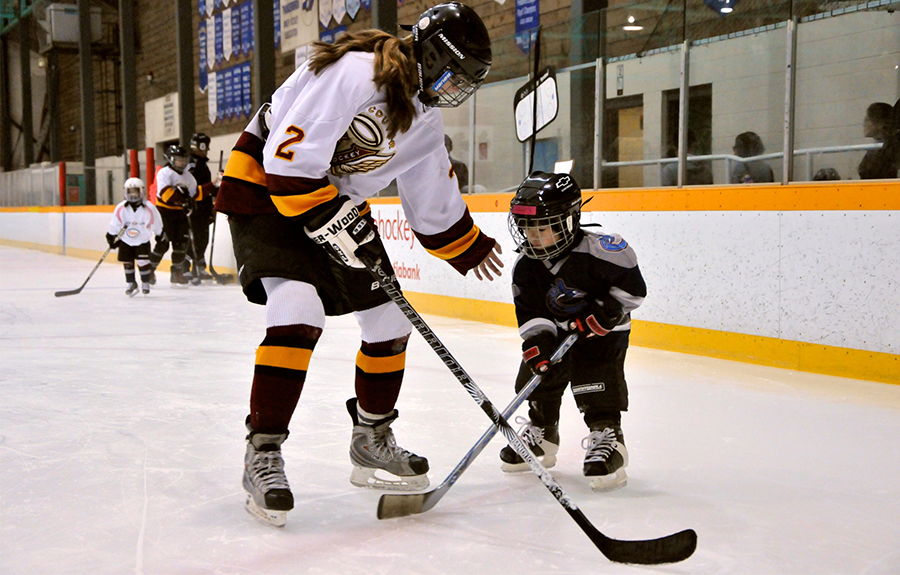 With four gold medals achieved by the Canadian women's national ice hockey team at the last four Winter Olympic Games, it's no wonder that female ice hockey is on the rise in British Columbia. The sport's ever-growing popularity can also be accredited to the prominence of strong female role models such as Hayley Wickenheiser and the increase in televised female hockey games. With more opportunities for females to play, coach, and referee hockey, support for equality towards Canada's official winter sport is more apparent than before.
Associations such as the Vancouver Female Ice Hockey Association believe that encouraging and providing opportunities for girls to participate in sports such as ice hockey is imperative. By playing a team sport, girls gain opportunities to form lasting friendships, learn valuable life skills, and be active throughout childhood, adolescence, and beyond. After all, only 9% of Canadian children participate in 60 minutes of heart-pumping activity needed each day. 
Vancouver Female, the 2017 PCAHA Minor Hockey Association of the Year, strives to increase the number of girls involved in ice hockey in Vancouver through a number of initiatives, with the most successful being their Come Try Hockey events. After deciding to reboot these free sessions in 2014, Vancouver Female saw a vast increase in registration numbers. These events have fuelled the growth of the association, with registration having increased by 45% over the past three seasons alone.
The Come Try Hockey events are hosted several times throughout the year. Girls ages four and older are suited up in hockey gear provided by Vancouver Female and led in fun and engaging on-ice activities. Many of the on and off-ice helpers are current Vancouver Female players and coaches, giving prospective families a chance to get connected with the Vancouver Female community. Girls can either register with Vancouver Female or join their waitlist at the Come Try Hockey events. An average of 35-40% of each event's participants have registered after their try-it session.
Besides introducing girls to the sport through Come Try Hockey events, Vancouver Female is also working to advance female hockey by providing their players with a range of experiences and development opportunities. This includes access to coaching from the leading hockey development company Leslie Global Sports, unique tournament experiences, a spring 4-on-4 league, and exhibition series with out of town teams. The association also works to increase their number of female coaches and referees through mentorship and training opportunities. 
Vancouver Female also recognizes that extraordinary costs can act as a barrier to sport. With support from organizations such as viaSport, Vancouver Female is able to offset some of these expensive playing costs by offering families a free means for girls to try hockey, as well as loaning or granting complete sets of equipment to new players when they sign up with Vancouver Female for the first time.
Interested in receiving funds to promote the power of sport for women and girls in B.C.? Visit our Grants page for more information.
The Come Try Hockey events are an initiative funded and supported by the Province of British Columbia through the Community Sport Program Development Fund.