Team BC concludes successful 2015 Western Canada Summer Games with trophy win
Aug 17, 2015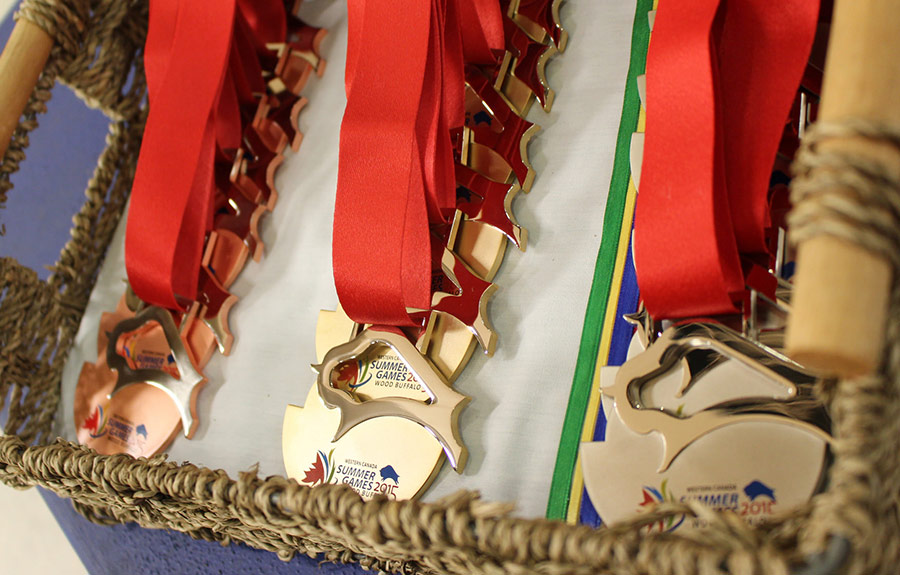 Photo Credit: Ali Lee & Team BC
The 2015 Western Canada Summer Games came to a close in Wood Buffalo, Alberta with a wonderful celebration at Shell Place in Fort McMurray on Sunday.
After 10 days of celebration, athletic accomplishments, and team spirit the Team BC athletes, coaches, mangers and mission staff have returned to their home communities to share their successes and experiences.  
"On behalf of Premier Christy Clark and the Government of British Columbia, I want to thank all of the athletes, coaches, and staff who worked so tirelessly and represented our Province with so much pride," said Peter Fassbender, Minister of Community Sport and Cultural Development.  "It is an honour to see so many of you bringing home medals from the Western Canada Summer Games and I look forward to what you can all accomplish in the future for this Province and this country."
334 athletes showcased their commitment to sport through 280 podium performances including 134 gold, 86 silver, 61 bronze.  Team BC topped the medal count ahead of Alberta and Manitoba.  The 2015 medal count is an increase from the 255 medals won at the 2011 Western Canada Summer Games.
BC Games alumni represented 44% of Team BC and 147 alumni won or contributed to the medal count.  These athletes have had the opportunity to compete in a multisport environment which will be of great benefit as they move forward to larger competitions.  At the 2015 Pan Am Games, Team BC alumni from past Western Canada Games won medals for Team Canada including Evan Dunfee (race walk), Liz Gleadle (javelin), and Luke Reilly (swimming).
Jesse Shade, a Special Olympics swimmer from Campbell River, was selected as the Team BC flag bearer and proudly led the team into the Closing Ceremony where BC was awarded the Western Canada Summer Games trophy.  This trophy is awarded to the team with the highest aggregate points, and Team BC has won the trophy at every Games since the inception of the Western Canada Summer Games in 1975.
 "I am incredibly proud of our entire team," said Diane St-Denis, Team BC Chef de Mission.  The athletes, coaches, and managers showed tremendous pride and spirit both on and off the field of play and represented our province to the very best of their ability.  The venues were top notch, the volunteers passionate about their community, and the memories will last a lifetime."
Team BC also showed that we are leaders and ambassadors for sport and in our communities by contributing to a legacy project that supported MiKids, an organization in Fort McMurray that provides financial assistance to youth to help them participate in sport and recreation programs.  Team BC provided a $1552 cash donation to MiKids.
The next Games for Team BC are the 2017 Canada Summer Games in Winnipeg.  The next Western Canada Summer Games will be held in Swift Current, Saskatchewan in 2019.
-30-
ATTACHED: Team BC Results by Community for Phase 1 and Phase 2
OFFICIAL RESULTS: 2015 Western Canada Summer Games Results Site
PHOTOS:
Photos from the Games are available on Flickr for download.  Photo Credit: Kevin Bogetti Smith, Team BC
About Team BC Team BC has a delegation of 427 athletes, coaches, managers, and mission staff representing British Columbia at the 2015 Western Canada Summer Games in Wood Buffalo, Alberta.  Team BC athletes are the best young developing talent in this province and are our future national and international champions.  Team BC alumni include Olympians Dylan Armstrong (Athletics), Ryan Cochrane (Swimming), Karina LeBlanc (Soccer), and Paralympian Bo Hedges (Wheelchair Basketball).  Visitwww.teambc.org and @GoTeam BC for the latest news and updates.  #WEareBC #TeamBC
About the Western Canada Summer Games The Western Canada Summer Games are held every four years and bring together over 2500 athletes from the four western provinces and three northern territories to compete in 18 sports.  These Games provide development opportunities for amateur athletes to help them advance their skills in a competitive but, friendly environment.  The 2015 Western Canada Summer Games were hosted in the Regional Municipality of Wood Buffalo, Alberta from Aug 7-16.  For more information visitwww.2015woodbuffalo.com 
Media Contacts:
Jenn Houtby Ferguson
Communications Lead
Team BC – 2015 Western Canada Summer Games
250-713-9849
jennhoutby@gmail.com
Lia Threlfall
Communications Manager
BC Games Society | Team BC
250-812-3887    
liat@bcgames.org