The Haintz family: Elite athleticism and Indigenous education
Nov 01, 2022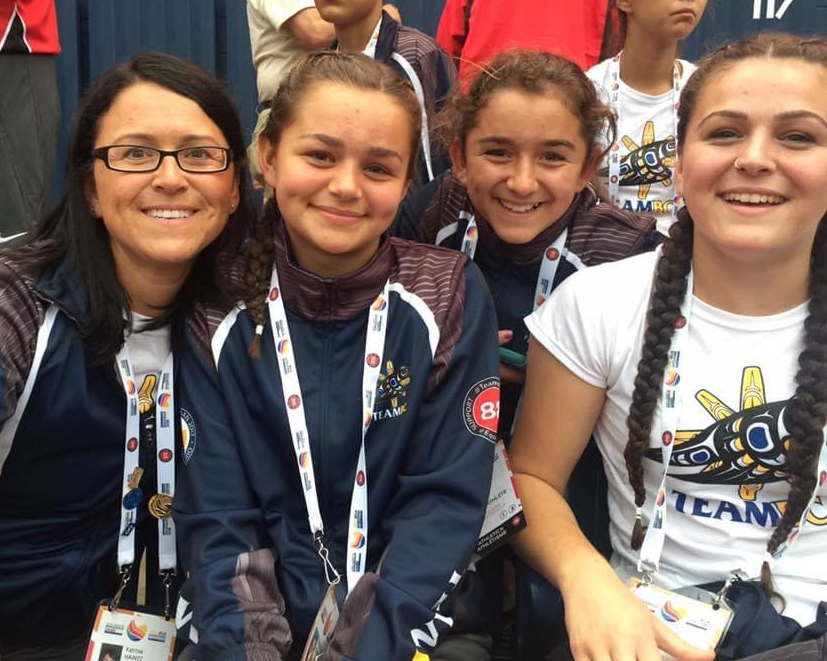 Katrina Haintz and her daughters are taking the term "it runs in the family" to a whole new level: every one of the five Haintz children is involved in high-performance sport. As members of the Hwlitsum First Nation, the three eldest siblings, Mateya, Marquesis, and Kaia, are all recipients of the Indigenous Youth Legacy Fund grant. A few weeks ago, we had the opportunity to talk with these three highly accomplished athletes and their mother, Katrina, to learn more about their family's journey in sport and the path that led them to re-discover their Indigenous culture.
Mateya, the eldest of the Haintz siblings, is a fourth-year student athlete at Bowling Green State University in Ohio who competes in hammer throw in the National Collegiate Athletic Association (NCAA). She is a three-time gold medallist at the Canadian Junior National Championships, and achieved a fifth place finish at the U-20 Pan American Games in Costa Rica in 2019.
A year younger than Mateya, Marquesis grew up as a multi-sport athlete and found her passion for wrestling in the eighth grade. She is a three-time Provincial Champion and she currently attends Simon Fraser University where she wrestles in NCAA competition. Joining her at SFU this year is her younger sister, Kaia, an accomplished racewalker. Kaia has been involved in racewalk since she was nine years old, a sport where she has found success at the Canadian Junior National Championships as a gold and silver medallist.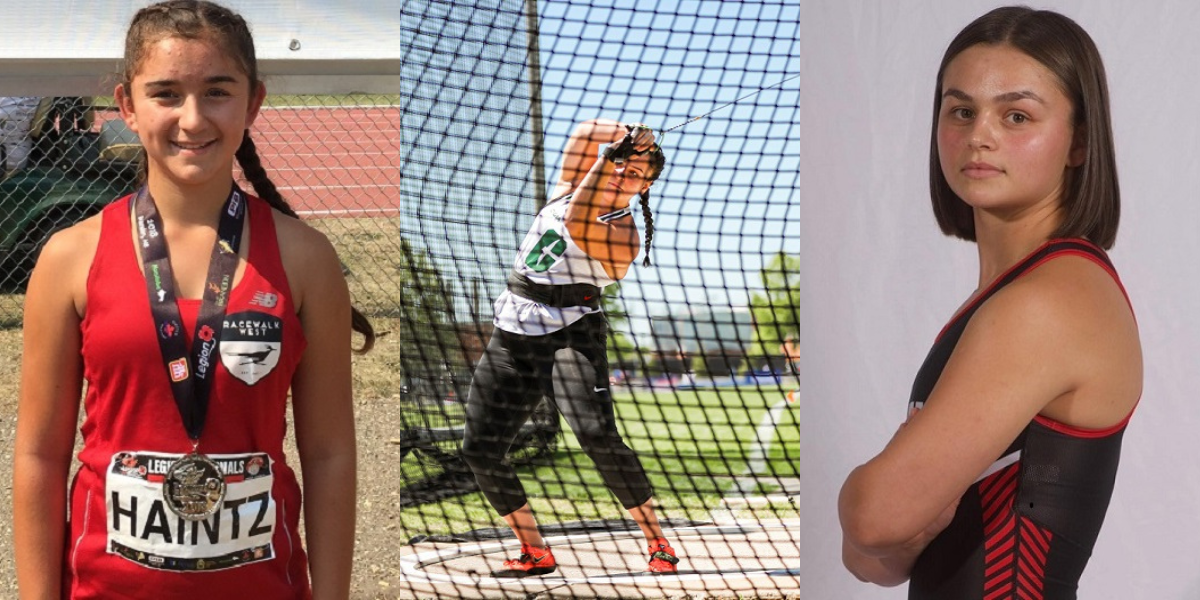 Evidently, there is true athletic talent in the Haintz family. Both of their parents were highly supportive of their athletic journeys, despite their motivations coming from vastly different personal experiences.
As Mateya explained, "Our dad actually got most of us into MMA when we were like five years old. He did wrestling in college, so that's kind of how we all started. He would take us to the adult MMA classes, and we'd be sitting there doing circuits for an hour and a half on end. My mom really pushed us into sports because she never did them when she was younger, but always wished that she had the opportunity. I think those two backgrounds together really pushed us all into sports."
Their mother, Katrina, shared her perspective on how her upbringing led her to support her children's sport pursuits unconditionally. "I wanted them to have something different than I had growing up," Katrina said. "We were so poor growing up, my mom would have loved to have put us in sport, but food on the table was more important than paying fees for sport, right? And that's okay, I respect it, but my thing was that if I have kids, it's going to be different. I'm going to give them these chances and possibilities and opportunities."
Katrina struggled with her identity growing up. To protect her from discrimination, her mother encouraged her to hide her Indigenous heritage, which ultimately led their family to become fairly disconnected from their culture. But all of that changed for the Haintz family when they attended the North American Indigenous Games for the first time in 2014.
"For us, when we were younger, I don't think we were as involved [as Indigenous athletes], because my mom's parents kind of were part of the group who chose to forget their heritage a lot because of the bullying and stuff that went around," Marquesis explained. "We didn't really get involved until the 2014 North American Indigenous Games. When we went there, we saw that there was a different light to being Indigenous. From there I think we really tried to get involved more, and my mom tried to get involved more because she didn't have much of a background. I think that's where it all started for us."
Not only did this experience spark the desire to re-connect with their Indigenous background, it led Katrina to embark on a new career path. After getting her education in accounting and running a business for several years, she became an Aboriginal support worker for a local elementary school.
Reflecting on her experience, Katrina said, "We found out about the North American Indigenous Games and at first I was like, 'I don't even know what this is.' And so I talked to the girls about it and we signed them up, they got accepted, and it completely changed who I am. I went from someone who was skeptical over you know, are Indigenous people good? Are we less than? To going there and being like, we are freakin' amazing. It was so powerful between the cultural components that these kids shared, it was life-changing. You know how you have those moments, like I think I felt a little lost growing up, not really knowing what I wanted, until I went there and I was like, I know what I want to do. I finally know what I want to do with my life, I know what I want to be in my career."
In addition to the exposure they gained from being involved in the North American Indigenous Games, Katrina's change in career path had a significant impact on the girls' understanding and appreciation for their culture.
"I think a lot of what she took from work, what she was learning she'd teach to us right away," Mateya explained. "Even just rituals like burning sage and all of that, she would teach us a lot of the meaning behind it and the history that she would learn, she'd come right back and teach all of us because she wanted us to understand the community and understand what happened. We come from the Hwlitsum First Nation, and our band is on unceded territory. Our band is actually in fights right now to try to get some of their land back, so that they can have a reserve, so that they can have their own kind of sacred land. That's an issue we're slowly getting educated on."
This education within the family comes full circle, as Katrina explained how the girls in turn share their knowledge with their grandmother, who grew up with very little connection to her Indigenous family. She reflected on the healing this brings for her mother, who had a very difficult upbringing, to learn more about her own cultural background from her grandchildren.
Over the years, the three young athletes have all developed strong connections to their Indigenous identities. They value the sense of community, both for what is has given to them and for what they can give back in return. When asked what it means to them to be Indigenous athletes, Kaia and Mateya both described the support they felt from the community, including the grants that have allowed them to pursue every opportunity to compete at the highest level.
Marquesis added, "For me, it's also being a role model for the young athletes, because I see how finding a sport, something they love could really be an outlet to go in the right direction and have goals for themselves. I want to be that way because I looked up to Justina Di Stasio who is an Aboriginal athlete in wrestling who won the World Championships. I want to try and be a role model for other communities as I've been given a lot of opportunities."
All three siblings actively give back to the community as coaches and youth mentors at I-SPARC, as well as coaching at their old high school or club programs. When describing what it's like to watch her daughters represent and give back to their community, Katrina said:
"I'm so proud. I don't know how I lucked out that my children turned out so good, but you know they're just good people with good hearts, looking out for others and believing in themselves. I wish I had that confidence that I could have believed in myself the way that they believe in themselves, but I think sport does that, you know? You have that foundation, you have your community, you've got good people around who all have dreams like you."
While each of the three athletes have achieved a great deal of individual athletic success, they recognize how their entire family has been instrumental in their accomplishments. Between their parents, grandparents, and siblings, everyone has played a role in their sport journeys.
"It's definitely helped to have like our whole family involved, because when Mateya and Marquesis would try something, I got the opportunity try it. With track, I got to watch them as I grew up, and then once I turned nine, I was able to finally do it," Kaia explained. "And then for my little siblings, they watched us do wrestling in high school, and then they both tried it too."
Marquesis added, "Also our parents, it's how much they're willing to give up their free time. I didn't realize when we were little, but how hectic of a schedule we gave them with driving us to sports. I'm happy they've always been willing to give up their time to give us the opportunities, but looking back, I can't imagine how they did it."

Katrina admitted that having five children participating in multiple high-performance sports was exhausting at times, but between herself, her husband, and her in-laws, they would "divide and conquer" to make sure that everyone made it where they needed to be. Whether it was helping Kaia to fund her trip to Nationals, funding Marquesis' training camp in Mongolia, or allowing Mateya to get noticed by NCAA recruits, the Indigenous Youth Legacy Fund had a significant impact for the girls and their parents.
"I am so thankful to viaSport and the Indigenous Youth Legacy Grant, because you know, sport is expensive and travel is expensive," Katrina explained. "I can't even say enough to the benefit and the support that this gives to families; it could make me cry, it seriously has been that impactful."
As Marquesis pursues her dream of competing at the World Championships and the Olympics, while Mateya and Kaia remain focused on training and finding success at the NCAA level, all three siblings continue to balance their academic and athletic goals. Their mother, Katrina finds herself in a similar situation, as she has gone back to school to complete her certificate in education in hopes of becoming an Aboriginal Resource Teacher, while working full-time and continuing to support her children's athletic journeys. 
As an Aboriginal Resource Teacher, Katrina would support teachers to bring more Indigenous content into the classrooms. "It's a meaningful role," she said. "They always talk about truth and reconciliation, and I'm like, we're nowhere near reconciliation. We're still at truth, we need to help people understand without stigma, without stereotypes, without judgment, what the truth of Canada's history is. It's a slow process but I think if we keep pushing forward, each generation of youth coming in will help make those differences."
This feature is part of a series of stories to highlight the sport journeys of Indigenous athletes in British Columbia, as part of viaSport's commitment to the Truth and Reconciliation Report Call to Action 87. Keep an eye out for our next Indigenous athlete profiles, as we continue to speak with and learn from Indigenous athletes in our community.