Thirty-one countries to compete in Kamloops for international Athletics Championships
May 16, 2014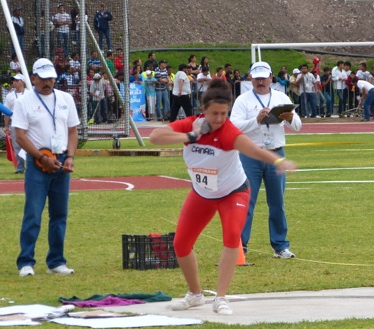 Hosting BC grant program supports the Kamloops Track and Field Club in hosting a world-class event this summer
This summer, from August 6 – 10, the city of Kamloops will be a hosting 31 countries for the 2014 North America, Central America, and Caribbean (NACAC) U-23 Athletics Championships. The  competition is held every two years in different host countries and will see over 400 athletes from countries such as Anguilla all the way to Trinidad and Tobago in fierce competition for the podium.
Organized in collaboration by the Kamloops Track and Field Club, the City of Kamloops and Thompson Rivers University, this fantastic event certainly puts B.C.'s tournament capital at the centre of  attention for all things track and field related this year. It's exactly the kind of international event that brings together a fresh and diverse group of athletes, and also brings the world of athletics to an  entirely different level of play.
 
International event hosting is a winning situation for British Columbia
The bidding process for the Athletics Championships involved more than just the Kamloops Track and Field Club; it was a joint effort between the club, the City of Kamloops and Thompson Rivers  University. But there was a twist in the bidding process: the group actually travelled to Ottawa last May to present their bid for a different event – the Pan American Junior Athletic Championships – to  be held in 2015, but ended up walking away with the NACAC (an equally rewarding opportunity).
Edmonton and Kamloops were both on the hosting shortlist for the Pan America Championships, and both presented impressive and unique plans that showcased the best of their hosting capabilities  to the selection committee. In the end, the committee chose Edmonton, however they also knew that Kamloops had the passion and expertise to host an exceptional international event. As a result, the NACAC was awarded to Kamloops with great confidence, marking two strong Canadian cities to highlight the sport of athletics in 2014 and 2015.
Hosting BC grant program supports 43 world-class events in recent spring intake
This past winter, the Kamloops Track and Field Club was just one of 43 sport organizations who received support from the Hosting BC grant program to help support their event requirements and hit the ground running.
"Funding is crucial to being able to execute on our event this summer," says Judy Armstrong, co-chair, NACAC. "We will be providing transportation, accommodation and meals for athletes across B.C. and Canada to participate for Team Canada. It's a high profile event with international participation for athletes in attempt to move on to the 2016 Olympic Games in Brazil."
Hosting BC is financially supported by the Province of BC through the Ministry of Community, Sport and Cultural Development. viaSport administers the grant program three times a year to ensure that funding is able to support sport, economic, social and community development.
Athletics Championships provides a stepping stone for B.C. and Canadian athletes to compete in the Olympic Games
Team Canada has made an appearance in the NACAC since 2006 and B.C. athletes have made up nearly 20% of the team since 2010. Taryn Suttie, a resident of Kamloops, made a very impressive appearance in the 2012 NACAC competition in Mexico, winning a bronze medal for Canada in shotput.
"Competing at NACAC U23 in 2012 was a great experience," Suttie reflects. "Not only was it my first time medaling at an international competition, but it has helped to keep me motivated and focused in my current training. NACAC is a great stepping stone for young athletes on their way to success at a higher level, and I am grateful for the opportunity and experience that I gained through it."
The last time Canada hosted the NACAC was in 2005, in Windsor, Ontario. This year marks the very first time the competition will be held in British Columbia.
For further questions on the NACAC, contact Bob Cowden Chair at rcowden@shaw.ca or  Judy Armstrong  atj2armstrong@shaw.ca. Media inquiries may contact bartcummins@shaw.ca. 
For more feature stories by viaSport, visit our website or follow us on Twitter @ViaSport_ #InspireViaSport