Twelve B.C. athletes bring home medals
Aug 22, 2016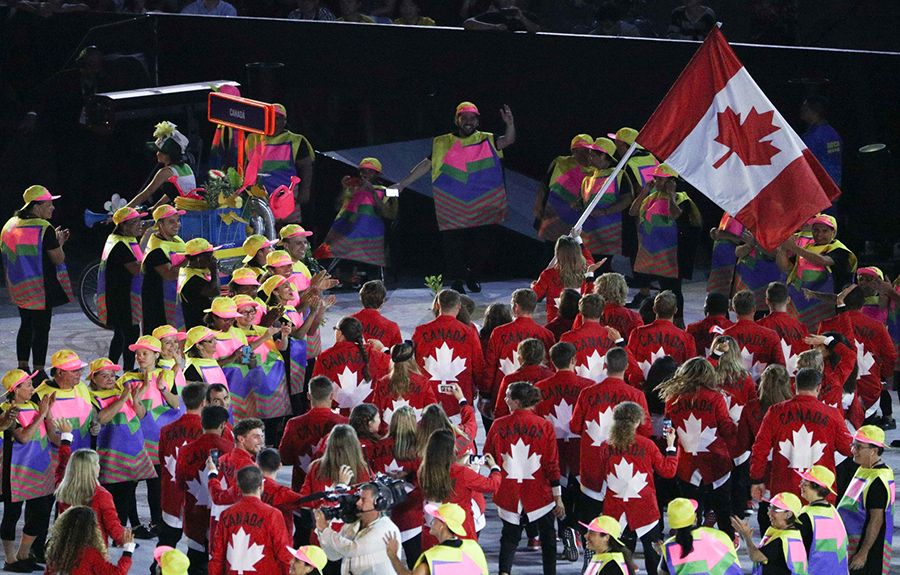 Twelve athletes from British Columbia are bringing home eight medals from the Rio 2016 Olympic Summer Games, including team medals in sports such as swimming, soccer, cycling, rugby and rowing.
A total of 142 athletes with a connection to B.C. competed at the Games in 18 different sports. Of those, provincially-affiliated athletes earned 50% of the Canadian Olympic Team's total medal count: one gold, one silver and nine bronze medals.
Athletes from British Columbia who earned medals at the Games include (in chronological order of achievement):
Taylor Ruck, Kelowna – swimming – bronze x2
Kayla Moleschi, Williams Lake – rugby – bronze
Emily Overholt, Vancouver – swimming – bronze 
Lindsay Jennerich, Victoria – rowing – silver
Patricia Obee, Victoria – rowing – silver
Hilary Caldwell, White Rock – swimming  – bronze
Laura Brown, Vancouver – cycling, track – bronze
Jasmin Glaesser, Vancouver – cycling, track – bronze
Georgia Simmerling, West Vancouver – cycling, track – bronze
Sophie Schmidt, Abbotsford – women's football (soccer) – bronze
Christine Sinclair, Burnaby – women's football (soccer) – bronze
Catharine Pendrel, Kamloops – women's mountain bike – bronze
In total, Canada won 22 medals:
4 Gold
3 Silver
15 Bronze
Athletes from British Columbia will represent Canada at the Rio 2016 Paralympic Summer Games from Sept. 7-18.
Quotes:                                
Christy Clark, Premier of British Columbia –
"British Columbia's Olympic athletes and coaches showcased to Canada, and the world, what we are capable of. Our athletes significantly contributed to Team Canada's medal count, but perhaps even more than that, they inspired another generation of young Canadians to dream big, and participate in international sport."
Peter Fassbender, Minister of Community, Sport and Cultural Development –
"We are very proud of our local athletes that competed in the Olympic Games and I am thrilled that so many of them were able to realize their dreams of reaching the podium. This province came together over the past 16 days to cheer on our athletes and each and every one of them should be proud of their efforts on the world stage."
Wendy Pattenden, CEO, Canadian Sport Institute Pacific –
"Rio 2016 proved to be a huge success for Canadian athletes and B.C.-supported athletes were a significant part of Canada's improvement at these Games. With the generous support of the Province, B.C.-supported athletes have helped Team Canada surpass expectations, reaching their highest medal total since 1996 in Atlanta. The Canadian Sport Institute Pacific is extremely proud of all the athletes with whom we are fortunate enough to work with in the daily training environment, as well as our team of sport science and sport medicine experts."
Quick Facts:
314 athletes make up the Canadian Olympic Team.
142 of these athletes have a B.C. connection.
68 of them have their hometown in British Columbia.
In 2012:

Canadian athletes won 18 medals at the London Olympic Games: 1 gold, 5 silver, and 12 bronze.
50% of the medals came from athletes with a connection to this province.
Learn More:
For more information on Canadian Olympic Team athletes with a B.C. connection, visit:http://www.csipacific.ca/news-events/rio-2016/
To learn more about the Canadian Olympic Team, visit: http://olympic.ca/
To learn more about the Ministry of Community, Sport and Cultural Development, visit:https://news.gov.bc.ca/ministries/community-sport-and-cultural-development