Two coaches take home 2017 B.C. Coach of the Year Award
May 28, 2018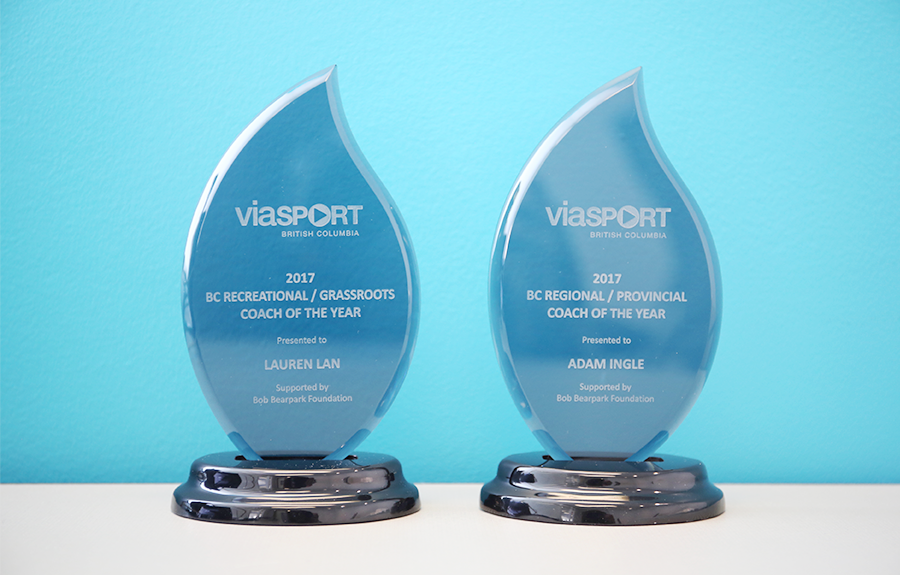 viaSport, the Provincial/Territorial Coaching Representative (PTCR) for British Columbia, is pleased to announce the 2017 Coach of the Year Award recipients. Founded by the Coaches Association of B.C. and funded by the Bob Bearpark Foundation, the Coach of the Year Awards were created to recognize dedication and commitment to coaching in British Columbia.
For nearly 20 years, B.C. coaches from various communities have been celebrated for their unique contributions to the advancement of their athletes and sport across three categories: Recreational/Grassroots, Regional/Provincial and International. This year, viaSport is proud to award the following individuals:
2017 Coach of the Year Award Recipients:
Lauren Lan (Comox) | B.C. Recreational/Grassroots Coach of the Year | Cycling
Adam Ingle (Surrey) | B.C. Regional/Provincial Development Coach of the Year | Speed Skating
"These coaches have dedicated countless hours to helping young athletes achieve their best and to promoting health and fitness in their communities," said Lisa Beare, Minister of Tourism, Arts and Culture. "The government of B.C. is proud to support viaSport and all those who work so hard to build a better B.C. through sport. These awards honour those who help others and I want to congratulate all of the recipients." 
In addition to receiving a bursary, Lauren and Adam will be honoured for their achievements at the upcoming 2018 Induction Gala on May 31, 2018, hosted by the BC Sports Hall of Fame.
"Trained coaches are catalysts for positive experiences that extend well beyond sport," says viaSport CEO, Sheila Bouman. "Because of their leadership, athletes are empowered to realize and develop their untapped potential. It's our pleasure to recognize these phenomenal leaders and their commitment to give back to their community." 
As the PTCR for British Columbia, viaSport partners with the Coaching Association of Canada to lead the delivery and promotion of the National Coaching Certification Program (NCCP) across the province. Furthermore, viaSport contributes to the advancement of coaches through subsidized coaching courses, and professional development, mentorship and grant opportunities. In 2017, B.C. coaches accumulated approximately 17,000 hours in multi-sport coaching courses hosted by viaSport and its regional sport partners.