viaSport and Government of B.C. recognize the province's incredible coaches
Sep 18, 2020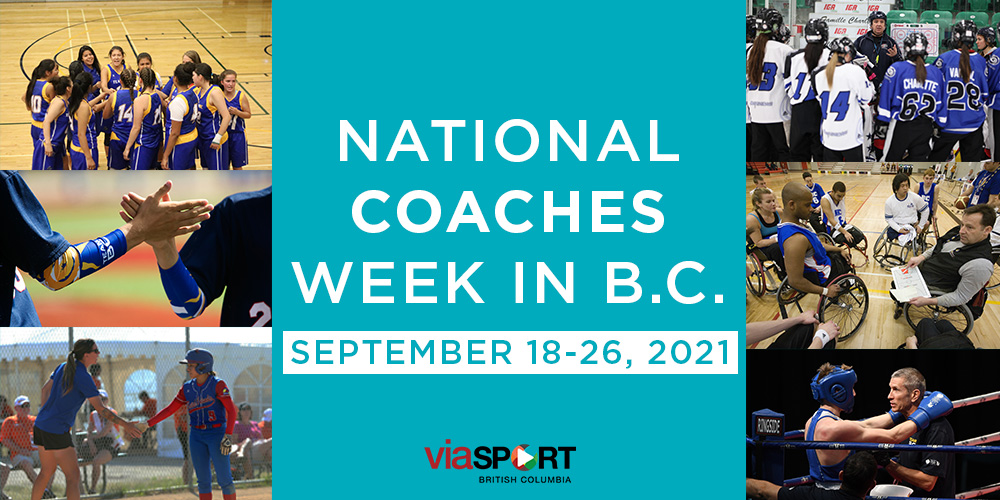 For immediate release 
Vancouver B.C. – viaSport and the Province are celebrating British Columbia and National Coaches Week from September 19 to 27 to recognize coaches across the province for their outstanding commitment to sport and to their communities. 
 "Coaches are community leaders and role models who inspire passion for sport and physical activity," said Lisa Beare, Minister of Tourism, Arts and Culture. "Quality sport experiences begin with coaches that help athletes build confidence, self-esteem and learn essential life lessons through participation in sport. I value the role coaches played in my life and this week is a great opportunity to celebrate the tremendous positive impact coaches have on athletes and communities across B.C."
As the organization responsible for coach education in B.C., viaSport supports the delivery of the National Coaching Certification Program (NCCP), where coaches in the province have the opportunity to further their training and skills to best support their athletes and foster positive sport experiences.
Coaches are also integral in providing mentorship to other young coaches. Programs like the BC Games Coach Mentorship Program and Canada Games apprenticeship programs for women and Indigenous coaches provide an opportunity to support the development of mentors. This builds capacity within different sports and helps coaches succeed in a sport environment and beyond.
"Though sport has looked different the past number of months, coaches continue to be crucial support systems for their athletes, especially as each sport moves through their safe return," said Charlene Krepiakevich, CEO at viaSport. "Coaches are vital in creating inclusive, safe and welcoming spaces for all participants. This week, we recognize these incredible individuals who help British Columbians thrive through sport."
During Coaches Week, sport participants and parents have the opportunity to recognize coaches for the role they play by saying, #ThanksBCcoach through viaSport's upcoming social media contest. One lucky coach will win $1000 – $500 for their club and $500 for themselves.
Until September 27, viaSport is encouraging the sport community to post a photo and a caption highlighting their coach. On September 30, one eligible coach will win the cash prize and be featured province-wide on viaSport's digital channels. Visit www.viasport.ca/coachesweek for contest details and how to enter.
About viaSport British Columbia Founded in 2011, viaSport British Columbia envisions a society where people and communities are truly healthy, vibrant and connected because they value and participate in sport experiences that are safe, inclusive and meaningful. With the support of the Province of British Columbia, viaSport manages
approximately $16 M in sport, oversees more than 70 B.C. sport organizations, provides support for coach education and policy, and leads key initiatives to create more equitable opportunities in sport. Learn more on how viaSport transforms and scales the impact of sport at www.viasport.ca.
Media Contact:
Ninu Gill
Director, Communications and Engagement
ninug@viasport.ca 778-655-1742