viaSport announces the 2019 Coach of the Year Award winners
Sep 22, 2020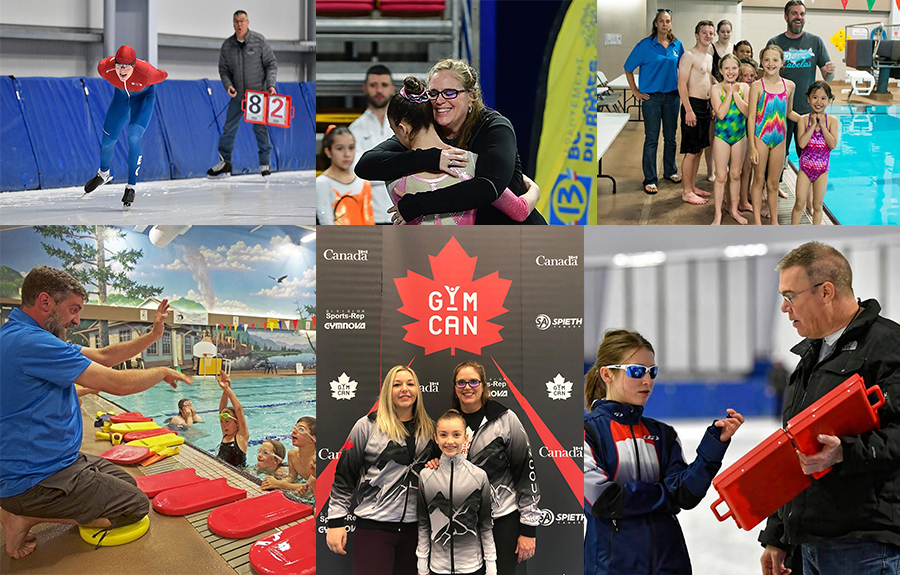 On March 12, viaSport intended to recognize three outstanding coaches and deserving winners of the 2019 Coach of the Year Awards. Unfortunately, this presentation was postponed due to the pandemic. In honour of National and British Columbia Coaches Week, viaSport is pleased to announce the Coach of the Year Awards winners for 2019, all of whom have made a significant impact on their athletes and communities. This year's recipients are:
Michael Freimark of the Hope RiverMonsters Swim Club for Community Coach of the Year
Richard Stickel of the Fort St. John Elks Speed Skating Club for Competition Coach of the year
Janice Fowler of the Vancouver Phoenix Gymnastics Club as the High Performance Coach of the Year.
"I am very honored to receive this award.  I have worked with so many thoughtful, caring coaches that it is humbling to be singled out.  I have had the pleasure of coaching so many wonderful athletes over the years. I would like to thank the Fort St. John Elks speed skating club and the BC Speed Skating Association (BCSSA) for all of their support and encouragement.  This is truly a team award." – Coach Richard Stickel, Competition Coach of the Year.
The Coach of Year Awards are an important part of viaSport's mission to support and empower coaches. These three individuals were nominated by their sport community and selected by an expert panel as embodiments of the amazing contributions to sport that we see happening across our province. Each recipient receives a bursary of $250 generously donated by the Bob Bearpark Foundation, which supports the Coach of the Year Awards.
"It is a great honor to be selected as the Community Coach of the Year recipient. To be recognized by the team and my peers for the commitment and achievements in my coaching career is a moment of pride and joy not just for myself but for the time and efforts of everyone involved in our swim club. Coaching the RiverMonsters thus far has enabled the team to thrive. I hope to train educated and dedicated coaches and one day pass along strong swimmers, a team culture of commitment, community and have all my swimmers achieve their long term goals." – Coach Michael Freimark, Community Coach of the Year.
The 2019 class of winning coaches have all demonstrated an incredible dedication to their sport and the ability to inspire athletes to reach their full potential. Here are some highlights of each coach's achievements:
Competition Coach: Richard Stickel
With over 37 years of coaching experience, Richard Stickel has made an undeniable impact on the sport community of Fort St. John.
Richard has trained generations of skaters, many of whom went on to claim distinctions at the highest levels. Most notably, Richard developed as a coach working with now four-time Olympian Denny Morrison when he was as a Junior.
Richard has dedicated himself to ongoing coach education through the National Coach Certification Program, in an effort to best support his athletes. Due to his commitment to the sport, Richard is described as a pillar in the Canadian Speed Skating community.
High Performance Coach: Janice Fowler
Embodying what it means to be an athlete-centered coach, Janice Fowler has worked to create an environment where athletes are empowered to take ownership of their sport experience. Her athletes have won medals at the Junior Pan Am Championships and in 2019, her athlete Isabela Onyshko competed and won a medal at the Pan American Games in Lima, Peru.
Not only does Janice develop athletes to an international pedigree, she also takes great care in mentoring young female coaches, passing along her knowledge and experience. She is described as a selfless team player who holds the development and goals of her athletes and peers as her highest priorities.
Community Coach of the Year: Michael Freimark
The RiverMonsters Swim Club struggled in their early years to find enough volunteer coaches to run weekly practices and take athletes to meets. That is, until Michael Freimark stepped in.
Michael logged over 900 volunteer hours in his first year to ensure the club's success. Michael's ability to connect individually with each of his athletes as well as his passion for expanding his coaching knowledge are reflected in the club's new-found success. Michael has attended coaching conferences and clinics across North America, and is now focusing on the future by mentoring junior coaches and developing a five-year sustainability plan with the club's board.
Coach Michael also shared an anecdote from a race day:
"Picture an outdoor swim meet on a sunny day. The six and under swimmers are coming on deck to race 25 metre freestyle. Most of the coaches are in the water to swim the length with their young prodigies. My assistant coach Emma is walking an adorable, stubborn little 5-year-old swimmer to the edge of the deck. Looking at Emma I ask, "Do you have your swimsuit on?" Emma replies: "No, she wants to go by herself". I ask Emma to give me her phone. Confused, Emma passes her phone to me. The starter says, "take your marks". Our adorable swimmer freaks out. The buzzer goes and the swimmers are off. Our swimmer won't move. A fully dressed Assistant Coach Emma does what any good coach would do and jumps in the water swimming side by side with encouragement. I met Emma at the other end of the deck with a towel and reminded her why "coaches need to be prepared"."
Coaches truly have an enormous impact on our sport community. They follow their athletes through their journeys, providing mentorship and critical support, especially in challenging times such as these. Coaches have the ability to create quality sport experiences that are safe and welcoming to all participants. They are the heart and soul of our communities and have helped athletes create the very first memories of the sports they love.
viaSport congratulates Michael, Richard and Janice on this honor. From community coach to high performance, these coaches are igniting a passion for the sport, encouraging athletes to do their best and inspiring the community through the power of sport.