viaSport Celebrates Pride: Markus Thormeyer
Jul 13, 2021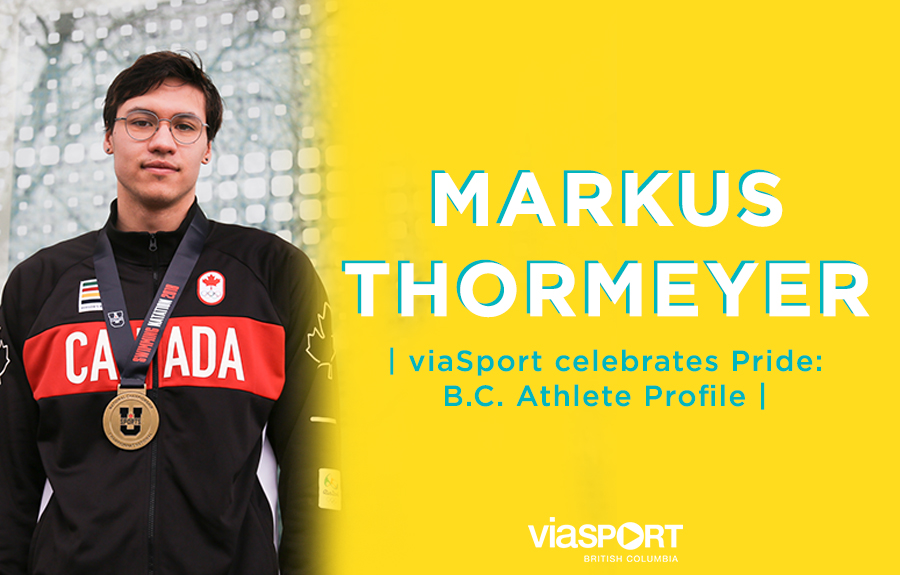 While June and Pride month may be over, celebrating the LGBTQI2S community and highlighting its members should continue year round. We are so excited to share our next athlete profile, Markus Thormeyer. Markus is a competitive swimmer from B.C. specializing in freestyle and backstroke, and is a member of Team Canada's One Team. With many races under his belt, his highlights include a seventh place finish at the Rio Olympics in 2016, competing at the 2017 FINA Wolrld Championships, competing at the 2018 Commonwealth Games with a bronze finish in 100m backstroke, breaking two national records in 2019 and so much more. Markus is on his way to the Olympics again, representing Team Canada in Tokyo this year. He attended the University of British Columbia, completing a degree in environmental science.
We are so excited to share what we learned from Markus as part of our Celebrating Pride intiative. We asked him about his experience juggling training and school, his experiences in sport as an LGBTQI2S athlete and his advice for those struggling with their identity. 
---
Can you share your experience being a high-performance athlete while attending university and working toward your degree? What was one major lesson learned?
Being a high-performance athlete while attending university was really tough, but very rewarding. I love learning new things, so taking classes was really fun, but balancing my academic load with the training load and competing was challenging at first. One major lesson I learned is to try and make everything fun and enjoyable. When I was the most happy, my grades improved and I started to swim faster!
What is your advice for people who are struggling with their identity? How did you get to where you are now in terms of opening up about your sexuality?
My advice for someone who is struggling with their identity is your identity is 100 per cent up to you and no one else. Finding your identity can also be a time-consuming process. If you're struggling with your identity, take some time and to try and find out who You are, and who You want to be. I feel like I got to where I am today by doing exactly that. Finding out the person that I want to be, and that I am comfortable being, regardless of what anyone else may say or think. Learning to be comfortable as my authentic self made it easy for me to open up about my sexuality and who I am.
How has being part of the One Team initiative impacted you and your sport environments? What were some positive elements and some that still need work?
I joined the OneTeam initiative a while ago and have not been able to do much with them, mostly because of my busy training and competition schedule. I know about all the good things that are being done though to promote inclusion in sport, and creating safe environments where everyone is welcome. I think the sporting world is moving in the right direction, as LGBTQI2S representation is increasing and more athletes across more sports are coming out. I do think areas that need improvement are trans rights in sports. Trans people are still being discriminated against in sport, whether it be from the policy level or subconscious biases some people hold towards trans folk. I think everyone can contribute to safer sporting environments by standing up for trans people in sport.
What is your vision when it comes to using your platform to speak about Pride and LGBTQI2S inclusion in sport and beyond? How can others, including viaSport, help amplify these messages?
I'm hoping that with my platform I can normalize LGBTQI2S in sport. Hopefully I can inspire LGBTQI2S youth to stay in sport by showing them anyone can succeed in sport. Also, I hope I can help create welcoming environments where current LGBTQI2S athletes can come out and feel comfortable as their authentic selves in sporting environments. These messages are amplified by creating safe sporting environments, and amplifying the voices of the LGBTQI2S community.
The last year has been tough; can you share a sport moment of yours that represented pure joy or made you proud?
I don't think this would be classified as a 'moment', but I feel really lucky to have such a supportive and close team throughout the pandemic. I definitely did not take being able to train with and see some of my best friends every day for granted.
How are you feeling about the Olympics? What do you do to mentally prepare for big moments like this in your life?
I am excited for the Olympics. The suspense has been building for over a year and I'm ready to swim fast! To prepare for big competitions I usually try to stay calm leading up to it by thinking "This is just another opportunity where I can swim fast". Saying this grounds me and gets me ready to compete, as opposed to overthinking about it being the Olympics, getting too excited and possibly psyching myself out.
Pride is all about celebrating the ability to be yourself. Is there a role model, mentor or coach that helped empower you to be yourself?
I think the road to self-empowerment started with me, and I had the support of all my friends and family. There was no one specific person who guided me, instead it was the solid community of loved ones I build around me.
---
Thank you Markus, we are so excited to cheer you on in Tokyo! Follow him on Instagram to keep up with his sport journey.