viaSport celebrates Pride: Rach McBride, B.C. athlete profile
Jun 11, 2021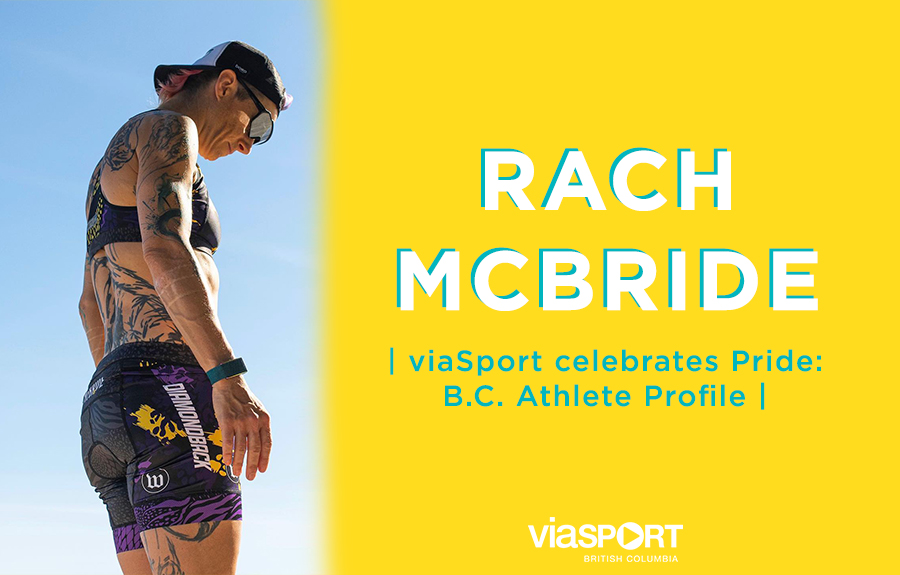 Rach McBride is a full time, professional triathlete, three-time Ironman 70.3 champion and one of the strongest cyclists on the world circuit. Rach lives and trains in Vancouver, B.C., is an advocate for sexual health and education, and has toured the world as a cellist. McBride is vocal about their identity as non-binary and how this impacts them as a competitor in the binary sport world of triathlon.
We are very excited to have had the opportunity to interview Rach about their sport achievements, how they navigate the sport world as a non-binary athlete, and their vision for further inclusion of all genders in sport.
What drew you to the sport of Triathlon and/or how did/didn't it make you feel accepted?
The 3-sport aspect of triathlon really drew me to the sport. I felt pretty accepted from the beginning because I did well right off the bat and turned a lot of heads. I quickly made friends in the community and had a local bike shop at my side supporting me. That being said, it did feel very "straight-laced" to start. I definitely always felt like a bit of an odd duck.
What are some of the challenges that you face being a non-binary athlete in a binary sport world? What are some things you do to overcome these challenges?
Being a non-binary athlete in the binary sport world means I get automatically lumped in with other women athletes. Yes, I race in the female category – that is the body I was born with – and I completelyaccept that this is my choice. However, I don't identify as "she/her", "ladies", "women". Getting back to competition has made me realize just how hard this really is, especially when race announcers arebroadcasting incorrect language for the world to hear. It takes a lot of energy to correct folks or speak up. And I'd prefer to use all my energy for competing on course! I am still learning how to use my words. Often, I don't say anything for fear of making the other person uncomfortable or not wanting to rock the boat. To overcome these challenges, I enlist help from my allies! When those closest to me can help carry the burden of making sure I am correctly identified, it helps immensely. I am also just gaining more courage to speak out and use my words.
You have done so much in terms of speaking about your identity and bringing attention and awareness to non-binary and other LGBTQI2S+ athletes, can you share some of your recent or current advocacy work? How can others, including us help to amplify this work or message?
My main focus is still competing as an athlete. I really have to manage my time and energy outside of training and racing. So my advocacy work at this point is primarily just focused on speaking on social media and other platforms about my journey. I share my ideas with other organizations and events about how they can be more inclusive. It feels great to be able to give them some simple, low-cost ways they can create a more welcoming space for people of all genders.
The past year has been difficult, can you share a sport moment of yours that brought you joy and/or made you proud?
My first race back in the pandemic was the Canadian Pro Tri Champs that included a 20 loop bike course. I was really proud of how well I rode and ended up lapping the field!
Who are some of your current sport idols and why?
Chris Mosier – incredible advocate for trans inclusion in sport and just a super nice, genuine guy.
Kaillie Humphries – Tattooed Canadian-turned-US bobsledder. I love her strength and resilience.
All those incredible female pro endurance athletes who are just changing our perception of what is possible in our 40s: Krista Duchene, Meredith Kessler, Dede Griesbauer to name just a few!
By sharing your story what changes are you hoping to see in sport?
I just want to see sport become a place where everyone has a space to participate as their authentic selves. I want to see sport support and welcome people of all genders, backgrounds, bodies, accessibilities. And most of all, I just want folks to be kind and curious, instead of divisive and intolerant.
Pride is about celebrating the freedom to be yourself, what advice might you give athletes to encourage them to be themselves?
One of the biggest things I have learned in the past year is the importance of believing in your own self-worth and having self-compassion. It doesn't matter how "out" you are, or how much or little you know who you are at this time. (It's ok to not know who you are!) It is just so imperative to be kind to yourself and reach out for help when you need it.
Is there anything else you'd like to share about yourself, your sport or your work?
What keeps me really motivated to continue being an advocate in this sport is knowing there are other nonbinary athletes out there. I love hearing from others! You can learn more about me through my website and through some of the many podcasts I've joined. Follow my journey on social media – Instagram @rachelmcb. I welcome anyone to reach out!
---
Thank you so much Rach for taking the time to tell us more about yourself and for your words of wisdom for the sport community and other athletes who may be struggling with their identity. To learn more about Rach's incredible achievements in sport and beyond, visit their website. Thank you Rach!
Look out for more of our athlete profiles coming this month. Happy Pride everyone!