viaSport recognizes the outstanding achievements of 2020 Coach of the Year Award recipients
Apr 21, 2021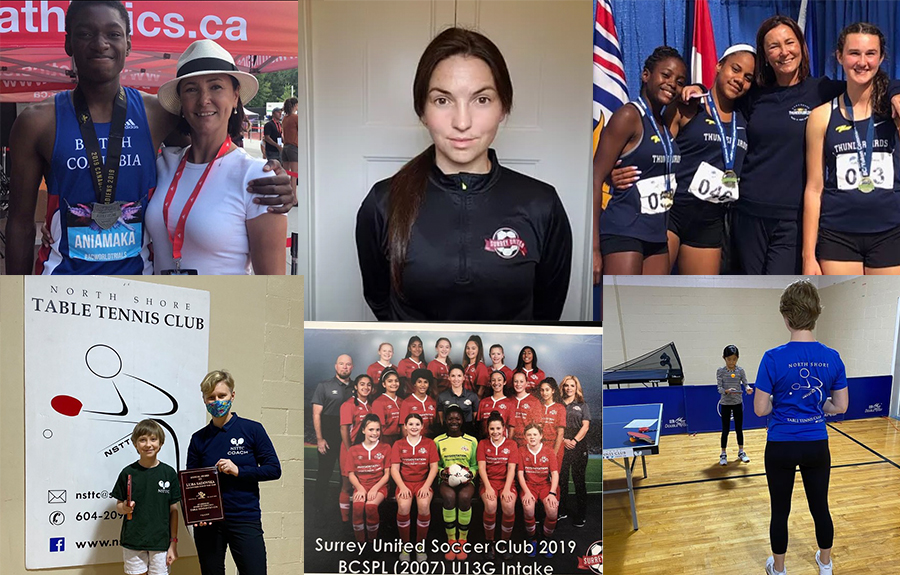 Updated: May 3, 2021
Two special videos from our Community and Competition Coaches of the Year are now available to watch on our YouTube Channel. Hear from Luba and Iuliana about their coaching journeys, how they got involved in their sport and advice for coaches.
---
(Vancouver, B.C.) – viaSport's annual Coach of the Year awards recognize the province's incredible coaches in three categories. Nominated by their communities as coaches who have truly demonstrated dedication and leadership in their sport, we are excited to announce the recipients for 2020.
Luba Sadovska for Community Coach of the Year
Iuliana Kroeger for Competition Coach of the Year
Ari Adams for High Performance Coach of the Year
"Every year we look forward to the Coach of the Year Awards because it's a way for us to showcase three inspiring leaders in our sport community," said Charlene Krepiakevich. "This year's recipients demonstrate an immense passion and love for their sport and are known to go above and beyond for their athletes. We are honoured to recognize Luba, Iuliana and Ari as the 2020 recipients."
The coaches were selected by an expert panel from nearly one hundred nominations province-wide. Each winner is a true reflection of the highest standards of coaching and is recognized for having a positive impact on their sport and community. For the first time since introducing the award, this year, all three recipients are women. The Bob Bearpark Foundation which generously supports the Coach of the Year Awards every year, allocates a $250 bursary for each recipient.
Coaches play an incredibly important role; they are mentors, motivators and inspire passion for sport in their athletes. Here are highlights of each coach's hard work and dedication.
Luba Sadovska, Community Coach of the Year
Luba's passion for the sport of table tennis led her to co-found the North Shore Table Tennis Club six years ago, which quickly began to grow. She went on to establish the first Table Tennis Academy in partnership with West Vancouver Schools, and the first seniors table tennis league on the North Shore. Luba recently received Table Tennis Canada's 2020 Betty Tweedy Award as Contributor of the Year to table tennis development in Canada.  
Over the past six years, several of the young athletes Luba has coached have gone on to compete provincially and nationally. Her senior athletes have brought home gold and silver medals at the 55+ BC Senior Games. Winning is not everything for Luba; her coaching style encourages continuous learning and development in her athletes. Her peers recognize her good judgment and patience as she builds trust with those she coaches. For Luba, coaching is about building relationships with her community.
Luba actively breaks down barriers for women and girls in sport and brings table tennis to diverse communities with events like Squamish Nation Table Tennis Family day, Pride on the Pier North Vancouver, Pride Sports Day and her Happy Hands program for adapted table tennis. She always encourages fair play in sport and teaches her youth players to transfer their learned leadership skills into their own lives. She has co-founded a new table tennis program for newcomer youth that breaks down economic and social barriers to becoming junior coaches.
Iuliana Kroeger, Competition Coach of the Year
Iuliana has worked tirelessly through the Vancouver Thunderbirds Track and Field Club and Pacific Academy to advance the sport of track and field. According to her nominators, she is credited with encouraging participants who never saw themselves as athletes gaining a desire to compete, and many of her athletes have reached personal bests and have set high school records during meets.
Her exhaustive roster of records, medals and standards met by her athletes are indicative of Iuliana's effective coaching practice.  Off the field, Iuliana's passion for coaching is demonstrated by her ability to  teach a "hidden" curriculum: integrity, humility, resilience, goal setting, fair play and collaboration. Even with the obstacles brought on by the pandemic in the last year, Iuliana has worked through digital platforms and adaptive technology to reach and teach her athletes.
Iuliana's peers say she is reliable and follows through with commitments to her athletes and their families.  Iuliana is widely regarded as humble and collaborative, engaging daily with her fellow coaches to deliver the best program for her athletes. She is a passionate coach who loves what she does, believes in her athletes and constantly seeks to improve her coaching abilities.
Ari Adams, High Performance Coach of the Year
As a leader in the "Keeping Girls in Sport" focus group at Surrey United Soccer, Ari brings creative and energetic ideas to the club for the promotion and retention of girls in sport. Not only does Ari instill positive values and work ethic in the development of female players from a young age and into their high school years, she also works to engage female teenage players in a mentorship capacity. Ari fosters and mentors these young women in a way that will bring them success in the future whether it be in school, in their career, or on the field. She stresses the importance of preparation and commitment to game play, training sessions and as a team off and on the field.
Ari has been part of the Surrey United technical staff since 2009 and has worked in the player academies and coached several high-performance teams in the BC Soccer Premier League. While coaching in the BCSPL, Ari successfully coached female teams to National Championship medals in consecutive years. She also served as Assistant Coach of the Simon Fraser University Women's soccer team 2011 to2014. She holds her USSF National B License and is currently working towards the completion of her Canada Soccer Youth License.
Ari's technical abilities as a coach and a leader earned her the appointment of Assistant Technical Director of Female Development in 2020. Ari is one of very few female Assistant Technical Directors in the youth soccer club system in Canada. She was recently named the BC Soccer 2020 Woman of Distinction which is presented to a female who has made significant contribution to soccer in B.C. and made outstanding achievements at local, provincial and/or national levels.
---
Congratulations once again to these phenomenal coaches who are making a difference in and through sport. Your contributions to sport are invaluable and you embody what it means to be a leader. In the coming weeks we will release very special videos where we will hear directly from the award winners about their coaching journeys, their advice for athletes and coaches and what they are looking forward to in a post-pandemic world. Stay tuned and follow us on Facebook, Instagram, Twitter and sign up for our newsletter to be in the know.