viaSport recognizes top coaches for 2016
Apr 12, 2017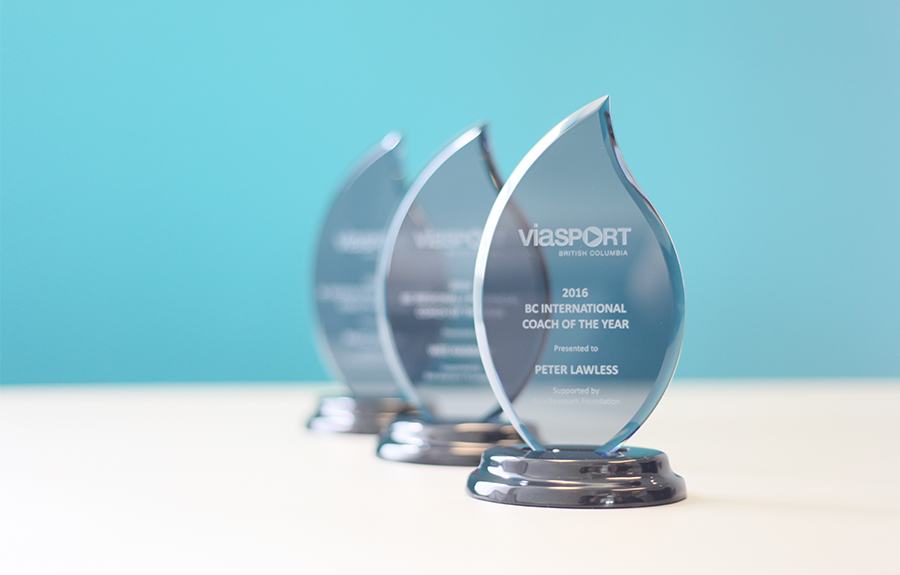 Vancouver, B.C. – Behind every great athlete in British Columbia is a coach deserving of praise. For nearly 20 years, the Coach of the Year Awards has recognized individuals for their relentless contributions to sport, community and the lives of those they impact.
Founded by the Coaches Association of BC and funded by the Bob Bearpark Foundation, the Coach of the Year Awards were created to recognize the history and dedication to coaching in British Columbia. Each year, B.C.'s best coaches are nominated for their contributions across three categories: Recreational/Grassroots, Regional/Provincial and International. For 2016, viaSport is proud to honour the following three inspiring individuals:
2016 Coach of the Year Award Recipients:
Bruce Kamstra (Prince George)

2016 B.C. Recreational/Grassroots Coach of the Year | Judo

Wes Hammer (Maple Ridge)

2016 B.C. Regional/Provincial Coach of the Year | Canoe/Kayak

Peter Lawless (Victoria)

2016 B.C. International Coach of the Year | Wheelchair Athletics
"When sport experiences are positive and inclusive, sport can have a lasting impact," says viaSport CEO, Sheila Bouman. "Coaches have always been a contributor to sport. They have this innate ability to shape lessons that allow people to thrive, both in sport and in life. It's our pleasure to highlight these passionate leaders and the legacies they're leaving to further the impact of sport and physical activity."
Quick Facts:
The 2016 Coach of the Year Award recipients were announced at the 2017 BC Sports Hall of Fame Banquet of Champions on April 12, 2017.
viaSport is the Provincial/Territorial Coaching Representative (PTCR) for British Columbia and maintains a strong partnership with the Coaching Association of Canada.
In the last year, viaSport invested over $235,000 to support coach development across B.C. through subsidized coaching courses, professional development opportunities and grants.
Each year, viaSport and its sport partners train approximately 10,000 coaches across the province.
viaSport was transitioned into the role of lead coaching agency from Coaches Association of BC (Coaches BC) in 2014 with the support of the Coaches BC Board.
BIOS: Learn more about the 2016 Coach of the Year Award recipients (photos available):
2016 B.C. Recreational/Grassroots Coach of the Year Bruce Kamstra: Bruce Kamstra has been coaching judo at the local level in Prince George for over thirty years. After starting one of the largest clubs in B.C., judo has become one of the most popular sports in this northern B.C. city. Bruce's admiration for the sport is evident in the profound respect he demonstrates to everyone involved in his club. Bruce's expansive knowledge of the sport and his inspirational leadership has led to many members winning medals and tournaments. His ability to successfully mentor students has inspired their parents and other adults in the community to take up this respectful sport. A national champion himself, Bruce continues to learn effective coaching techniques by advancing his own black belt training.
2016 B.C. Regional/Provincial Coach of the Year Wes Hammer: With eight years of experience as an athlete on the canoe/kayak national team, Wes brought his expertise to B.C. as a coach and changed the landscape for canoe/kayak clubs in the west. After his arrival at the Burnaby Canoe Kayak Club, the club captured the Pacific Cup three times in the past four years. Wes' continued dedication to the club has also led three athletes from his senior training group to the canoe/kayak provincial team. One of his senior performance athletes was the youngest member of Team BC to attend the 2015 Western Canada Games. In addition to being a coach, Wes is also a life mentor as he actively inspires and encourages his athletes to become leaders themselves.
2016 B.C. International Coach of the Year Peter Lawless: Peter has worked tirelessly to change the sport landscape in Canada for the better. Throughout his career, Peter has advocated relentlessly for the inclusion of athletes with a disability to ensure that para-athletes get a seat at the table. His athletes have broken 27 world records and won over a dozen Paralympic or World Championship medals in cycling and athletics. As Michelle Stilwell's coach, Peter not only convinced her to try athletics, but also coached her to become the reigning champion in her class. As a NCCP Learning Facilitator, Peter delivers NCCP courses to communities in Victoria and Richmond. His willingness to share knowledge with others is a testament to his strong belief in lifelong learning.
-30-
About viaSport British Columbia viaSport British Columbia is a not-for-profit organization created by the Provincial Government in 2011 as a legacy of the 2010 Olympic and Paralympic Winter Games. Our mandate is to increase awareness, opportunity and participation in sport across the province – at every stage of life and in every community. By leading the province's sport sector in building a stronger, more effective system, we will bring more families to the field of play, more fans into the stands, more athletes to the podium, and more sports events to the province. Learn more at viasport.ca
Media contact:  viaSport British Columbia 
Michelle Tice, Communications and Engagement Director
Email: michellet@viasport.ca Phone: 778.655.1774