Where are the athlete activists in Canada?
Dec 08, 2017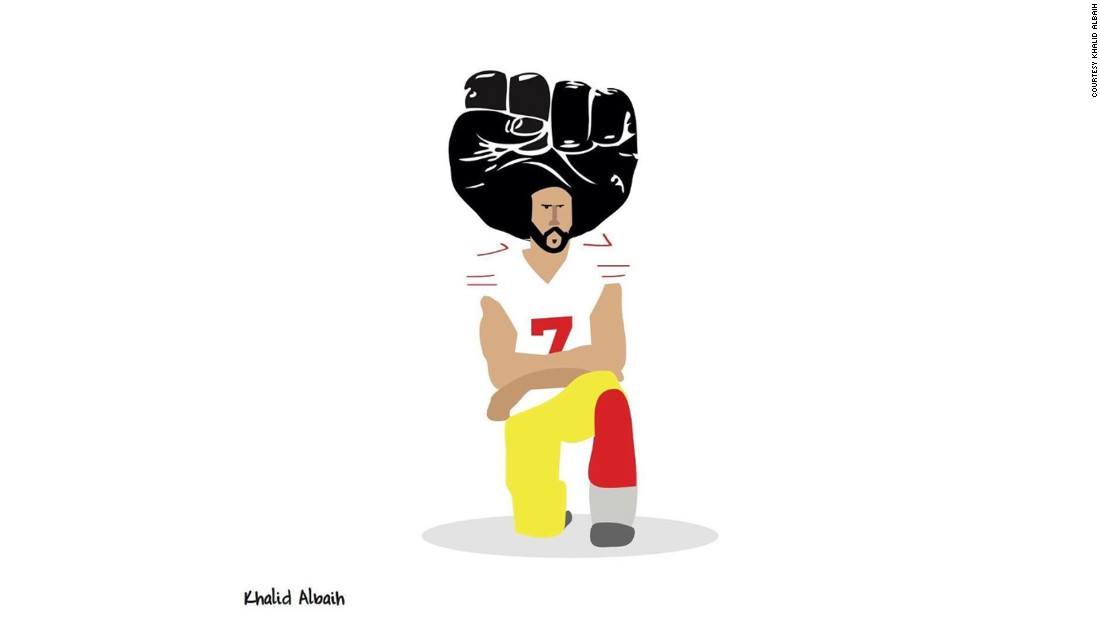 "Khartoon" provided by Khalid Albaih. Follow @khalidalbaih and read more about the artist here. 
Social injustice makes itself known through sport
It's been praised. It's been condemned. In politics, in the entertainment world and across the dinner table, it's been debated. Professional athletes taking a knee during the U.S. anthem in professional sport games over the past year, all because of American football quarterback, Colin Kaepernick.
After choosing to kneel during the U.S. national anthem of the 2016 football season, Kaepernick quickly became a household name. His act of silent protest to support the Black Lives Movement slowly, but surely, inspired a crusade among professional athletes alike. Currently a free agent, Kaepernick took a mighty kneel for his beliefs at the expense of his sporting career.
"No matter what I have to sacrifice, if you see wrong in the world, you must say that it is wrong." – Colin Kaepernick  
Kaepernick's actions as an athlete in pursuit of social change is not a foreign notion. At the 1968 Summer Olympics in Mexico City, runners John Carlos and Tommie Smith raised their fists in a Black Power salute during the national anthem, after winning bronze and gold medals. In 1967, Muhammad Ali refused to enlist in the Vietnam War as it went against his religious beliefs.
Fast forward half a century, and social imbalances continue to exist at every level of sport, from grassroots to podium. Differing opinions on race, gender, sexual orientation, and issues of equality spread ongoing disagreement and conflict between stakeholders invested in sport.
History's timeline is a reflection of how the sport industry is no exception when it comes to advocacy for human rights. The steady rise of social media has given athletes a platform to freely express their views on a myriad of social issues to the masses.
However, this freedom brings its own flurry of questions. How can coaches, parents and athletes become more politically engaged? What are implications for athletes using their platform as a means for activism? Where are the athlete activists, such as Colin Kaepernick, in Canada?
 
Athletes as Agents of Resistance and Change: Where are the Canadian Colin Kaepernicks?
These questions inspired UNA-Vancouver, in partnership with the UBC School of Kinesiology, the Centre for Sport and Sustainability, Basketball BC and viaSport BC, to host "Athletes as Agents of Resistance and Change: Where are the Canadian Colin Kaepernicks?" The panel event featured prominent Canadian sport leaders to discuss the indispensable role that athletes have in face of resistance and change, including:
Shireen Ahmed – Writer, public speaker and sports activist who focuses on Muslim women and the intersections of racism and misogyny in sports. Her work has been featured and discussed in various media outlets, including Vice Sports.
Tracie Leost – Métis athlete and Indigenous activist who used her running shoes to give silence a voice. In August of 2015, she ran 115 kilometers in four days to raise money and awareness for Missing and Murdered Indigenous Women and Girls in Canada (MMIW).
Dr. Patricia Vertinsky – Distinguished University Scholar and Professor of Kinesiology at the University of British Columbia. She's a social and cultural historian working across the fields of women's and gender history with a special interest in physical culture, physical education and modern dance.
Elisabeth Walker-Young – Canadian Paralympian and Manager of Programs at Canucks Autism Network. Her philosophy is to demystify the barriers, and lived experiences of those marginalized in society and therefore in sport to educate and equip sport leaders with tools, desire and awareness to address issues and affect change.
What you can do as an ally 
Engaging with a sold-out crowd of academics, athletes and sport administrators, these four women shared their stories of how political injustice made itself known within their own lives. Their insightful learnings as advocates refusing to be passive in the face of injustice painted a canvas of the current environment of athlete activism within our own nation.
Here's a summary of their key takeaways below:   
The best people to speak for social change are those that have experienced and lived the injustice for themselves. However, allies and those with privilege can shine a much-needed light on these issues.
The first job of an ally? To listen. An ally's role is to amplify those whose voices need to be heard. Spread their voices, share their voices.
Don't take over the conversation, as their concerns are the matter of importance. Let them share what they need. Being an ally means that learning and unlearning all the time.
Be a role model for peers. It doesn't have to be money, volunteering time is also very valuable. And if there is no time to spare, tweet! Contrary to popular belief, it isn't just a drop in the bucket.
When athletes speak out, attention is often placed not on the issue they were hoping to draw attention to, but on the 'how' and 'why' of them coming forward. This misaligned focus can create unwanted risks in choosing to speak out.
Jean-Luc Brassard. Trent Seymour. Rick Hansen. The Haida Gwaii basketball team. The Canadian Women's soccer team. Waneek Horn Miller. These are just a handful of names out of the many resilient Canadian athletes and teams currently working to achieve social justice in society. 
Last week's event inspired further thought and questions for those in attendance. How do we divert the shift in attention towards the issues at hand? How do we create a platform to encourage more socially engaged athletes?
Although not easy to answer, it's these challenging questions that encourage and inspire others, including coaches, parents and athletes, to widen their lens in the world of sport. To foster a safe space where social change is intertwined within the definition and purpose of sport.