Whitecaps FC support Pride!
Aug 10, 2017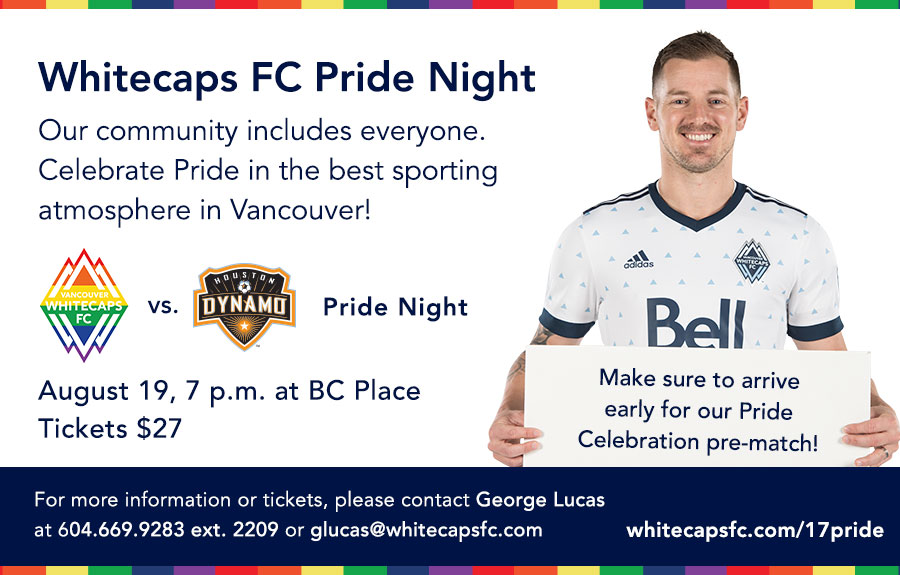 Be a part of the best sporting atmosphere in Vancouver and show your Pride! The Whitecaps FC Pride celebration will go from 5:30 p.m. to 7 p.m. and will be hosted by the one and only Connie Smudge. Everybody's invited to enjoy an evening of soccer and celebration, including entertainment from the Terminal City Roller Girls, Rain City Ultimate Club, Drag Queen Lip Syncing and a b(qu)eer garden with early bird specials.
If you're a seasoned 'Caps fan, you know all about the March to the Match, but for those who aren't, 'Caps fans are known to loudly marching their way down Robson street towards BC Place right before every match. For Pride, the march will start at Doolin's pub at 6:15 p.m. and make its way to BC Place.
During the match, WFC dignitaries Barb Snelgrove and Angus Praught will lead the boys in Blue and White onto the pitch, with the Chor Leoni Men's Choir singing national anthems. Expect interviews by Out TV, a colourfully interactive stadium and complimentary tickets for SOGI youth. 
Come out and support Pride this Saturday, August 19 at 5:30 p.m. when Whitecaps FC take on the Houston Dynamo at BC Place (7 p.m. kickoff).